I like to think of myself as a good mom. I let my son wear pink Dora swim diapers if he wants. I let him play with girls & girl stuff. And I let him play kitchen. In fact, we bought him a play kitchen on sale with a $50 coupon after the holidays. Some people may cringe at their sons doing these things, along with having hippy hair, but we don't. We're cool like that.
Today, while picking up the living room, the husband announced, "we should check this kitchen more often..."
Why?
Can you see it?
See it? No? Or if yes, wanna see it closer? Of course you do.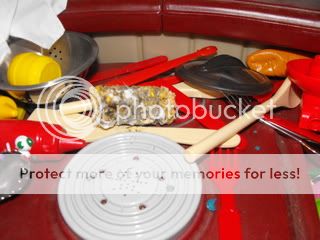 That's a cob. From corn. In his kitchen. After you get over the gross factor of it, it's really kinda cute that he played kitchen with it.
He doesn't play with it daily. We don't check it...ever.
Really, I'm just impressed Murphy the dog didn't eat it, or any of our 35 animals for that matter. And thankful we don't have our
old couch
anymore, because if we did it'd be in there never to be found again.
Adam, he was grossed out that I told him, "No, don't throw it away, take pictures first!" but I do it for my peeps. You're welcome, peeps.