Let's recap, shall we?
We had the
start of the great swing set adventure
.
Then I skipped ahead to the end effect of
my neighbors crazy ass tarp
.
Then I shared
my sweet ass, hot pink revenge
.
I'm sad I didn't think of that as the blog title. Hell, maybe I should just rename my entire blog "Sweet Ass, Hot Pink Revenge." Hmmm...
Now, we have the untold story of the building of the playset.
It started days before my teacher husband had his spring break. That's right folks, I'm a meanie wife who makes her husband use his week off to get up & build my kid a playset that I picked out & bought. Mr. "Go Big or Go Home" studied his instructions from the moment we got them.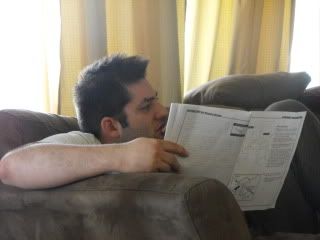 By "studied" I mean he held them & stared at the TV.
Proof that everyone really does love Raymond.
After his studies, he went to get the wood at Lowes. Our goal? Find out how much lumber a Kia Sorento can hold. The answer? Enough for a playset.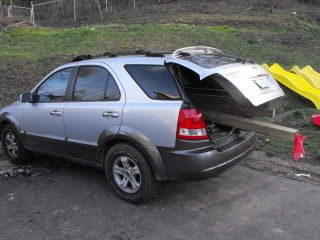 Adam felt special with his little flag hanging off. I'm sorry, but if you can't see ALL OF THE LUMBER can you really see a little flag? I've never understand that. I've never seen wood in a truck & thought, "shit, I didn't see that until I almost ran into it!"
And we all know I run into shit.
He took a nice artistic picture of his load.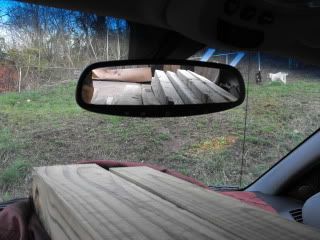 The phrase "his load" makes me feel weird & awkward, but if you want really weird & awkward, go over to
his blog
& read about that time after his reversal surgery that we
bought a microscope & checked for swimmers
.
Anyway, back to wood.
Hehe...wood.
Sorry. I'll try to control myself.
To be perfectly honest, Jules was content with just the lumber.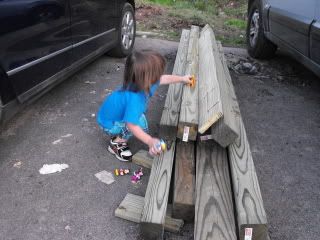 He thought it was like the coolest thing ever. Kinda like how a kid gets $100 toy & only wants to play with the box.
Adam decided that once he unloaded his load, to use the Sorento as a tool box.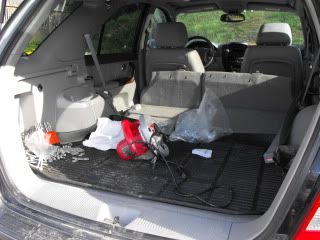 I'll refrain from making a lame joke about how it's a box like SUV that a tool drives everyday.
It was a process that seemed like it'd never look like a playset. At the end of the first day, we had this...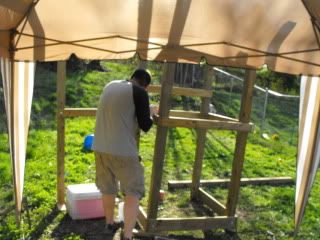 Jules said it was a bird house. Of course, my crazy ass neighbor asked Adam if he was building a floor for our gazebo.
Because, you know, that looks like a floor. Sure, he was building it UNDER it at one point for whatever reason...but you think it looks like a floor, even with all the playset stuff around him & after I've told you we're* building one? Xanax must be one trippy drug.
*By "we're" of course I mean him while I curl up on the couch uploading pictures of this mess.
Jules went from trying to be helpful...
To just doing what I'd do...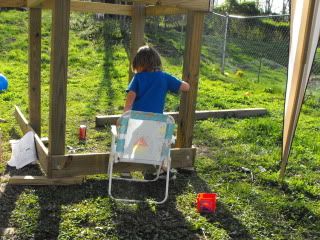 Sitting in a lawn chair, bossing. Of course, who know, maybe in that picture with the hammer he's getting ready to beat Adam's shins up. Who really knows when it comes to short people what their little crazy minds come up with. This is the same kid who cries when you tell him not to touch bird poop while screaming at you, "my bird poop!"
Adam had odd methods of building. For example, he spent a decent amount of time trying to use scrap wood to balance this contraption on.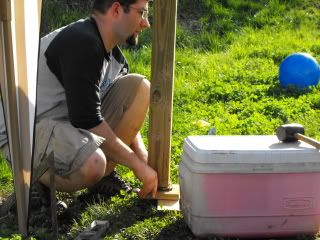 I'm sure there is a totally rational reason that this is fine, but I thought it was amusing.
And of course the mad couldn't be bothered to get a ladder, so he got a cooler instead.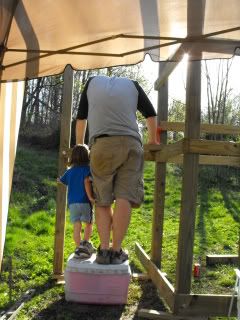 I'm really unsure how after 1 day the instructions got this worn out.
He did alot of this.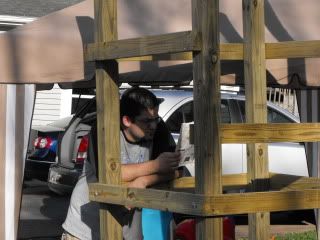 And I started to wonder if this was going to be part of it's actual foundation.
And then there is the level he was using.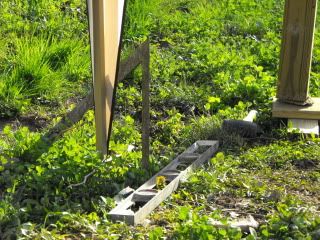 This level came from my dad. Adam swears it is not really level. Adam has this weird paranoia that my dad wants him to fail at all home improvements. He also swears that the square my dad gave him is a little off as well. Of course, maybe if he didn't, you know, stake it in the ground randomly it wouldn't be "off."
I looked up & was confused for a minute...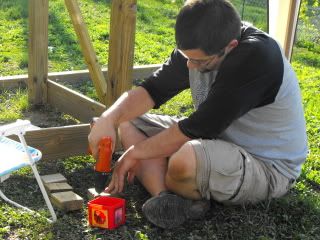 I didn't understand why he was drilling holes in the new Toy Story snack box I'd gotten from the Disney Store. I realized there was wood behind it & calmed down.
Then I looked up...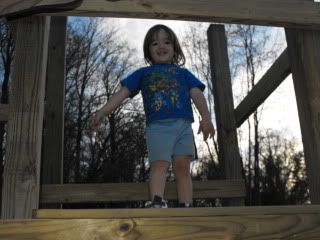 Oh look, my son is standing on an unfished, I'm sure somewhat unstable play structure.
And the end of the day, I asked Adam to throw away some of the random trash. I packed it in a box. Jules helped him toss it.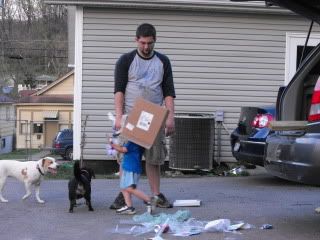 By toss it, of course, I mean onto the ground. He wore the box as a hat while Murphy & Buddy danced around it with delight.
Then, to make him seem good & manly, we took these shots.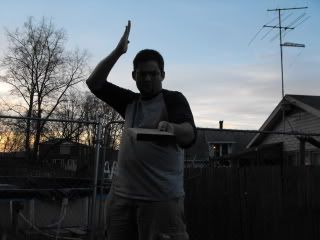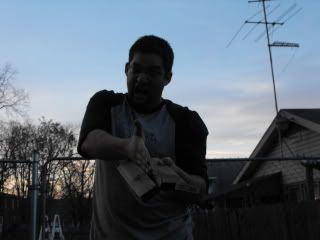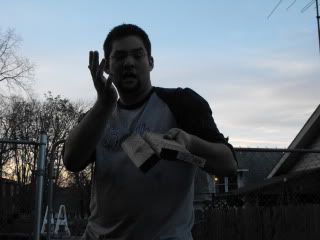 Totally real & not staged at all. Nope, not at all.
The next day he decided he needed to move this whatever it is, & sadly that meant my snazzy pop up gazabo needed moved.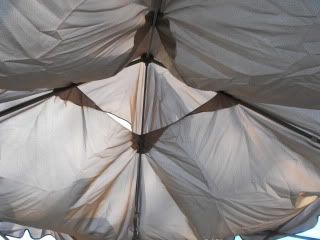 It un-popped.
Jules loved this idea.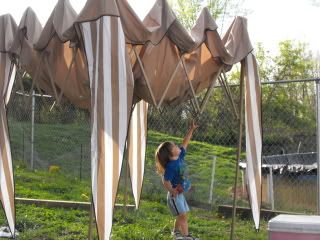 Me?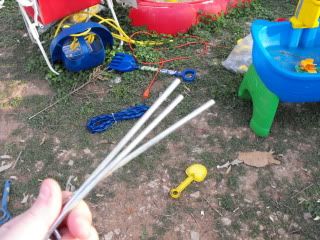 I was kinda concerned that I'd been sitting under it with 3 instead of 4 safety stakes.
Trying to kill me, I tell you, he's trying to kill me. Or at least make me cry.
In it's glory.
The angels* even came out to shine on it.
*By angels I mean, if anything, people from the crazy hospital escaping with flashlights or something.
As Adam moved this structure, Jules decided to be helpful*.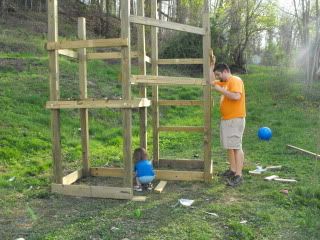 *by helpful, I mean in the way because he's 2 & what the hell else does he do when you're trying to move a 300lb structure?
Weeee....
Then he sucked on stakes for my gazebo.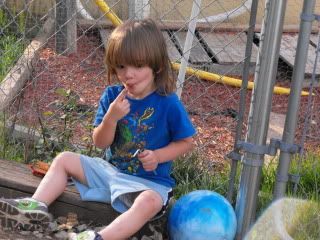 Mmmmm...bacteria.
He helped hammer in the stakes...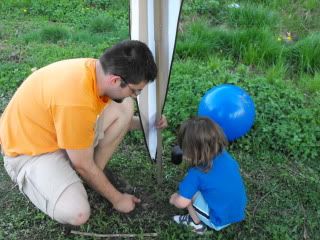 While going "ham ham ham!" because of course a hammer makes the "ham" sound.
Then he realized we thought he was cute, remembered he was two, then threw a fit over something.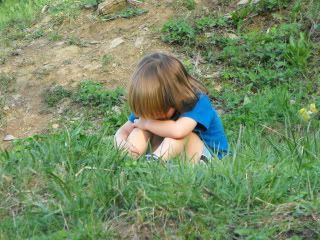 He spent 5 minutes pouting on the hillside.
Meanwhile..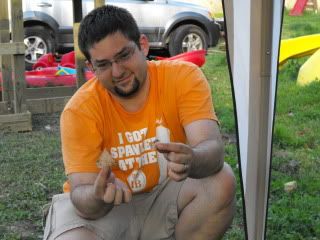 ADAM FOUND GLASS!
Always good to find pieces of glass in your new play area.
I found...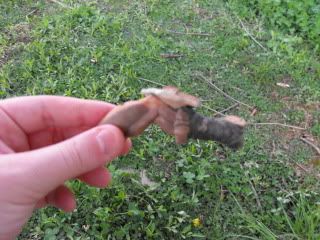 He-Man's leg.
I'm not sure I've mentioned this, but this house is a house of, well, fuckery. I mean, get over the drug dealing, gun shooting, people living under the stairs in the basement, dead guy who fell off a ladder...& you're still left wondering what the hell they did to this yard & why there are so many radon toy parts all over the place. Last summer, after living here for 2 years, we happened upon a little girls sandal. A sole, creepy, sandal. We found it a place we always were. Like I said, fuckery. And creepy.
I then looked around me.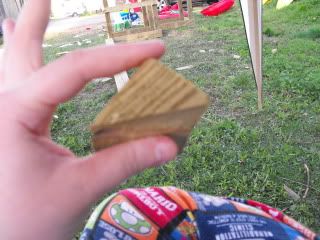 Wood. Little pieces of scrap wood. Realizing that extra money is always good, I started to wonder if I could sell signed pieces of this wood for like $1 on here. Always looking for lame ways to make money, I get that from my dad.
Then I look back & see Adam wasting time.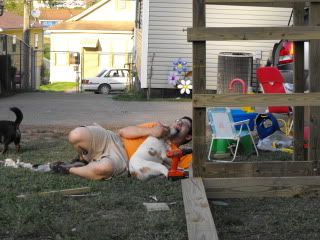 Why is he wrestling with the dogs?!
Then Jules was really concerned & insisted on helping him up.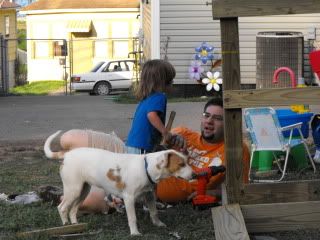 Realizing helping him up wasn't enough, Jules went to work himself.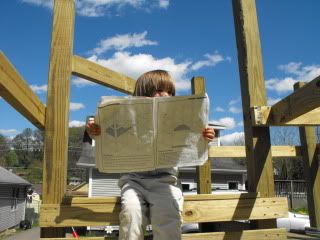 He quickly moved onto my method.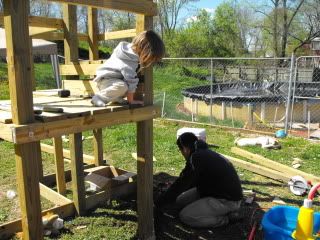 Overlooking & giving commands.
Awesome.
I was going to make fun of this...I'm not sure why.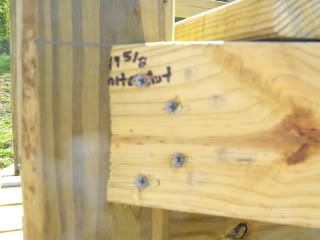 But I am sure I forgot why because I saw this...
Bolt.
...that's just on there once, right?
Nope.
Bolt.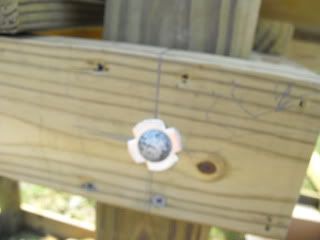 Bolt.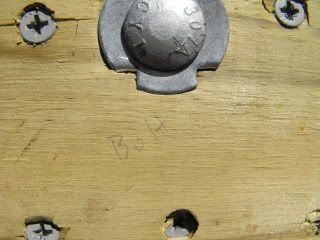 Then I was scared. Why?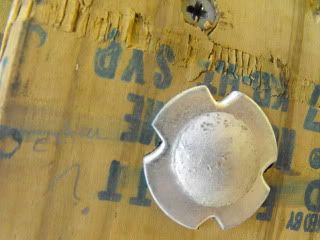 "Bolt?"
Do you really want a question mark? I asked why it was there & he told me he wasn't sure if that one went there or somewhere else.
...
This project was pretty damn exciting. How do I know that?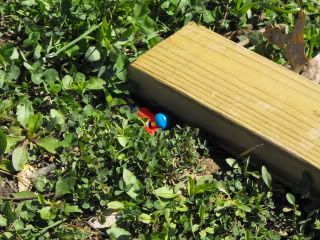 Because Jules didn't care about Elmo.
But he did care about wood.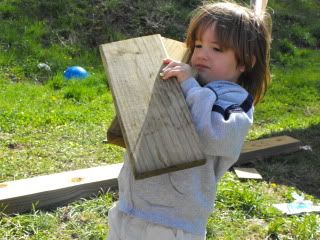 And building whatever he thought was a birdy house.
I eventually hear cursing. I see this.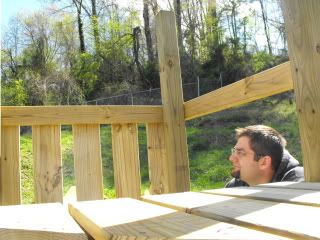 What is that?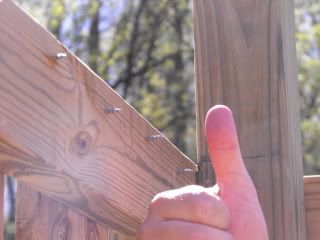 Danger, that's what it is.
Adam explained that he didn't get enough short screws, so he thought the longer ones were fine. See?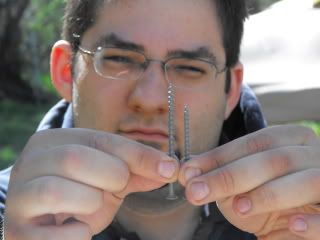 Fail.
Adam then goes into how he needs top nails only. I point out this.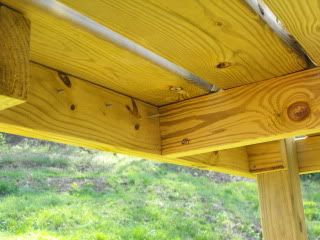 That worked well. And he noticed AFTER doing the entire wall of boards.
The bottom is just as deadly.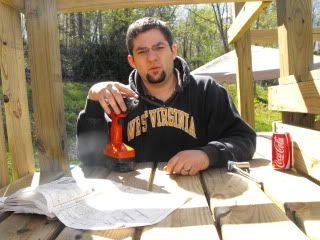 Can you actually see the light bulb clicking on?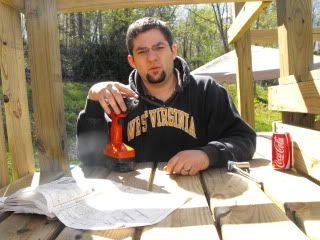 I then get the glory of going out to Lowes. With a sample screw. Adam calls the company to complain, they offer us a free telescope to make up for our issues.
Our issues my ass. Know how I felt?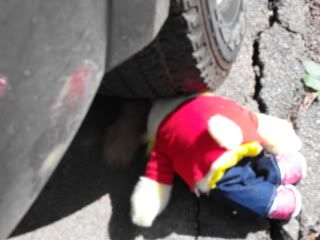 Like that dog. Or bear. Whatever the hell it is. Me. At Lowes. Looking at wood screws. A guy waddled over asking if I needed help, which I did. But of course I couldn't tell him what I needed & showing him wasn't enough. He wanted to know the, uh, width? It's a fucking screw, isn't that enough for you?!
Well, it wasn't. So he basically wishes me luck & I eventually find 250 of those puppies that I think will work. They'll have to be better than the stabbing screws Adam had before.
Speaking of idiots at Lowes, I shall confess something. Adam didn't actually cut the lumber. We paid $18 for Lowes to make the cuts for us.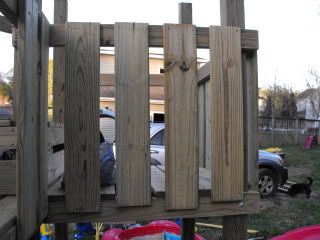 Accuracy, doing it wrong.
They measure as well as Adam does. Have I told you about the time Adam measured our pool about 55 times before I ordered a new pool liner, & each time managed to be off by TWO FEET?! And we didn't find this out until AFTER ordering & trying to install the non-return-able pool liner. So I guess I can't mock them too much for 1/2 inch here or there.
Insert your own joke about mean & measuring things wrong.
The dogs assisted in the building of the swing pole thingy...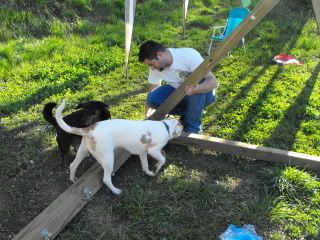 While Jules did this.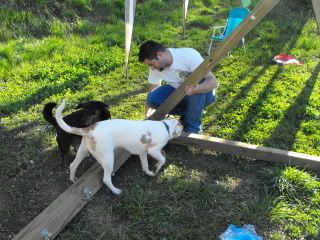 HAM HAM HAM!
After the swing pole thingy was built, he attempted to attach it to the structure.
Then Adam did this.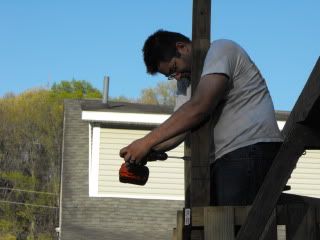 And he had no idea why I laughed & laughed.
Then Murphy & the kid fought over a stick.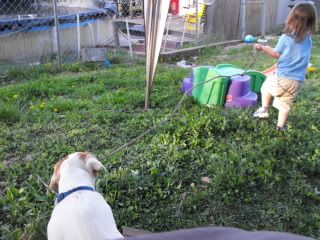 While I sat & watched the overweight, shirtless neighbor work on his roof, as he has for about 2 years now, while yelling at his kids & rocking out to "Girls Just Want to Have Fun."
Oh, it's as attractive as it sounds.
And WE get the camo tarp? Ugh.
While I ponder the weirdness I live around...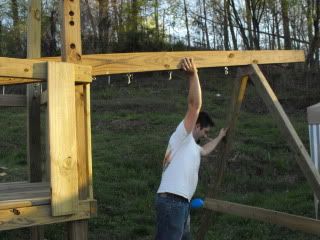 Adam put the thingy up.
Jules, he buried Toy Story figures in my potting soil.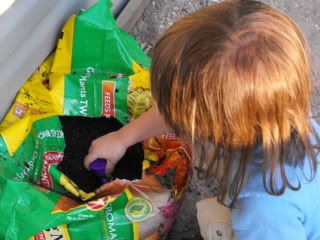 A SWING BEAM! That's what the sing pole thingy is called. A swing beam. I could go back & change my words, but as I've said previously, this is how my mental processes work & I think you should all have to experience them.
As he put the bolt thingys into the swing beam, I was really excited & captured the moment.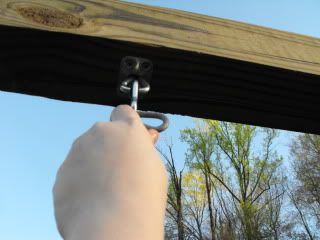 Then I took all of his glory & placed the first swing.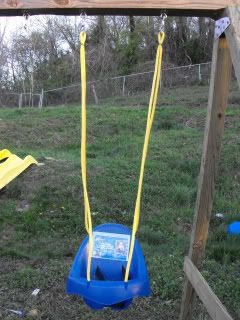 Amazing, isn't it?! I was impressed.
Jules was still digging in dirt still.
I then look around at the mess.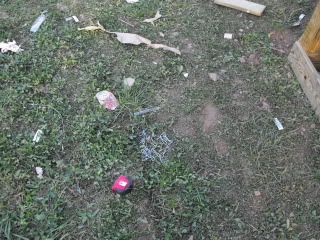 Then I do exactly what you think I do...leave the mess & go do something else to pretend I don't notice.
I decided to start putting chains in the swings.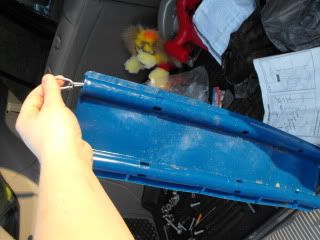 Oops.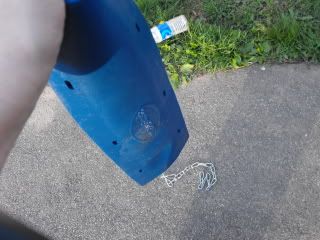 You have to remember to hold one end.
Jules?
Still in the dirt.
OH LOOK AT THIS THOUGH!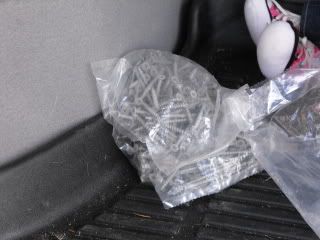 Know what those are?
The screws we "didn't get." To screws I went out & got replacement screws for. I suddenly felt, well, screwed.
Jules finally noticed we had something other than crappy wood.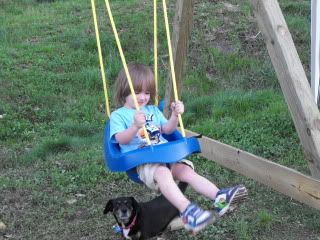 Yay, swing! And it held. Be impressed, I know I was.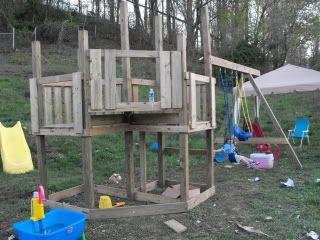 Adam then man handled a slide.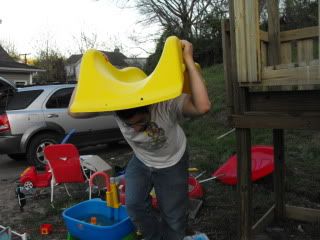 Of course, that's only after I yelled at him. He was very very very into "surface material." I told him if I had to wait anymore to see this thing look like something, I'd go nuts. I also told him if he said the phrase "surface material" one more time like he'd been talking about non-stop for weeks now, I'd go nuts on him.
And by that night, Jules had a slide.
Yes, I really meant night.
The slides, they are fast.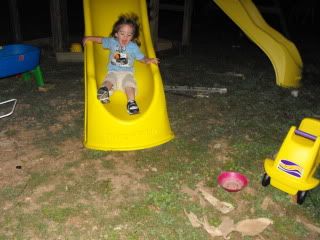 Then the next day...somehow...
Magic.
And I still had my sitting area, because I'm lazy like that.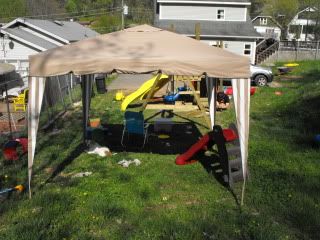 Jules was all about the climbing wall.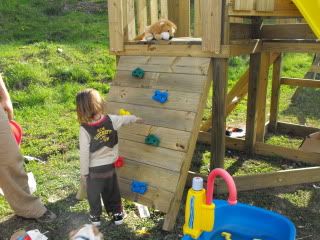 Adam was all about getting this damn thing done.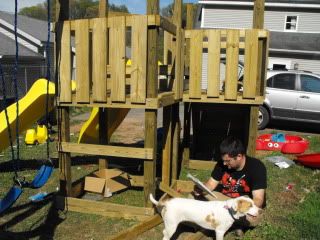 Murphy was all about standing in the way.
Climbing ensued many times.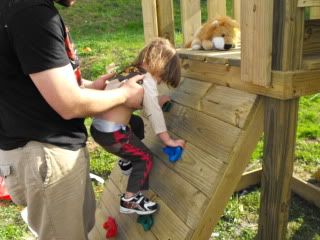 But he didn't want to go down the slide.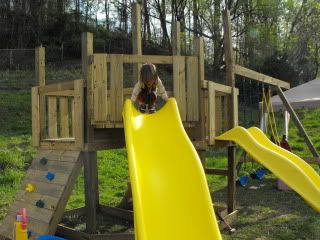 He keeps telling me something is there, but I think it's dirt. I was wrong.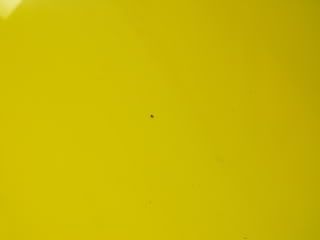 TICK!
Having a "I don't kill shit" policy, I told Adam that he needed to kill it. He did this.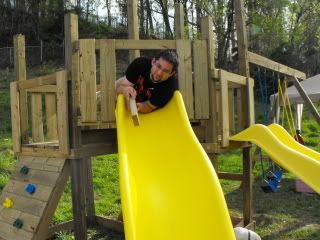 Whacked at it with a block of wood. He told me it was dead. I explained it was still walking. So he did this.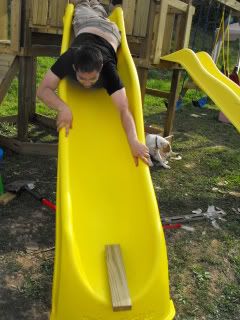 Effective.
Jules still stood around unsure of the slide. I sat down then noticed he was about to go down, so I snapped a picture in order to get an action shot. I got this.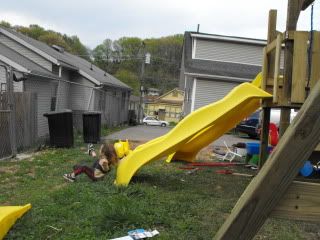 ...I know it makes me an awful mother, but I laughed hysterically when I realized what the camera had caught.
He then moved onto playing with a nice, safe phone.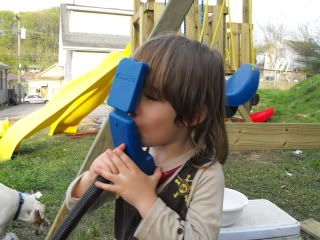 I then organized my...uh...I mean, the kids play area.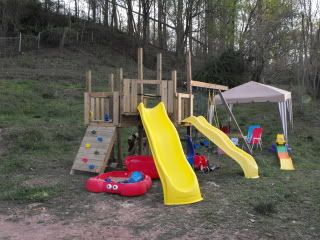 And was
really
impressed.
Then Adam showed me this...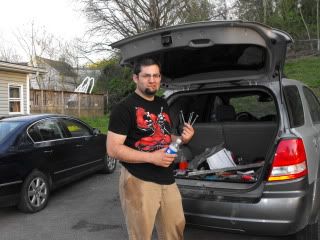 Oh look, extra parts.
...
Be scared, I know I am.
In other news, here is a run down of my life as of late.
I had my celebration cake for my 100+ peeps.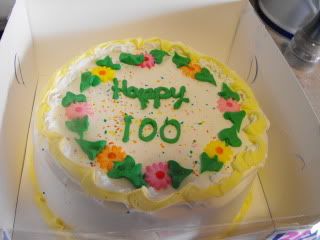 Oreo Ice Cream, btw.
We've been painting.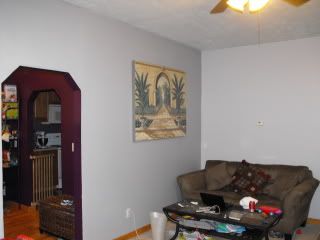 I've been promised The Blair has hair.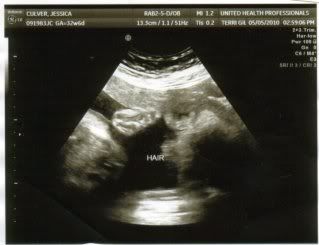 We've been bottle feeding a stray kitten that was just a couple days old when we got her.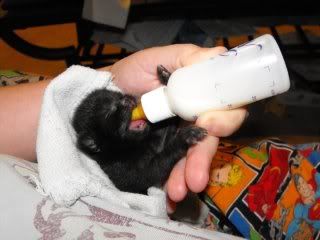 She had a brother, but he was much smaller & weaker & passed away the 2nd day we had him. I've named her Pickle.
She reminds me of a panda bear for some reason. Go melt into a puddle now.
And yes, these are the kittens I was out getting formula for when I
crashed my car
. Oh, just under $7,000 in damages. Woohoo me!
My son is insane. Still.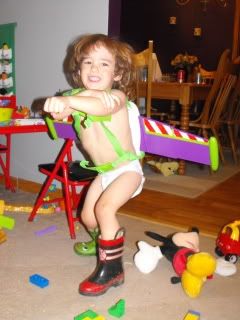 And me? Well, I've been sexually harassed by Chuck E Cheese.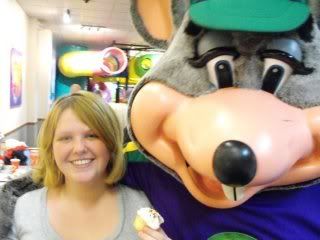 Ah, life.
I have a prenatal on Wednesday, the same date I had an appointment with Joel where I complained he wasn't moving, was given a NST, & sent on my way. I'll then likely have my next appointment on the 26th, which is the same day Joel died.
Ah, fate.