Last week was exciting. A prenatal visit with that
previously forgotten glucose test
& a couple days after that mess, the toddler went to his first dentist appointment.
Yeah, go ahead & laugh now. I like to pretend I go through these things for people to laugh at. Makes me feel like I'm doing for the good of the world.
Anyway, Tuesday I had the joy of wanting jelly again. Actually, I didn't. I was fine, I didn't really care for anything. Of course I can blame that lack of an apatite on my mother calling & acting like nothing was wrong for that 2 minute long "we're here if you need anything, OK bye!" convo.
I load up & get me & the toddler there on time. The plan was for Adam to come pick him up after work & then run to Lowes with the lumber list to get it all ordered. For some reason, he decided to make it my job to bring the lumber list instead of taking it himself. I carry it to the back door only to realize I can't find my keys. I get down the street & realize I'd forgot the lumber list. So it's extra impressive we got there on time. Of course, I managed to leave my cell phone on the table so I had no way to contact anyone, remind Adam to go pick up his new car's title, or even tell what time it was. Good times, good times. This time I go right to the window, wasting no time, & tell them I'm here for that glucose test, I want my drink, I need my drink, last time no one got my drink. Give me my fucking drink.
"OK, I'll find out whose suppose to give it to you."
...I wish I were kidding.
I go sit down, in defeat. I wait. And I wait. I waited 20 minutes before someone calls my name. It's 3:20, the lab closes at 4:30. It's my drink & 4 people are there to give it to me. How many people had to get it exactly? It was red. I take it. It was "cold" as in below room temperature. They tell me to drink it in about 5 minutes & let the girl at the window know when I'm done. I asked for a warning when I got close to 5 minutes since I have no concept of time on that day thanks to no phone. I hear they use to make these things called "watches" but I'm not sure of that weird science.
On my walk over to my chair again I look at my little 10oz red bottle.
Fruit Punch
. Here is a little known fact about your favorite blogger (that's me, btw) I hate fruit punch. Really, hate. I'd rather practice animal sacrifice & have a 10oz bottle of goats blood than fruit punch anything.
So yeah, hate.
I viably cringe on the way to my seat, when a woman sees my face & tells me about how the test isn't that bad. Funny to me since I have kids already, the proof of that calling me mommy with me. I explain to this woman, with the cute live baby around 9 months old, that I know, but it's fruit punch & I just hate fruit punch. I also wanted to tell her to stop making her baby dance in the air in my direction, because it felt like she was saying, "ooohhh...look, my baby is alive."
I have a complex. I know.
I drink my drink while my toddler cries for it. I never thought the drinks were that bad, I've heard people talk about how sweet & stuff they are but I never really had that issue. My issue is more that I'm drinking something that taste like something, but at the same time taste like nothing. At least nothing I know. It was "fruit punch" in it's own right, but it was just...off.
I finish it & go to the window to wave at the girl on the phone to let her know I'd finished. She didn't seem to realize what I wanted at first, then I saw a light bulb come on over her head & she gave me the thumbs up. Not sure why I got a thumbs up, I guess I did a good job drinking that 10ozs of fruit punch that wasn't fruit punch? Let's go with that.
The husband gets there & takes our son off with him to Lowes after a few minutes. It dawns on me that I now look like a weirdo sitting at the kiddie table since I have no kiddie, so I gather my stuff, along with my shame, & walk over to the grown up chairs. That was thrilling because right after I sat down, walking cigarettes sit all around me. Nevermind that one was obviously pregnant, I was too busy sneezing, weezing, & wiping my eyes. Thankfully the nurse calls me back. She was back, this was the real nurse, not that weird one from last time. I like her. She asked how my day was. I asked her if she ever had one of those days where everything seemed to go against whatever you were trying to do & even the simple things were complicated. She said she knew those days well...I told her I'd had about a week of that. She felt for me. I get sent to the bathroom with my neato solo cup & come out to the sight of my doctor very confused & looking for something. He wasn't sure what, he just knew it was suppose to be there somewhere, & talks to the nurse about how he's not found anything all day & he's fed up with it all. He realizes I'm behind him watching him (OK, I was watching but in my defense they were kinda blocking me in there at the time) & ask how I am. I laugh & tell him I'm happy to see someone else whose having a rough day. He talks crap about how he's a man & can't find anything because men are dumb. I agreed. Then I told him about how my husband went outside to look for our dog one day & right after he walks out of the house, the dog walks out from right beside where he was sitting. He was more impressed that the husband went looking for the dog at all since he wouldn't have bothered.
I go to my room & wait for the nurse to come in & do my blood pressure. It was 107/60. Amazing. I remind her that I'm on the glucose time clock, she tells me she knows & ask if 4:20 was right. I told her I had no idea & explained my lack of phone, therefore my lack of time. She comes back in a few minutes later, bringing me paperwork that she forgot about. It was my consent forms for labor & delivery. A set for each hospital, plus their own "fact sheets" about each type of delivery, I'm to read them & when the doctor comes in he'll go over it all with me. She tells me it goes over the 3 kinda of delivery. I stop her & tell her I know 2 ways babies come out, but I'm not sure the 3rd. She'd meant 3 pages, she promised there were only two exit ports for a baby. I was kinda disappointed, I'd wanted to hear my 3rd option. My belly button maybe?
I start with the hospital consent forms. The first line goes like this, the bold parts are where blanks were & the info had been typed in.
"My care provider *insert every name here* has told me and explained to me that I am
pregnant with a baby
and that I will requirement treatment because
I will deliver an infant
."
...
Really?
After I laughed hysterically at that news, I went on to sign my life away. No, really, I did. I basically signed something that says, "Yep, I could die. My baby could die, too. Whoever is there will try not to let that happen, but I realize that it can so I should bring my living will with me, just in case. Oh, & I give permission to you to give me blood if needed."
The doctor came in & asked how I was doing, to which I responded with, "Oh, just reading about lack of oxygen to the brain." I tell him I really enjoy that consent form for treatment since I'm going to deliver an infant. He laughed & agreed it was ridiculous, then told me how before they started doing the forms in advance, he'd always get calls after deliveries from OB nurses basically freaking out that he hadn't co-signed forms & the baby was already born. He told me he'd always ask, "what if I don't sign it, will you want to put it back in?" I enjoyed his response. We talked about delivery. He offered to let me do whatever, including a c-section if I so desire. We talked about the school system. Baby had a heartbeat, I measured...uh, fine. I didn't ask & he never tells me unless I ask. But I assume it was fine. He ask how much longer I have until I need my blood drawn, I tell him I have no idea. He goes to make my copies of the papers I'd just signed while I make an appointment. As soon as we walk out of the room, the nurse tells us the lab had come looking for me, & instead of making my appointment I need to go to the lab first. I ask if I should run, she just looks at me like "uh oh." I don't run, because no one is chasing me with a knife, but I walk briskly. I get to the lab window & she opens it, asking if I'm the glucose girl. She then says, "you're late." I tell her I have no idea, but I didn't think so. She stared at her watch. Then my paperwork. Then back at me. I think she wanted to make me late. She takes me back & I get my blood drawn. The lab worker ask "where do you want it." I tell her where it will not hurt. She tells me that won't happen. I tell her that's not the best thing to say to a patient before you take their blood.
After that fun, I get my paperwork & my appointment. I go back on, uh, Tuesday I think. After that I get an ultrasound in 2 more weeks. Dork promised me a scan for the next appointment, but he bumped it up until the one after that.
To cheat & tell you how the glucose test story ends, Thursday evening I realize I missed a call at like 5:15 from my nurse. The rest of the night I'm angry & annoyed, telling Adam I'm going to eat Nerds no matter what. I call the next morning when they open only to be told my doctor isn't in, so I may not find out anything until the following week. Grrrr, anyone? Finally, I get a call back after a couple hours & someone finally tells me I scored a 125. So ha! I may be fat, but I can eat as much cake as I want.
The following I'm typing while eating an ice cream sandwich. Nom nom nom...
A couple days after my fun filled glucose adventure, Jules had his first dentist visit.
Taking a 2 year old 30 minutes away first thing in the morning?! Where can I NOT sign up for that?!
Jules went to bed early the night before, so I figured he'd get up with plenty of time to spare. I was wrong.
I woke up, dressed myself, prepared him some breakfast to eat on the road since he was still asleep, let the dogs in & out, & fed the cats before he woke up. He finally wakes up when I'm getting ready to break down & just wake him up myself. I think he was confused that mommy was not only up & dressed, but also really perky & cheery. I tried to stay perky to keep him happy with the process. Being happy first thing in the morning isn't my thing. Actually, being happy isn't my thing at all, but enough of that.
After some potty back & forth, I was able to get him dressed & out the door. As we drive down the road, I start him on something yummy...cheese.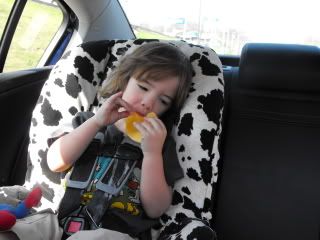 As usual, we hit traffic.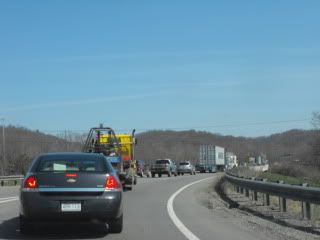 You'd think I'd be use to this by now.
Thankfully, there was a speed limit sign to keep us all in check.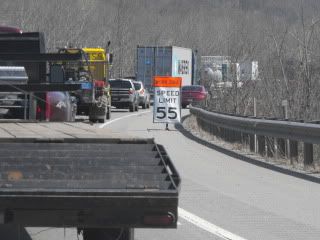 I think I can handle that.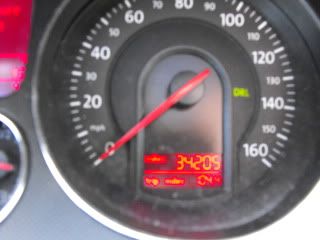 This is the "work" on the road.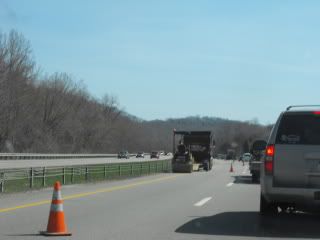 Then I followed this thing.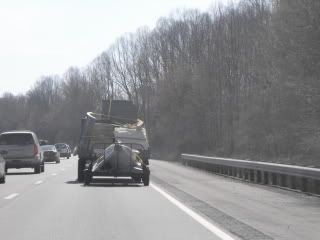 While driving, I realized I wore a shirt that wouldn't stay on my shoulder & posed a possible boob peek a boo exposure.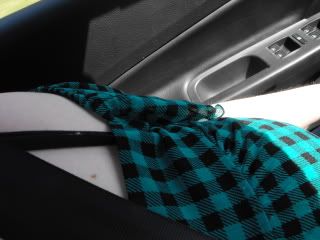 Guess I was looking for a discount.
I had no idea, so I kept my directions handy.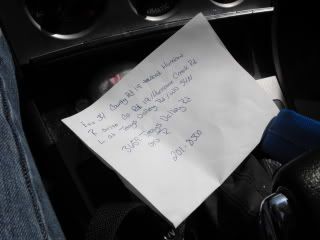 We get there...10 minutes late...& I'm greeted with this.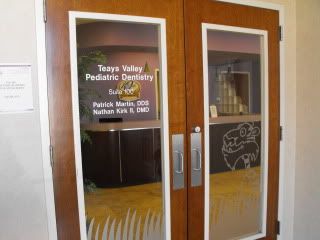 We are not only at the dentist...but an orthodontist. Speaking as someone who had braces twice as a child & who made a child with someone who should have had braces with a child, well, I felt like I should just sign over my soul now to these people.
Jules wasn't too impressed either.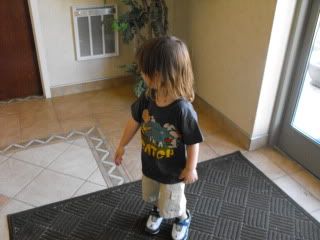 I tell them who I am. When I made the appointment, they insisted on getting all of my insurance info then so they could call & confirm the coverage before the appointment three weeks before the appointment. Well, she looks at me & tells me they have no idea about my coverage, they just tried calling but they are gone to lunch. I just blink & wonder why I had to stay on the phone 5 extra minutes to give insurance info they weren't going to call & check about until the minute of my appointment. Weird.
The room had a slide.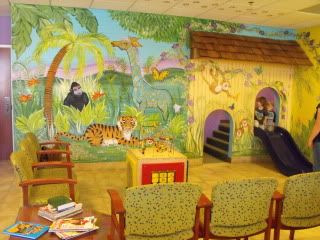 And video games.
We get called back, so I have to pull my kid away from the fun to go sit in a little room.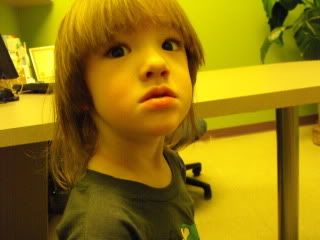 He decided since he was at the dentist he'd practice his underbite.
Doesn't he look excited?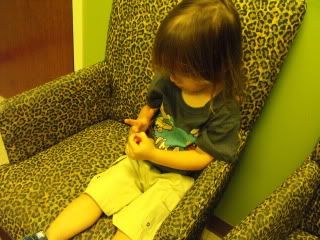 Of course, I can't blame him for being weirded out. I don't like creepy looking machines either.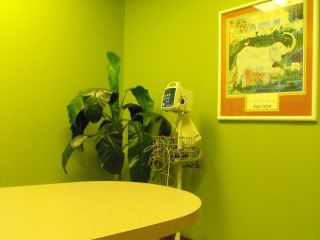 But Spiderman was there for comfort.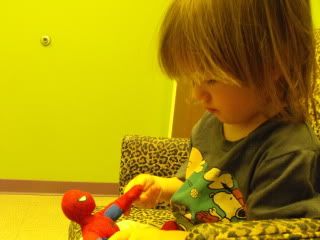 Eventually the dentist comes in & fall out of his chair. Seriously. And no, I didn't get a picture. :( He ask if things are good, I tell him yes. I tells me they are just going to look & count teeth, make sure they are clean & free of cavities (cheese isn't a cavity, thankfully). Then he sent us off to let Jules pick a toothbrush. They have Spiderman, Buzz, Woody, & all sorts of things. Jules? He picked a blame, random toothbrush.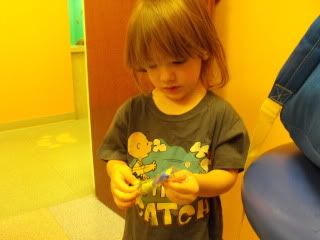 Hey gave his teeth a clean bill of health. Then he mentioned how shocking the crowding of his baby teeth were & he asked if I'd ever had braces. I laughed & told him twice. I'm guessing he put a big fat "$" on my chart after that news.
Jules got a good bag, including a littel bouncy ball.
He dropped his ball.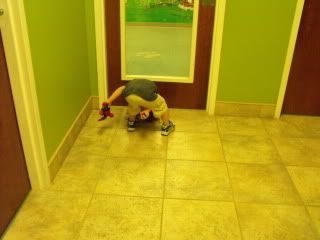 He also got a certificate, which says he started his good dental health in April 202010. No, that isn't my typo, that's really what it says.
As we left, he decided to go down the slide again.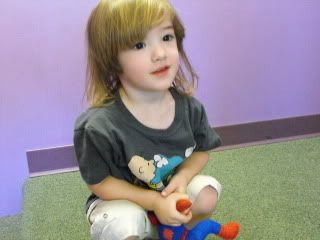 Meaning he perched.
And perched.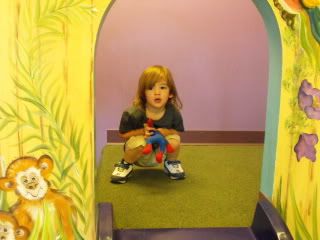 And perched some more.
He finally went down the slide though.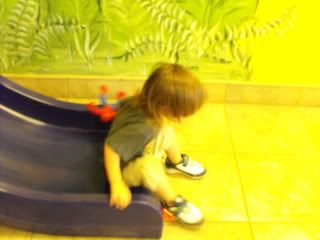 Then he left out of their little child sized door.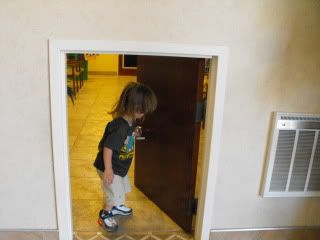 When we made it to the car, I told him I was going to take his picture again. This was his response.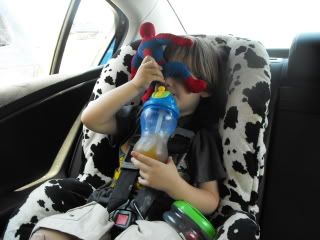 This is how I felt.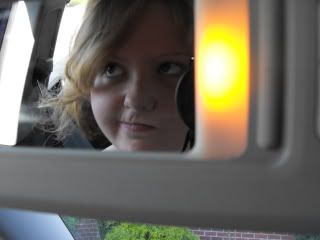 On the drive down the road, my batteries died. So we had to stop for stuff.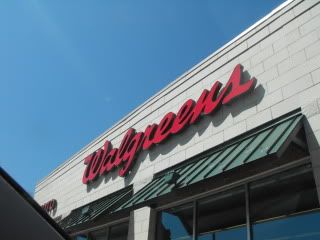 WALGREENS!
We got drinks, batteries...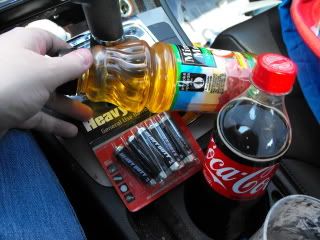 And, of course, an ice cream sandwich.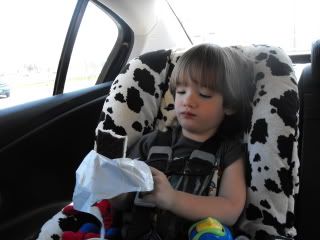 On the way home, I asked Jules if he wanted to see the Easter Bunny. For once, he said yes. So off to the mall we went. Walking up to the bunny picture stand was weird, because it's kinda giant.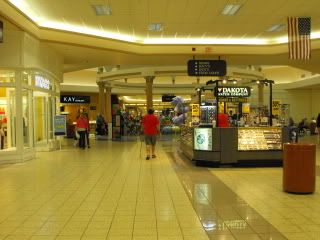 And Santa works the booth. Well, the guy who prints my pictured looked like Santa.
Jules was into the idea of the bunny...until it was time to take the picture. The 13 year old working told me, "just sit him up on the bunnys lap." Something off about being told to throw you kid onto the lap of a stranger in a bunny suit. If it wasn't the mall & at easter, I think it'd be illegal. Jules wants no part of it, so I sit with it. It was, uh, weird. Made weirder by the fact that in the picture Jules is slowly by surely pulling my shirt down to expose my, uh, ample cleavage. By the time the picture was done, the bunny had a very good view of what I didn't want the dentist to see. Oh well. After our picture, the bunny & the 13 year old who took the picture went to the bathroom. Sadly, I was unable to get a picture of that sight.
This is what you get for $22.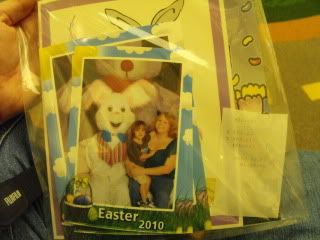 Three pictures. And a couple paper frames.
Of course, we also got this.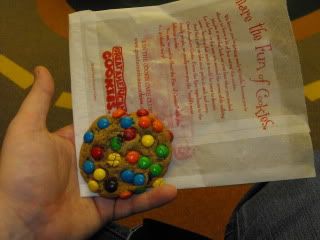 A free cookie from the cookie shop. That totally makes up for the bunny seeing my boobs.
Jules was happy to name everyone in the picture.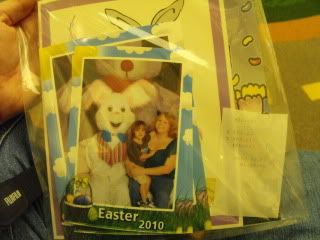 And being so proud of his dentist trip AND for naming me in the picture (because, you know, that's shocking that he knows me), I took him to the Disney Store. Because I'm a push over like that. We did get some really good deals though thanks to it being a couple days before Easter.
He was pleased with MORE Toy Story toys...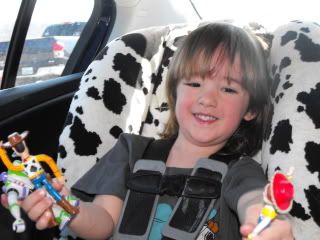 I got a couple balls since he always wants everyone elses (write your own joke)...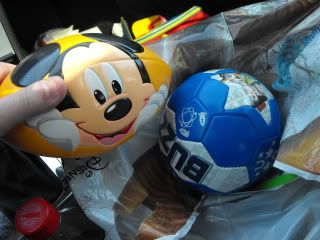 Jules picked a couple as well...
I was left with a bag of trash.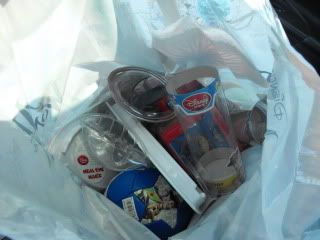 And me?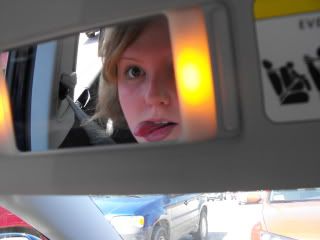 I was officially done.
Of course, humor would soon ensue as Adam was going to start working on the
playset
. And that, my friends, is a story I'll share soon.