I'm a big party planner. It's rare I have an excuse to throw a party, but I do believe in going on out when I do have an excuse.
When Jules turned one, it looked like a prom at our house.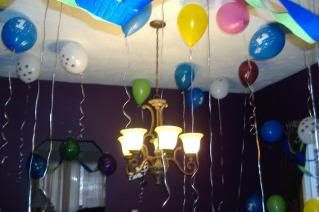 And he gorged on cake.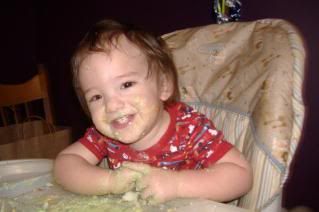 And I just add this picture, because I think it's adorable & makes me want to cry in my current mood.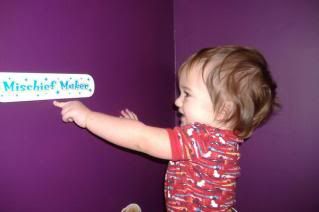 Life, as he knew it, was fabulous.
About now I would have already had things in motion for Joel's birthday party.
There are lots of things like this...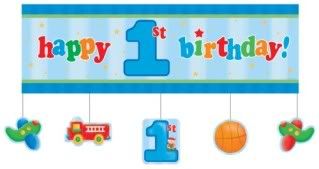 They don't make a banner for what I need.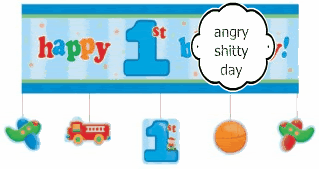 Not that's it's the
first
angry shitty day, but the first that's banner worthy.
I have a hard time wrapping my head about his "birthday." It's also listed as his day of death, but that's not really true. We knew he died on May 26th, he was born on May 28th. So actually, things shouldn't just say May 28th, they should say "May 28 2009-May 26, 2009" but I guess that would seem like a typo. Personally I feel like this entire event in my life is one huge typo, but we all know that.
Different people mark their childrens days differently. Some do nothing. Some throw a party complete with cake. Others, somewhere in the middle. Personally, I think all the options suck, as I'm sure they do. No one wants to have to pull something together to mark the day of a child dying.
Personally, I want to have some attention whore get together & sulk. I want to get a cake, just so I can write, "this blows" on it. Then, after the cake, I want to go burn down the perinatal office I blame for Joel not having a chance to live. Everyone acknowledges, in passing of course, that this has been sad & even hard. But I'm pass that this is sad & hard point. I'm at that point where I'm bitter, angry, & want everyone else to be bitter & angry with me as well. I think it's great that so many families can pull together & make some beautiful celebration in their childs memory. Me? I can't. The only thing I can pull out of the entire experience is, as I already said, bitterness & anger, on top of traumatic memories of the entire situation, not just him but the craziness we dealt with from people after the fact.
Though I gave an example above about what I'd consider a good way to celebrate, I really have no idea what I'm planning on doing, if anything, around his birthday. I don't want people to think it's odd that we're doing whatever. I'm sure some people think we should be over the entire event, due to the time passed or the fact that my Eggo is preggo again. I don't want people to look at me sad. I don't want people to have another excuse to say stupid things about how he's in the arms of Jesus where he should be. I don't want people to go on & on about Blair because they think that'll make us feel better. I don't want people to stop by with gifts for Blair since it'll be close to his due date. It was bad enough people bought Christmas gifts to Jules at Joel's funeral (yes, seriously, 6 months late & at a funeral), but I really don't want another Joel day turned into a day for whoever or whatever else.
Of course, worse yet, I don't want people to forget. Part of me wants to do nothing so I can bitch & moan when people, besides baby loss people of course, don't acknowledge the date at all. I'm selfish, so not only do I want him not forgotten, but I want people to say, "wow Jess, this time last year you were going through something awful emotionally, including 26 hours of labor only to go home with a baby blanket. I'm sorry your life sucked so much then." That sounds weird, but I'd actually appreciate those words & say, "Thanks, it HAS sucked!"
So I have no idea what I'm doing. If I'm doing anything. The clock, it's ticking & tocking, I need to make some decision & then make plans if needed. At 3am I come up with things I think will be nice, but by morning I realize it's just the ambien talking to me as I drift off into la la land.
I mean, what I want is really fucking simple.
I want opening gifts & happiness.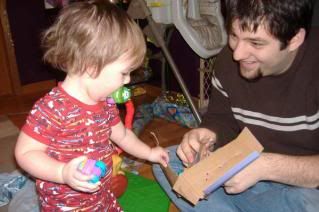 I want more opening gifts & to be confused, as I usually am anyway.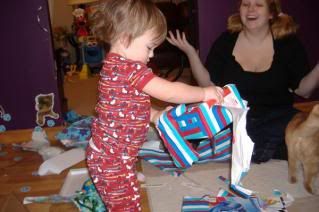 But I'm a big girl (and I'm not referring to my cup size for once), so I know things don't happen like you want or plan.
And as a really blunt way of ending this blog, I'd like to once again announce that I really cannot believe this has happened to us, that we've had to live through it, & that this is forever going to be a part of our lives. I can't believe I'm going to spend the rest of my life missing someone I never got the chance to know. Yeah, it sucks.
And my
insurance battle
is still going on, btw, if you'd like to participate. I just got a letter today telling me my insurance is frozen (meaning they will pay no current or new claims, & if I or an office calls about my coverage, we'll be told there currently is none) until I sent a statement promising them that I have no other insurance coverage. Fun. Oh, & even when I do that I'll still be subject to the audit they are having statewide in the summer where we'll have to provide about 25 sheets of paper proving we're all related & entitled to health coverage. It's dated a couple days after my rejection letter. Lovely, huh? Maybe that's another building I can talk about burning down on the 28th of May.