After today, I've decided that it's official...I'm pregnant with a weirdo.
Prenatal. Ultrasound. Well, switch that. Had a very nice ultrasound tech. I've only ever had one at this place before & she's nice, but she's kinda all business. This woman was a little more friendly & upbeat. I was nice & allowed a med student in with us. The woman working the window dropped her voice & told me, "I need to ask you something" when I checked in, which was a bit scary. But she just wanted to know if it was OK if the student came in. I said yes, without blurting out, "she's not going to distract the tech from making sure the baby is going to live, right?" but I didn't. I must be getting better at this whole pregnant after dead baby thing. Hooray, I always wanted to be good at something shitty.
The Blair has bladder, kidneys, heart, good blood flow, his fluid is just under 15, & his placenta is a grade 2. I choose be be scared by that, even though it's fine. Even when Joel died his placenta was still considered a grade 1, which is the best it can be I believe. But everything is working well. He scored 8 out of 8 for his biophysical profile. He's 4lbs 2ozs of bad ass fetus.
The Blair?
He's going to chew his way out.
How do I know this?
He was chewing on his cord.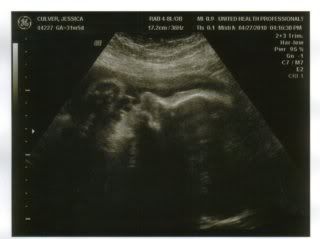 Can't make it out? That's fine, he continued to do it in 3D.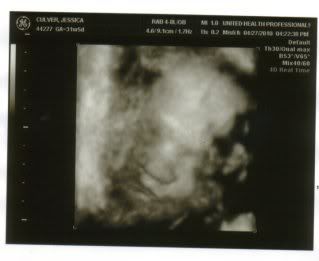 Very odd to me. Never have I been told my fetus was gnawing on it's cord. Jules never did & he spent alot of his early life biting me. I'm scared of what this one holds for me. My nipples already hurt.
As usual, he stared.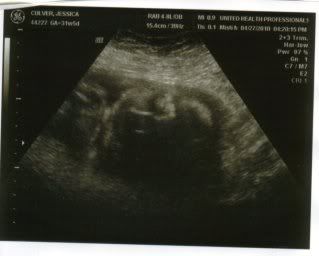 He did eventually pose for one decent 3D picture.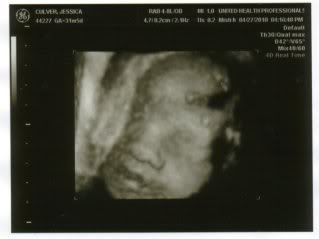 Like Jules, he spent the better part of the ultrasound keep his face buried in, well, me.
He was very proud of his testes. Even in 3D. Odd...yet neat at the same time.
I personally find this to be the most neato picture ever.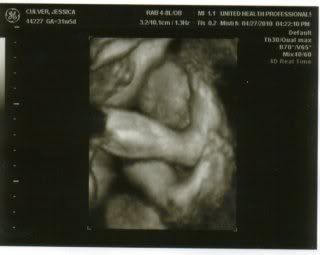 You can see legs & toes, one hand on the upper left & if you look at the bottom left you can see those testes I talked about. His face is in the background, looking like a panda bear peeking out of a tree or something.
We also got to see his eyes moving around, looking around all paranoid. As he, you know, gnawed his cord.
I go back in a week to do this all over again. I saw a midwife today because my doctor was booked up, she went over how we were doing this all again every week because of "well, you know, all that other stuff." No one wants to mention a dead baby to a pregnant woman, even a pregnant women who has had a dead baby. Of course I wasn't really into this woman. She is nice, I saw her a few times when I was pregnant with Jules, but the final straw that time was when I heard her tell her nurse when I was pregnant then that she was going to see how fast she could "blow through this" outside my door, then she ignored me when I told her I was having problems breathing & had been sick for weeks. Two weeks later, I almost ended up in the hospital with pneumonia & carried around an inhaler for a month so I could take in oxygen. Not fun. Next time I go back to seeing my doctor, who I consider to be broken in, so that's nice.
The woman who was setting up my appointment tried to make it for the end of next week at the earliest, meaning almost 2 weeks. I explained that wasn't going to work for me. I told her any time would work, if she just told me I'd be there. She finally found I could come next Tuesday at 2:30. Next week will be fun, on Monday I visit my dentist to get two fillings. Hooray! My dentist is also pregnant & due in June. She looks cute & put together. I feel bloated & want to throw up most of the time. Unfair.
In other news the swing set story is set to be up this week. Rejoice. I'm also painting my house, because I'm crazy like that. Our living room needed painted, as it had Jules written all over it (in scribbles) & my dad talked me into flat paint for some reason so cleaning it wasn't working. Plus, it was dingy. So the living room is getting painted, one wall is a darker gray with purple undertones (our dining room is barney purple & our kitchen is called "blackberry jam" so it needed to flow), then the other walls are a shade lighter. That lighter shade will also go up the stairs & in our small hallway. I adore the colors more than I ever thought I would. I couldn't be happier with it, it's kinda shameful how much I love it really. It's a good, clean color that makes everything in the room look much better than it did. Our 2nd bath is just now finally done, almost a year after starting it, so I'm pleased. Actually, 2 years for some stuff. Adam was going to put the trim up around the closet for TWO YEARS. I bought the trim. I stained the trim. I waited. And waited. Jules wasn't eating solids when we started that project. It finally took me telling him I'd just do it myself & that I'd found an ehow on how to do it myself to get him to actually measure, cut, & nail the trim up. TWO YEARS. And he told me I'd nagged him about it. I told him I was, & after 2 years I totally had a right to nag.
We're also going to paint our bedroom, which is currently a dark brown (moose antler to be exact) & it's going to be a medium shade of blue with some grey-ish mixed in. That will settle us until the baby is here, minus some touches to his room to make it actually
his
room. We've also been hardcore cleaning, including washing & scrubbing our area rugs in the house (I did that actually) & shampooing the carpets in our house. Oh, & we still need to tile the upstairs bath. We have all the stuff...just no will power to start the project.
I think we never finish things because we aren't sure what to do with ourselves if we actually finish & are happy with everything. Three years here now & everything is still a project. After we're done with the above, we'll take a break. Hahaha...I sound like a first time mom, I just said "take a break" when I'm expecting a newborn in a few weeks, silly me. Of course, last night I announced I thought it'd be nice if we painted our stairs. I'm not a fan of how they stained & I think the right color would look really nice. As much as I hate to admit it, I'm sure we'll eventually do that as well.
And no, this has nothing to do with "nesting" it's just my constant battle to get my house to be less ugly. I've almost got it to the point where it's not
too
ugly, it's almost "nice."
If I ever get it nice, you're all invited over. And you can all see the animals, couches, kids, & the husband. I can even make him build something for your enjoyment. You're welcome.
Goodnight (or good morning depending on when you're seeing this) my dear followers.
BTW, I'm up to 93 followers. Once I hit 100, I'm totally getting a cake to celebrate. Any excuse for cake.