And my friends, my happiness comes in the form of hot pink flamingos.
You should all know
the story of the camo tarp
.
Still cringe at it, btw.
But...but...what is that in the distance where the small area without tarp remains?
Wait...could it be...? It is!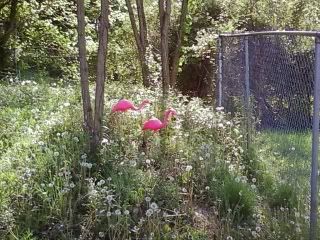 PINK FLAMINGOS!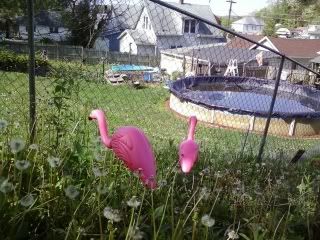 They enjoy their view.
They are watching.
Of course, they only fill in for me.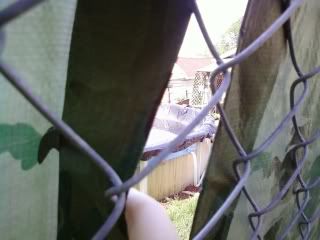 And even if she pops for an expensive tarp without disconnects, well...
We've still got our ways.
I plan on expanding my flamingo family as well. I hope to have that whole area a sea of pink by the end of summer. If anyone has any other tacky crap they'd like me to add, let me know. I can do it. I'll also take donations of ugly if you'd like to add something yourself.
And on top of this event, it's come to my attention that I'm special & have been nominated for fancy blog award categories that you can vote for me in.
I'm as hot as a 7 month pregnant woman can be.
My best parenting advice is teaching kids "we aren't going to the hospital!" I find that scares them into not jumping off the roof.
The humorz, I haz them.
Vote for me, so I can feel good about myself & maybe get some sort of special icon or something.