Well, mouse really.
Well, they've done it twice now, so I guess that's mice.
I mean a computer mouse, for the record. They eat cords. And because of that, I only have one not great picture from today's ultrasound to share.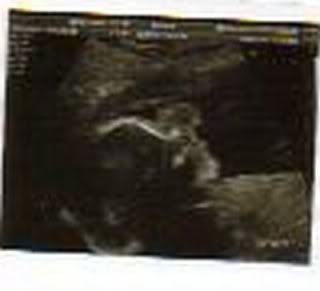 I'll post a couple more tomorrow when the husband steals a mouse from work so we can scan the pictures correctly.
Vital organs & blood flow to everything is good. Fluid is good as well. They didn't do a measurement of him, as my doctor didn't order it. I'll get that Tuesday at the regular office I'm sure though.
And no, he doesn't have a horn on his head. I'm not pregnant with a unicorn. But how awesome would that be really? Painful, but awesome. Anyway, that's his hand. Blair likes to vogue I guess, because most of the scan he spent with his hand up like that & his other hand & arm across his chest. That always makes a fetal heart exam easy, right? He also continued his staring problem. I have one picture with his mouth open, where it looks like something from a horror movie. This kid, he's already taking funny pictures. He also looks chubby in the face compared to the other children who lived in my womb. I'd say fat, but no one likes someone who calls a baby fat, so we'll go with chubby.
Oh, & he was officially called "wild" today. So maybe I'm carrying the human version of that penguin in Happy Feet. Or he's got ADHD.
I'll hope for the penguin. They are cute.
Hey, speaking of cute, any readers out there in Upper Darby, PA? Because if so, you should
buy tickets to CoCo
. Why? Because you'll get to see me. At 38 weeks pregnant. A short 8 hours away from home. For CoCo. I'll be the woman in labor, refusing to go to the hospital until the show is over or the really pregnant woman "Touch my belly, CoCo!" You won't be able to miss me.
Oh yeah, I'm insane. But you should know this already. In my defense, I tried to get tickets to a show in DC, which is 5 hours from here, but they were totally sold out. By the time I realized that, I'd already hyped myself up about going. So it was that Upper Darby place or Chicago, which is 10 hours away. So New Darby won. I'm hoping to see the
Rocky Statue
& drive through Philly alternating between singing the theme songs to
Cold Case
&
The Fresh Prince
.
...you all want to meet me now, huh?