First, I got a ton of feedback from my last couch post. So I need to address something...WHY ARE YOUR HUSBANDS ALWAYS SLEEPING?! Seriously, I got like 2 dozen messages sent to me from women laughing so loud it woke up their husbands. You're busy on the internet...isn't their laundry to fold or floors to mop in your house that they could be doing instead of sleeping? Tell those lazy men they shouldn't have been in bed or asleep in the first place. Tell them to get up & do something productive. You can sleep when you're dead. If you have kids, you should have told yourself that at least 353985 times since their birth. This must be why the divorce rate is so high...sleeping husbands. I've trained mine to go on about 3 hours of sleep per WEEK. It can be done.
I'm happy so many people enjoyed my couch. I thought it was boring & I almost never posted it. I'm a bad judge of funny I suppose. Of course, I did marry my husband because I thought he was funny, so I guess I should have realized a long time ago I'm not a good judge of funny.
Today I'm going to educate you on toddlers. Even if you don't have children, you have to interact with toddlers in some form or fashion. Until, you know, we're allowed to keep them in cages where I think most belong. Take notes.
I have a toddler. He's 2 years old, & 34lbs of fun. By fun, I mean a holy terror. But he's sweet. And he's freaking adorable. That's why he's so great though, so we don't leave him on someones door step when he's a meanie. I mean sure, he pinches the crap out of me for no reason sometimes, but then when I cry out in pain & misery, he kisses it & goes about his life. Then I go from cursing inside me head to saying, "awww...he's sweet, let me get him a popsicle!" He's trained us. We aren't his parents. We are his dancing monkeys, here for his entertainment & feeding purposes, nothing more. And, being brainwashed by his funny comments like, "I did it!" every time he does
anything
, we don't even care.
Looking back, I'm sure we all have memories of things we did as children. My husband talks about how he played on the family staircase with his action figures. Sounds safe, huh? I look back to a time when I was a kid & was entertained my bees. Yes, bees. I though they were my friends.
Yes, I was a weird kid. Leave me alone.
But I do try to pull from my childhood sometimes, to bring him some magic from the 80's. No, I don't let him play with bees, but sometimes I'll be out & see something that he may find fun or different. A couple weeks ago I was at Target & found some magical pills.
No, nothing weird or illegal. These.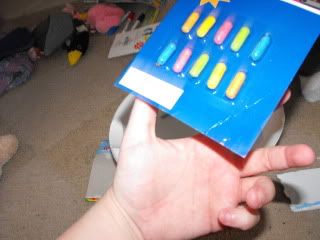 You remember these, right? You put the pills in water & they turn into...things.
They were in the $1 bin at Target & I couldn't pass them up. The girl at the register also got excited, telling me how much she loved those things.
So one day I get them out with a bowl of water. I show him to put them into the bowl of water.
Several minutes pass. Nothing happned. I was conufsed. I decided to read the package, just in case I was stupid. I was suppose to use
warm
water.
Makes sense.
So I dumped the water out & added warm water.
Let the magic happen.
By magic, I mean this.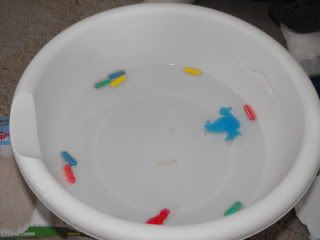 Safer than bees, I'll give you that. But more entertaining? Ummm.
Eventually our little caps turn into little sponge things.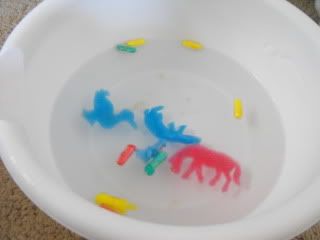 He seemed amazed.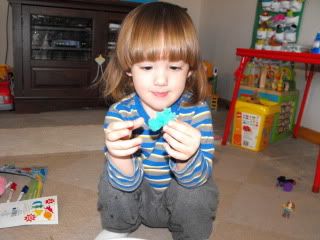 Victory, it is mine!
Then about 45 seconds passed. He was over it. He then started ripping the little things apart.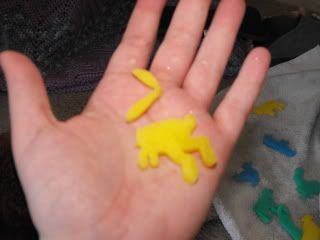 I, being the girl with the psych degree, start to worry that he's showing aggression & wonder if this means something is wrong with him.
Then I realized, "hey dumbass, you gave a 2 year old pieces of foam, what did you expect him to do with them really?"
And then I was confused about why aliens were riding a tractor.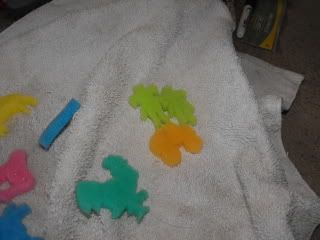 So I realized then that the modern toddler is better than us old people were as children. They need something flashy, soemthing amazing. Something to read blow their minds.
They need...
Elmo...the stage show.
*sigh*
First, let me tell you how much I hate Elmo. Like...hate. He was the bees knees around here for a very long time, so I guess I got to the point where I was just fed up with the little annoying red guy & his stupid fish. Of course, the real issue here is my huge fear of the big yellow guy. Big Bird. As a small child, my grandma bought me a huge 4 foot tall Big Bird. It scared the shit out of me. But since it was expensive, my mom insisted we keep it out. At one point, he lived on a top shelf of my closet...the closet that was also used as my nightlight. So every night, Big Bird would just stare at me.
So I've got some history with Big Bird.
To enjoy an Elmo stage show you have to be one of two things. A toddler, which I am not, or fucking drunk. I couldn't do that obviously, so I was not going to enjoy this. Not at all. The things we do for short people we love.
First thing is first...you need tickets. And I believe in going big or going home, so I opted for the $25 floor seats. Because if I'm going to have to sit through Elmo & others, my kid is going to get to fucking interact & touch them as they dance around as they normally do. Knowing I'm not going alone, I buy enough tickets for the husband to go to. He is NOT getting out of this. No way. So the $25 is bad enough...but that is before all those great fees. I have to pay ticketmaster conviecne fees. Because it's convenient to for them fuck me. Then I have to pay a facility fee. So the local arena can hire people to search my bags to make sure I don't sneak food or drinks in (I'll get to that later). And THEN I even have to pay a fee for the honor of getting the tickets I've just bought. Even if I print them at home, I must pay a fee. I bet when I'm done telling this story, I'll be billed a "story telling fee." I refuse to admit how much I paid for these tickets, but use your imagination.. And go ahead & laugh at me when you come up with a figure.
The day of the event came. Because I had to take a pet to the vet, my parents spent the early part of the day with our son. Never try to take your kid out in public until you've had at least 24 hours to deprogram them from grandparent rules.
How insane was our darling? So insane that before we were even out of the house, I'd already told Adam I was going to sell him to gypsies & give the tickets to orphans.
We decided to dine out at the local Bob Evans, since it's near the arena. He was such a joy, I asked the waitress if she would place benedryl in his mac & cheese. She laughed. I wasn't really joking.
I lucked out because he opted to sit on daddys side of the table. He spent most of the early part of the meal playing with daddy's drink.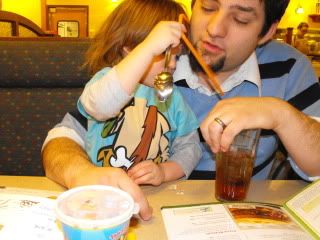 Doesn't daddy look happy?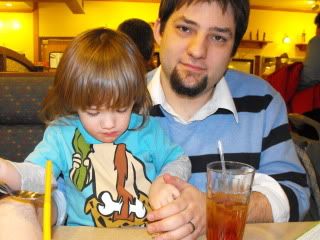 I think he agreed with my gypsy idea at that point.
But he finally found that he could but 24 tablespoons of butter on his roll, so he was entertained until his food came.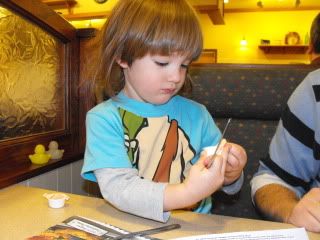 For the most part at least.
At this point in his life, he doesn't really care as much about Elmo as he does Cookie Monster. If Cookie Monster & I were in a burning building & he could point the firemen to one of us, bye bye mommy. Cookie can't burn. He ran down the street, holding our hands, calling for "cookie!" When we go in, they have tons of signs leading up to the doors inside saying "no food or drinks permitted, bags will be searched." The girl looked in my bag & saw the container holding my toddlers grapes. She asked, "is that food?" I said, "Uh yeah, fruit. Grapes. For the baby." I could tell she was questioning if she should let me in with said grapes, but at the same time I think she knew better & she eventually said I could go in anyway. I got in with my grapes, & his juice she didn't see in my purse. I'm a rebel.
Of course, I want to know why the hell they want to limit food & drinks for kids. Like I get you don't want me to bring in my $1.25 soda so I am forced to buy their $4.50 soda, that's fine. But what do they suggest we give our kids? They expect a toddler show to serve soda & nothing else & that is fine for the kiddies? If I could buy grapes there if I needed them, I'd buy their $8 grapes. But I'm not going to go empty handed & stuff my 2 year old with cotton candy & popcorn at 7pm because they don't want me to bring grapes but they don't want to sell them. I wasn't trying to beat the system, but if you're not going to sell things appropriate for a bunch of small kids, don't expect me to not bring them something if they need it.
He was amazed when we went in & he saw the stage.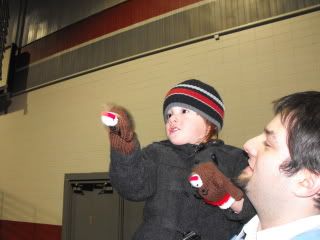 Then he turned into a frog.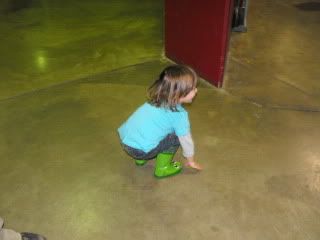 I don't know. I use to play with bees, who am I to talk?
As we found out seats, Jules saw many children. But really he was more into their stuff. Kid was pointing at everything. I knew what that meant. I was about to go pay "you make cheap crap look neat, so my kid wants or he'll scream all night" fee. You all know this fee.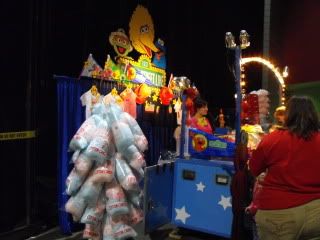 The toy stand.
At this stand, you can buy $10 programs. Or a $12 ball your kid can throw at peoples heads. Or the $35 plastic made in China figure set. But none of those things for my kid. Noooo, my kid got the $15 t-shirt & the $15 battery operated weapon.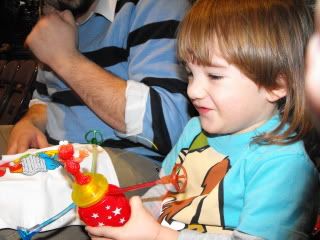 It lights up. It spins. It tangles in your hair. It whacks you in your & the faces of those around you. It's mine, all mine.
Before the show starts, randomly, the voice of Big Bird booms over the speakers. "Hi everyone, I'm hear to steal your souls!" I'm pretty sure that's what he said.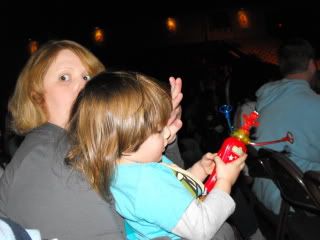 I was scared.
Eventually the show started.
My son went crazy.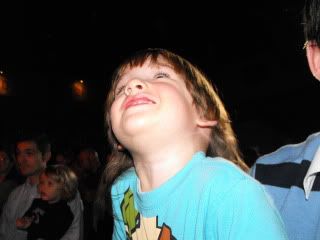 Big Bird stared at me with his big, threatening eyes.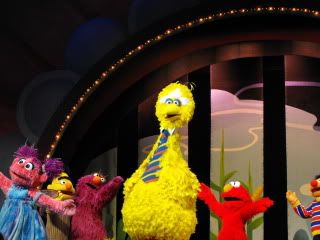 Cookie Monster...well, I'm not sure what happened to him.
Our son danced on my husband testicals.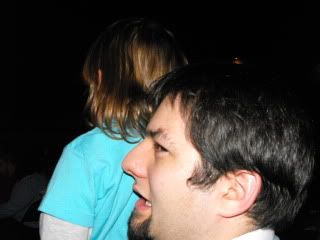 Then Elmo & company took acid & fell down.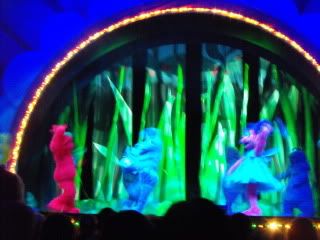 WTF...is this Sesame Street the college years?
Of course, I can't explain why Grover was grabbing himself.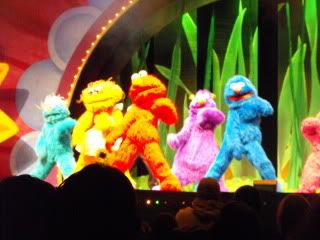 Maybe his testicles felt my husbands testicles pain as our son danced.
We kept getting close to characters...they'd come very close, then they'd run away. We'd actually done this a year ago & they did alot more interacting than they did this year. By the time the intermission started, I looked at Adam & said, "If someone in a furry costume doesn't come down here & hug our son or pat his head, I'm going to fuck some characters up." It was bad enough Jules couldn't understand why he couldn't get on stage, but something about the demon child holding out his arms screaming, "Cookie, Cookie!" as he interacted with other kids really got me into bad ass, angry mom mode. Not to mention his disappointment every time they got close, then ran back up on stage.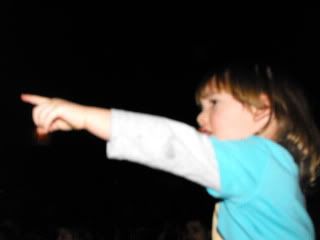 Explain the fairness of that to a toddler. Good luck with that.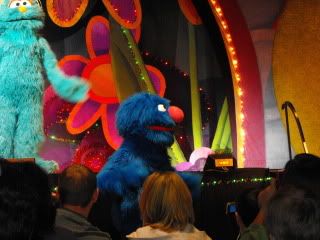 Of course, I didn't really want Grover too close after that crotch grabbing incident. Weird.
Intermission comes & before the lights are even up, I see a huge thing of balloons come out to the stage. So did Jules. I got my wallet & was actually the first sucker to buy one.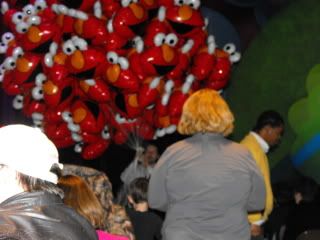 As I made my way up, I thought to myself, "these won't be anymore than $5." When the guy told me $8, I wanted to ask if I should bend over the chair or the stage. As I stood there, waiting for my balloon, I realized I was about to make a walk of shame. You know the classic walk of shame back in those crazy college days of drinking & a night full of sex with some guy you don't really know. Maybe he's in a band & plays bass & that's really all you know about him besides the fact that he's hot. It's all great until the next morning...when you have to compile your clothes & your dignity, hopefully you didn't leave it on the pool table where it all started, to walk out pass his roommates, making your way to your car, acting as though you're not ashamed of yourself but trying to make sure you're not too happy with yourself so you don't seem like a huge slut, hoping you got your panties instead of the panties that belong to the drummer's date for the night before. I mean, we all know
that
walk of shame, right?
...that is all hypothetical, of course.
Anyway, let's say now you know about that walk of shame & none of you ask any question about that night. If, you know, it happened. But it didn't, so you can't ask about it. At least not to me. Nope, not me.
Ummmmm...anyway.
I was about to make the adult parent version of a walk of shame. As I turn with my balloon & come back, I pass no less than a dozen parents who ask, "who much are those?" Each share my pained look when I tell them. And I'm ashamed of myself for admitting that I just paid $8 for Elmos head on a string.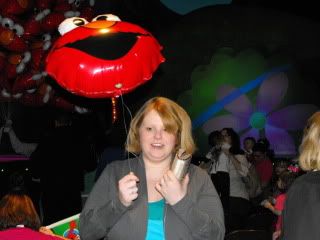 I make sure as soon as I get back to tie it onto one of his toys, because I refused to lose an $8 balloon. I felt bad for the people who did.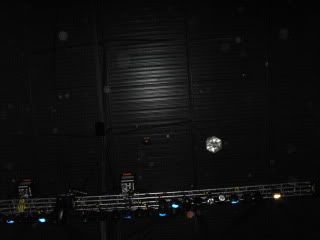 That is an Elmo face...staring at me.
I then went to explore for drinks. And of course ,I got this.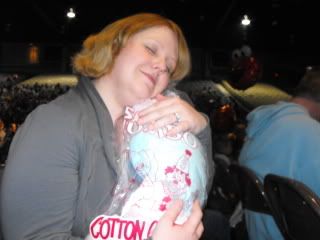 Cotton candy, I love you.
Jules was a tad bit confused about it.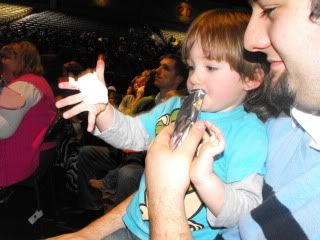 When the show started back up, I pondered some things.
Why is blowing bubbles with gum so fun?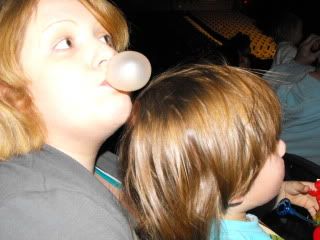 Why did I spend $8 on a balloon that we then had to shove under our chairs?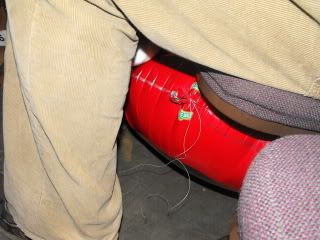 Why isn't any scared of the FUCKING VAMPIRE?!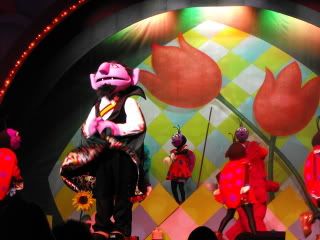 Is my kid waving her, or trying to whack the nice lady who kept calling him a "she?"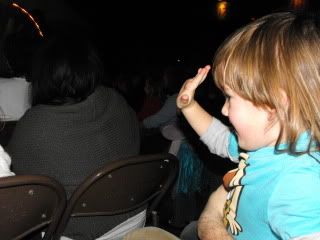 Is there a worse job on the cast than the guy with the butterfly on a stick?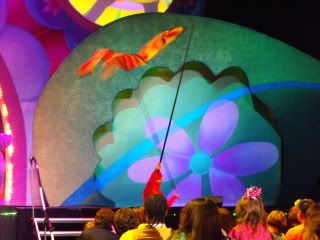 HOLY FUCK, THERE IS!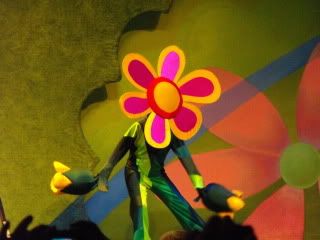 Even Jules thought this was getting weird.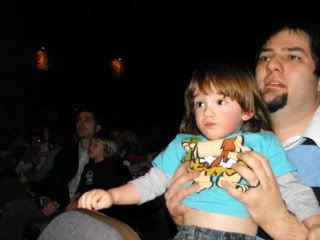 But otherwise, he enjoyed it. He danced in the isle.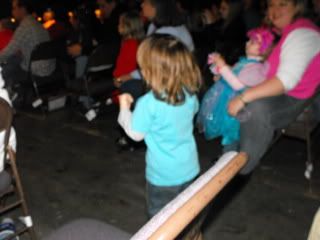 And in the empty seat in front of us.
The show was wrapping up & my kid still had no character interaction. I was cursing this entire event, wondering why I couldn't have the option of even PAYING for them to hug my son. Then finally, Zoe came down to our isle. I can't remember if Adam did it on his own or me saying, "send him up there to her!" is what triggered it, but it doesn't matter.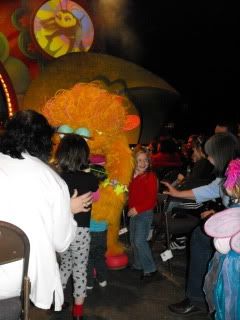 See that thing in the blue shirt at Zoe's crotch? That's my son getting his hug.
And this is his joy.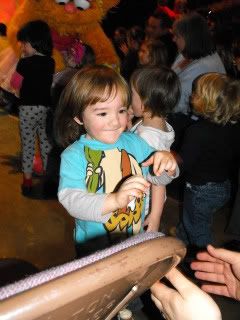 And that, my friends, made up for ticketmaster fucking me.
But not the $8 balloon. NOTHING will ever make up for that insanity.
In the end, he waved bye.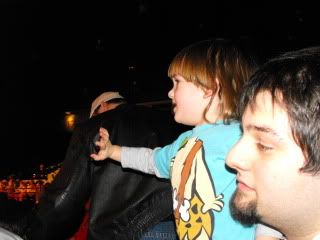 Then streamers went off, covering all of us losers in streamers.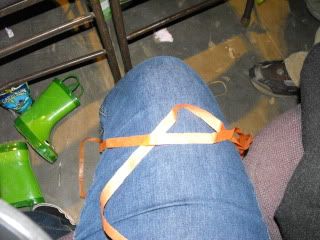 It's really weird being all wrapped up with strangers at Elmo Live.
We posed for pictures with the only sad prop at the stage.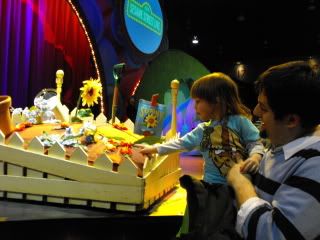 And the background.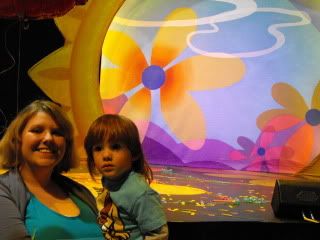 This made me feel better because all the other parents were bitching about the lack of interaction at this show as well. So at least I wasn't alone.
Then we saw these guys.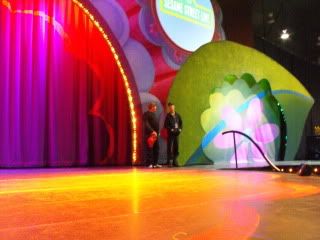 Nothing better than seeing guys with a leaf blower as you pose for pictures, knowing they want you to get the hell out so they can clean this mess up & go home & drink.
We got Jules dressed to brave the cold.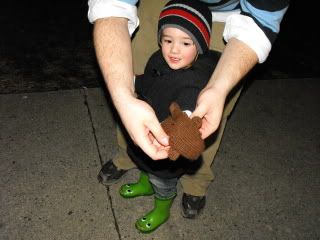 And I noticed how the belly already beat the boobs.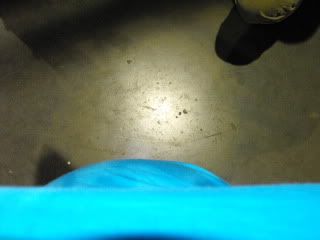 BTW, I was 36 weeks with Jules before the belly even got CLOSE to beating the boobs. I'm only 21 weeks above. Scary isn't it?
As we left, he held out hands again, as he ran to the car.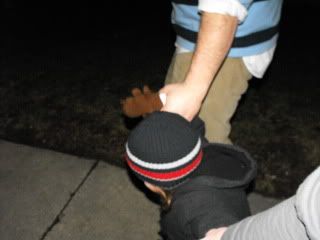 He enjoyed his weapon on the way home.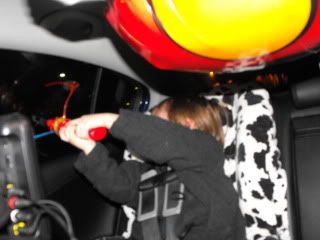 And for the record, he's only got it stuck in his hair
once
since he's had it. I think that's a good statistic.
Then we came home, where he wore a hat & watched Buzz Lightyear before bed.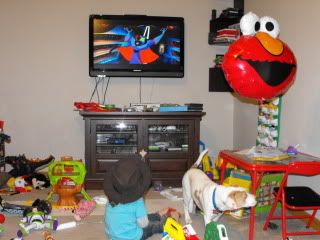 And Elmo mocked me.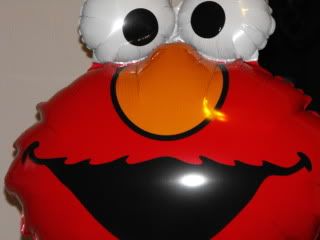 Jules eventually ate cheese as a snack.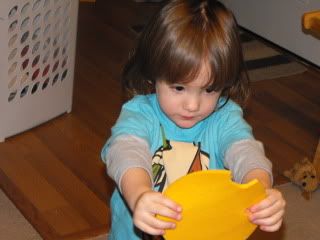 Cheese that was as big as my head.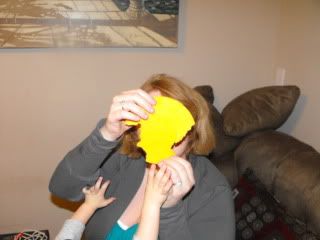 And I sat on my couch, trying to keep myself from finding a corner to crawl into & crying because the stupid songs from the show were stuck in my head. And telling myself that I'd never do that to myself again.
Why couldn't pills turning into foam things have been enough?