After much technical difficulties & laziness, I bring you day two of our trip.
At this rate, I'll have the stories of the trip finished by this time, 2011. To remind yourself of day one of our exciting adventure, feel free to
click here to read about it
.
On day two, we woke up in the
Hollywood Heights Hotel
to a nice, overpriced breakfast.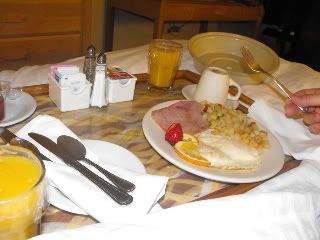 Nothing better than laying bed, looking like you've not slept since 1989, with some stranger telling you hello. Kinda weird how I'm willing to allow a stranger in a hotel in my bedroom without concern, but at home I'd call 911.
We take our time, after our full day of travel the day before, & I decide we should do something else before we leave town. I decide I should make Adam take me to the LA Zoo, just because. He looks up directions & tells me I'm 45 minutes away from it. Damn. But I finally tell him we should do it. My word is the gospel, so we pack up & head out.
We were confused by this.
...fire lately or something?
When we get in the car I look at the directions & realize Adam is silly. The directions he pulled up gave like 3 different ways to get there, each a total of 15 minutes or so of travel. So it was only 45 minutes if you added all three methods of getting there. Really, we were 15 minutes away.
On the drive I kept looking for the Hollywood sign, because I think it's a rule you see it & get a picture of it.
Nope, it's not. While driving, Adam thinks he saw a quick peek of it, but I saw nothing.
I did see this.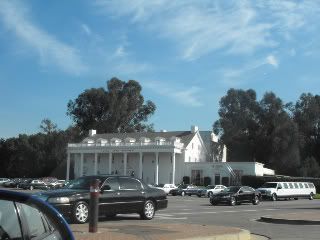 Forest Lawn Cemetery
! That's where famous dead people go.
...yeah, it's creepy, but whatever.
Finally, we arrive!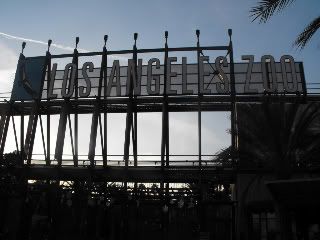 I was excited by something as simple as the trash cans.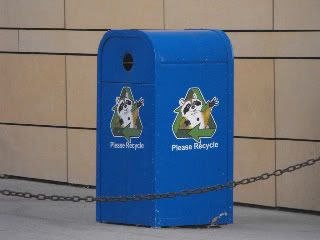 Of course, thanks to my facebook app,
My Zoo
, all of the animals weren't really impressive to me. Lame, huh? I actually walked around saying, "Oh, I've seen those before. I have them in my zoo on facebook." Yes, I know.
The first animal we see are some type of water creatures.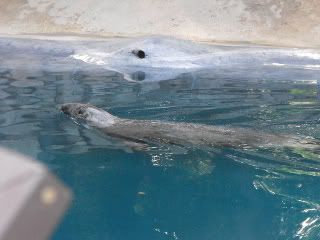 Um, seals? I really wasn't that excited by them. Really, I was just scared.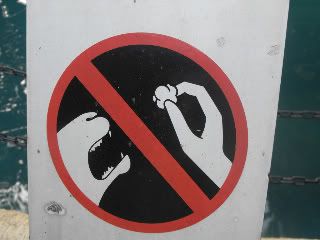 From this sign, I thought if I had popcorn the animals would smell it, turn into vicious critters with scary teeth, & try to eat me.
How the hell can I enjoy seals thinking my life was in danger? Not that I eat popcorn, but Adam has ate enough of it over his lifetime to likely smell like it to beast in the wild kingdom. Kinda like whistles only dogs can hear? Adam smells like popcorn to critters in the wild.
But my fears soon melted away. Why? Because I saw the greatest creatures known to mankind.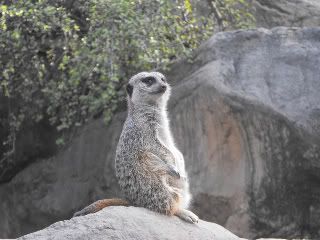 MEERKATS!!!!!!!!
I wanted to jump over the wall & cuddle them.
They, on the other hand, couldn't care less about me & my excitement.
Of course I was kinda disturbed by the meerkat roaster. Hmmm.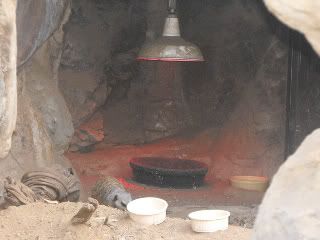 After trying to get them to talk to me about being awesome (since we have that in common), we finally move on to some kangaroos. As we looked at the kangaroos, I also saw wallabies in the "habitat" with them. I thought nothing of it.
Until, that is, I hear Adam announce very excited, "LOOK AT THE BABY KANGAROOS!" & start snapping several pictures.
I look, to see baby kangaroos.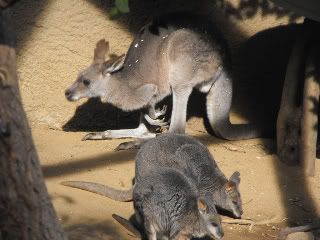 Nope, just wallabies. I didn't have the heart to tell him.
That is, until 5 minutes later he tells me he saw a sign saying they were actually not baby kangaroos, to which point I say, "Yeah, I know, but I didn't have the heart to tell you."
I spent the rest of that week mocking him though for his baby kangaroos.
Actually, I just looked up at him, laughed, & said "baby kangaroos..."
Everyone feel free to
go make fun of him
for that.
We saw many other animals of course. Like this sleepy critter who drank too much last night.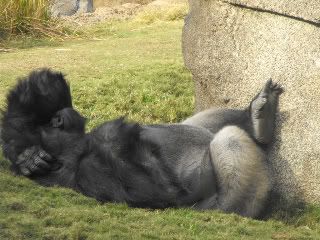 And this critter, playing peak-a-boo with us.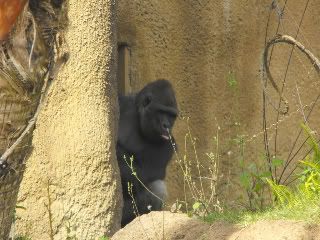 As we walked around we saw two men there with a woman. One man was walking around with a bird on his finger. Seriously. Adam had the camera or I would have got a picture. The guy with him, he was special. At each enclosure, he tried to get the animals to come closer to him. How, you ask? By saying, "Hey fucker, come here you fucker!" Very odd combo, those men. Again, I'm shameless & would have taken pictures, but Adam had the camera & he's all "I'm not taking pictures of strangers, it's weird." It's only weird if you get caught. That's why there is an option to not have the flash work.
I saw my animal twin, a lion who also looked at Adam like she couldn't believe him. For what? Oh, just pick something.
I love the educational value of some of the signs at the zoo. Like this one.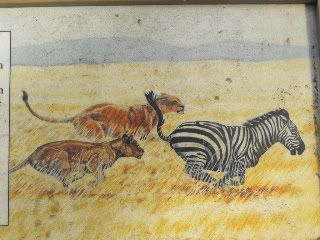 Showing the soon to be death of a zebra. Awesome. Not scary at all.
When then saw my good friend, an ostrich.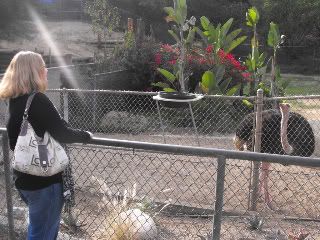 For some reason, I decided that I have a special bond with these animals. I'm weird like that. Maybe it's because I can talk to them though.
They always find that respectful. I'm sure of it.
I pose for a picture with a giraffe, because it's finally something I can pose with & not look like a huge giant.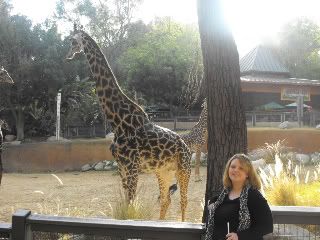 Of course, I was most proud of this picture.
How cute is that? Creepy, but cute.
We encountered the most scary, in touch with the world tiger ever. She would be laying, going to sleep...until you snapped the picture.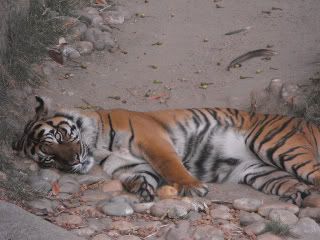 When you looked at the picture, you saw it staring into your soul.
Sweet, huh? I think she smelled Adam's popcorn smell.
Of course, there was one animal I really wanted to see. Like, bad. I couldn't wait. A HIPPO!
I was actually as excited about the hippo as I was the meerkats. After seeing alot of signs telling me about what way to go, I finally see the sign that tells me that behind this grass, my hippo awaits me.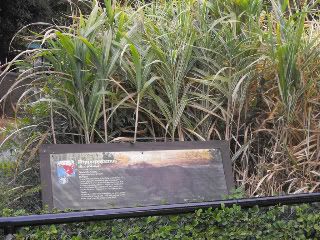 I run to it, excited. And what do I see?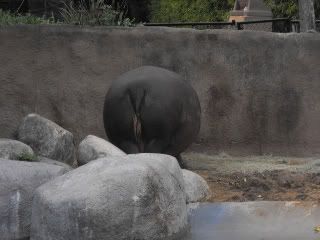 That, my friends, is the only view I saw of my hippo. Sweet, isn't it?
I walk away, hiding my pain.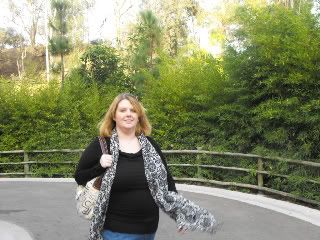 I eventually get over it, when I see a huge fucking turtle.
Adam was actually trying to get pictures of a normal turtle, totally missing this HUGE FUCKING TURTLE moving around.
I tried to make friends.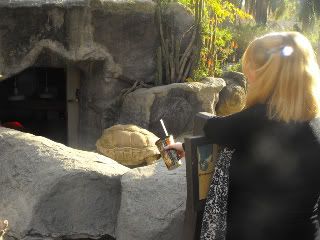 But it wasn't thirsty.
It made it's way to the turtle roaster, sharing with another, smaller turtle.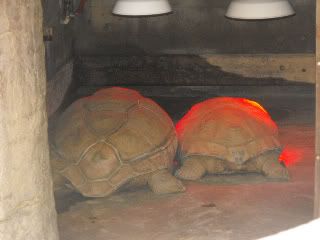 The heat must shrink them.
Adam then found the jaguar. I'm not sure why, but he wanted a special picture of it. Special how, I'm not sure. But I came home with this on my camera.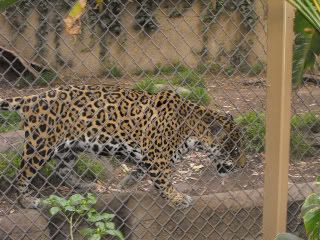 And this.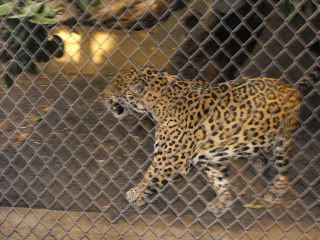 And this.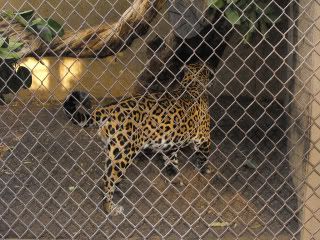 And yes, this.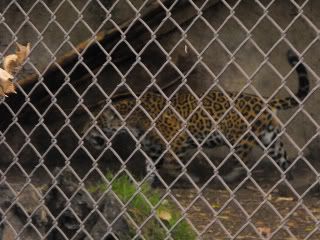 And about 10 more that look the exact same way. I'm not sure what he wanted to capture, but I'm fairly sure it just wanted to capture him after all of that.
As I stare at some giant otters playing, Adam is looking at the bird. He tells me the bird must be trained, because when he just happened to say "that's a huge fucking bird" it spread it's wings to show him how big it was. I tried it myself, thinking he was silly, but it did the same when I said it. I then decided to try my hand at live action animal photography.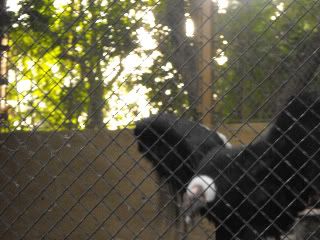 Fail.
But the flamingos were nice.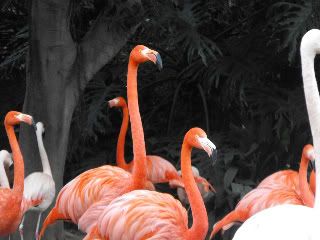 They weren't thirsty either.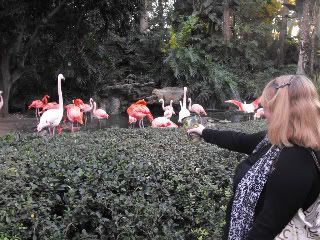 They had a nice place set up for photo ops.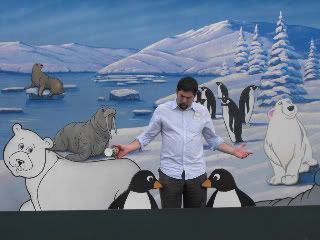 Asian men walking by didn't think he was funny, but for some reason they enjoyed my picture.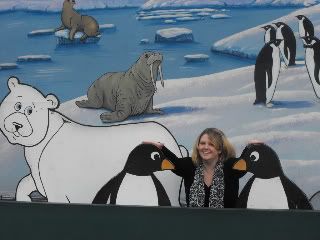 I have no idea why & I'm not sure I want to know why. We had to leave quickly, as people wanted their kids to pose there. Silly parents with kids.
We finally get on the road, back to Vegas. That was a fun trip.
Got in one lane, the other lane moved.
Got in that lane, & our other lane moved.
That said, we really didn't get stuck in any of the evil traffic you hear stories about. Amazing really.
Finally, we make our way back to Vegas.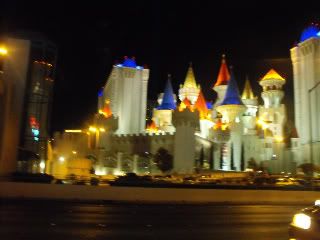 I'm just excited because
Craft Steak
in MGM.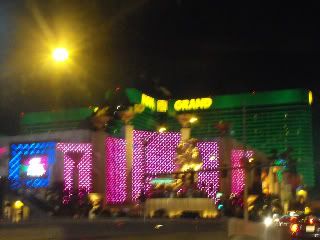 Oh look, the M&M store. I've got a story about how we should own that big yellow M&M later.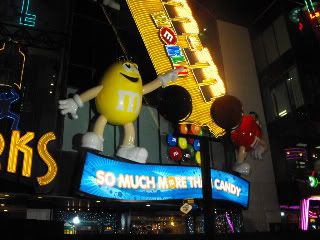 Eventually we see Planet Hollywood.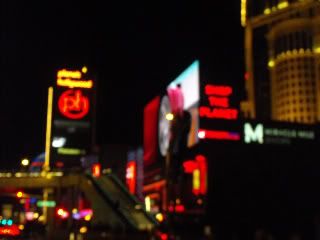 And look, Thunder from Down Under!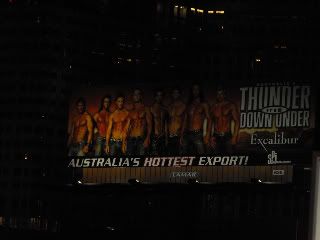 But we have no idea how to get into our hotel. After driving around, lost, we find the hotel & just valet out sexy rental car. As soon as I step out of the car I feel a problem. I feel pain.
I feel a blister on my foot. By the time I walk a little more, I realize I have them on both feet, right on the ball of my feet. Awesome.
We get inside & if I weren't in pain, I'd been impressed.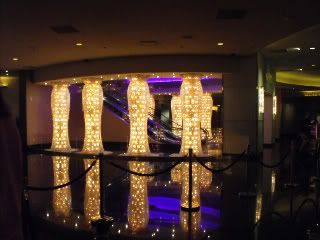 We wait in line for what feels like forever.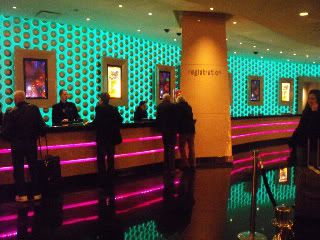 The people in front of us are interesting. One has like a 2 month old. The other, a set of two women, are having problems checking in because they don't have credit cards. Finally, I get called to check in...at the very far end of the counter.
I mentioned my blisters, right?
While I'm checking in people try to sell Adam things. You know, timeshares. Lots of fun. I'm checking in & I don't understand why it's taking so long. I'm wondering if this guy is writing an essay about me.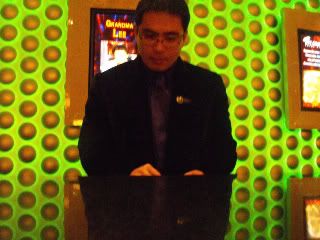 He finally ask for a credit card & I give it to him.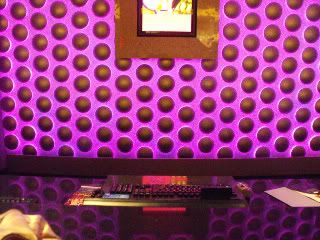 He then runs away, without saying a word.
I start to wonder if Visa's are the devil on the west coast or something. While we wait, I tell Adam that because my feet are killing me, I bet we'll have to use the elevators way across the lobby.
Dude finally comes back & give us our room info...& tells me to use the far away elevators. Fabulous. I hobble.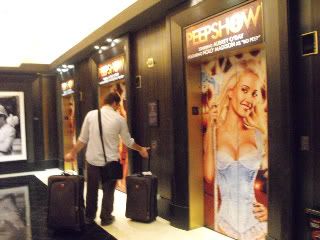 And there is nothing like tits to welcome you. These tits were everywhere, too. We even had a message on our phone from the tits, inviting us to come see their tits. Can't get away from tits in Vegas, let me tell you.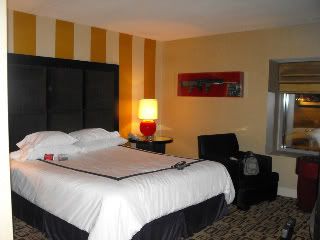 We finally get to our room. My physical pain is soon masked by the emotional pain.
I looked around. See, Planet Hollywood has this gimmick of each room having a movie theme with real movie props.
I was in an Arnold Shwiotoger room.
And not just
any
Arnold Shritnigager room. But the movie for the film
Eraser

e
.
On my side of the bed?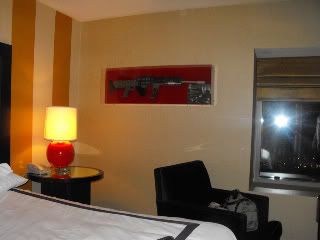 A gun.
Over the desk, where the desk light shines so brightly.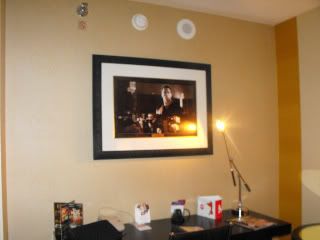 A picture.
Over the FUCKING BATHTUB?!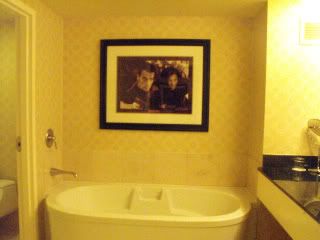 Oh yeah, that's right.
Doesn't this just make you want to get romantic with your husband? I know it did me.
There was also a light up table with stuff in it. Lovely. All just lovely.
Adam, as usual, couldn't work the hotel TV.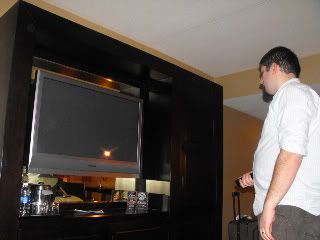 But here is our view from the room.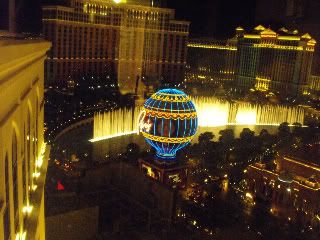 Snazzy.
We also found Neil & Vicki hiding in our shower.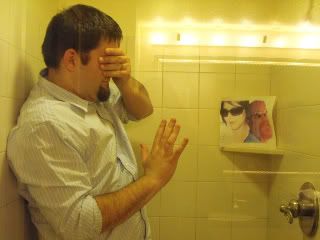 Snazzy again.
We were starving, so we looked at our food options that were in the hotel. It was like 9:30 at this point & I couldn't walk. We decided on
Strip House
.
Creepy place really.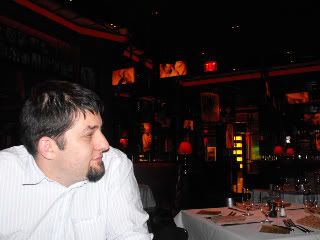 And full of pictures of women, looking like victims.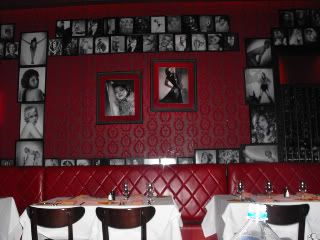 The waiter seemed disgusted that I wanted something without booze. In fact, when I asked for my non-alcohol options, he suggested beer. Yeah...
Adam had some sort of Salmon, which looked like it was sitting in a pile are green cat puke foam. Somehow I'm missing the picture of that. I had $22 "crispy chicken."
Back home, we call that "fried chicken" but whatever. The server, yet again, was displeased with us, saying we can't go to a steak house & not order steak. I thought "why offer other things if you only want to cook me steak?" while Adam had a better response of "if you're a good chef, anything is good."
Dessert was had. I had some sort of banana thing, which was alright.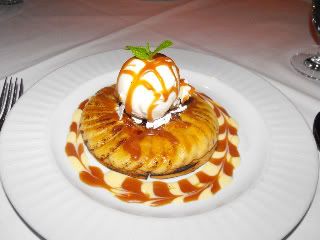 Adam had creme brulee, which I was jealous of.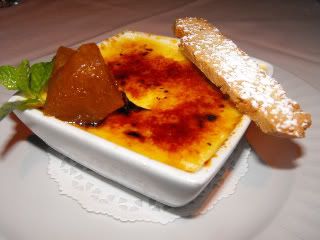 After the meal, we looked down onto the casino.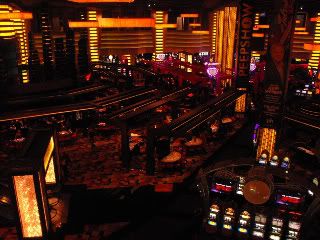 In the casino was the Extra Lounge, where there was of course a bad piano bar singer.
Adam looked serious.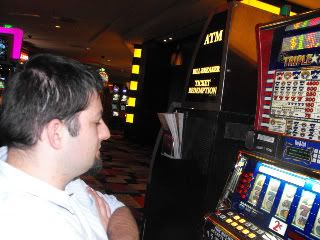 Me? I played kitty slots.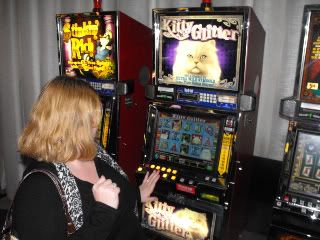 I managed to not lose all of my money & printed out a ticket...for like $4.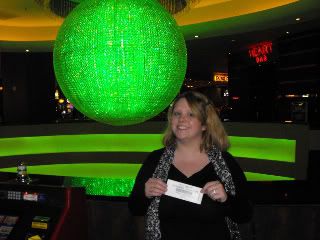 I look proud, no matter what the amount.
We return to the room at like 1-ish. I bath under Arnold & Adam runs out to the CVS to get something for my blisters.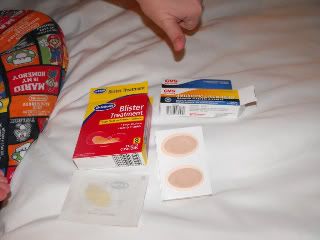 Arnold room AND blister treatments. Doesn't this trip just scream sexy?
I apologize for this in advance, but Adam insisted we take pictures of my feet. I guess because he knows I'll never do anything to get blisters again. And I want to share them so you can feel my pain.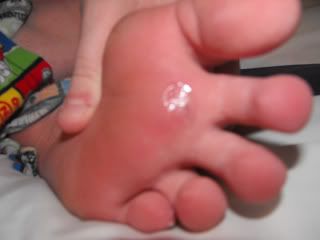 That one was the foot that I seriously considered cutting off it was so bad. The other hurt, but wasn't as bad.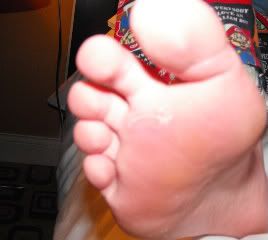 Washed out, but you should still be able to feel my pain.
And yes, I was rocking Mario Brother PJ pants. Again. SEXY.
Finally, we retire to the bed.
I overloaded the outlet, just because I live on the edge. And it's not my power bill.
Of course, more to come, including our trip to The Price is Right stage show. Sooner rather than later, promise.