Soooo....did you know this week is a holiday?
It is. I have a graphic to prove it.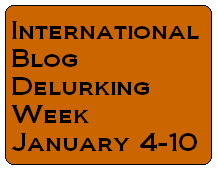 That means that all of you stalkers out there (that's a compliment, I swear) are suppose to come out of hiding, throw me a bone, & tell me hi.
What you tell, of course, it up to you. But I'm nosey, so feel free to tell me as much as you like. I won't complain that you shared too much. Who you are, how you found me, why you think I'm neato...those are just a few random suggestions if you have writers block.
I know you people exist. I have 52 followers & according to my nosey stat counter where I track my readers, I have like 200 a day.
Since I share so much of my life, you people owe to it me.
No pressure of guilt or anything like that though.
And if you're the self-serving type, if people actually let me know they are reading & not just accidentally clicking on my cool sounding blog name, I just may update with my amazing-ness more often.
It's a totally win-win situation.