Ho, ho, ho.
No, I'm not talking about the girls who use to date my husband, I'm talking Christmas.
I use to love Christmas, & looking back I'm not really sure why. It was the same every year...about 3 weeks before, my mom's family would go nuts. Seriously ,they'd go nuts. Eventually my mom would suck it up & drag me to her mom's house, where we'd walk in with my grandma making bad food & dropping ashes from her smokes into the gravy, while my aunt made out with her latest boyfriend on the couch. We'd pretend to eat & my mom would call & check on my dad. Oh yes, my dad. It was amazing, he was sick every damn Christmas & bed ridden. Later in my life he'd confess what I always figured, that he'd get up out of bed as soon as he heard us pull out of the driveway & enjoy his crazy free day. Back to my Christmas though. We'd open gifts & I'd get some age inappropriate gift...like when I was 14 & got tinkertoys. My grandma & aunt would discuss when they were going to take back the gifts we'd gotten them. Then my grandma would announce she'd be dead by next Christmas, so to enjoy her this year since it'd be the last.
That was just a threat, the old lady is still alive & kicking (well, punching really) to this day.
So yeah, looking back I'm not sure why I liked Christmas. I think I was delusional.
Last Christmas sucked because of things going on with my husband's nutty family, who really put my family's issues to shame but I'll spare you that grief.
This Christmas sucks because obvious reasons I believe. But this year, I felt like I had an obligation to the toddler who lives in my house to create Christmas. And that I did...cursing all the way through it. Here is that epic adventure, in pictures of course.
First, I'll just throw this out there just because. I know lots of my friends are down with Jesus & that reason for the season. At the risk of alienating many of my friends, I'll admit at this moment that I'm, well, let's say a "non-believer." I'm cool with anything you believe & respect those views. But for me, I've never had them & I doubt I ever will & I can only hope others can give me that same respect. So my Christmas is the one with Frosty the Snowman & that fat red guy who breaks into your house.
Our first mission was to get a tree.
There are two problems with that. The first is that I'm cheap. Where I grew up, you could get some huge ass tree for like $25 or less. So that's what I'm use to. When I moved to the "big city" of Huntington, I had to get use to buying $45 trees. That's a jump, but I'm willing to do it. I'll get to the 2nd problem a little later.
Anyway, I kinda lied, because the first mission was buying wrapping paper. Because we have gifts to wrap. Yay. Being the big spender I am for paper that's going to be ripped apart, I went to fancy Big Lots, making Adam meet me there as well so we could get a tree.
Doesn't he look excited?
I'd planend to get a tree at a new place this year, one that promises to "give money to children." It was there, so I thought it'd be easy.
I'd gotten cash out of the ATM on the way, getting the regular $60, knowing that'd be enough for some dying tree 2 weeks before Christmas. Of course, I kinda felt bad because a 70 year old man was working the lot & I really didn't want to make grandfather time lift trees for me.
We walked over to this little lot & I about died. The trees went up to $90. They were all over the price scale. And I'm not talking about different types....the exact same trees were different prices. Not different heights or anything, two identical looking trees would be like $74 or $77. There seemed to be no reason to this madness. Of course, I was just curious about what person had the time to price each & every tree individually. I'm use to one type of tree or one height of tree being one price, other types or heights another price. But not at this lot. At this lot, grandfather time spent hours examining each tree, making sure to fuck me as hard as he could on the price. As I stared at overpriced trees, trying to find out what made one $3 cheaper than the other, he came over to me & said, "You know, those are only good if you have a tall ceiling." I wanted to respond with, "Actually, these are only good if I want to feel like throwing money into the wind" but I didn't.
We finally loaded up & decided to go to old trusty, our regular tree lot in town. Not only can you get trees there, but you can get...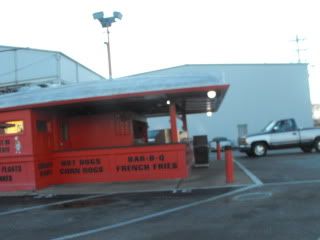 HOTDOGS!
The trees were all taking a nap.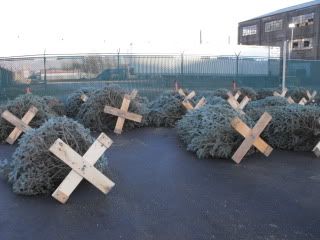 OK, not really. We had a wind storm, so they were trying to protect the trees.
When I got there, Adam was already there because he zipped in front of me at some point & me, being a fucking idiot, missed my turn so I had to drive around the really long way. Adam & the tree guy had picked up one tree. The guy tells Adam, "we could cut this off to make it about 6 foot."
SIX FOOT?! What the fuck?!
I asked Adam why we were talking about chopping trees down to 6 foot & the tree guy jump in all paranoid & said, "he told me you'd want one about 6 foot!" Um, no. We have insanely high ceiling on the first floor of our house, I might as well take advantage of them.
I always feel bad looking at trees, like I'm bothering someone since they have to lift them & stuff, so I really try to pick something quick to avoid being a pain in their asses. Finally, I agree on this tree, not cut down to 6 foot of course.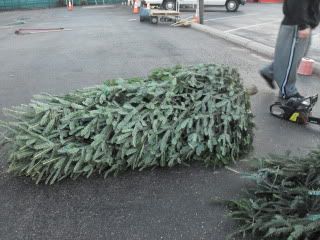 The guy saw I had a camera & got all freaked out. Not in a bad way, but he was very into letting me take pictures if I wanted, like he was willing to pose for them or something. Being cold, I didn't have time to think of any funny pictures to take, so I told him no worries & to just put the tree in the car & take my $45.
You may be wondering why Adam & I drove alone. Easy. My car is the real car. Adam's car is....well, it's useful once a year for me, to shove a tree in it's ass. I mean trunk.
Then the guy working with tree guy always has to get helpful hints & tips about how to tie the trunk down. But for once, this guy didn't seem to think it was weird that he was shoving a tree into our cars trunk. I, of course, start in on "we do this every year, it's fine!" when we are getting somewhat odd looks.
Adam? He's just proud.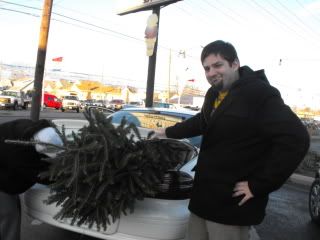 He then, yet again, zips through traffic instead of letting me stay behind him. Just in case, I'd rather a tree crash into my car than a strangers. Eventually, I catch up with him.
But when we get to the house, we are burning daylight, so we need to move along to the real shit...decorating the house.
Adam carefully put away the light last time we used them.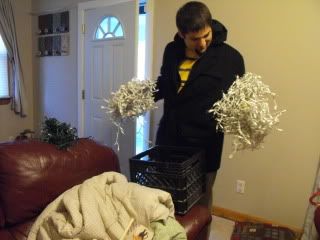 *sigh*
I ask Adam to get me a hoodie so I can work outside instead of my coat & he does.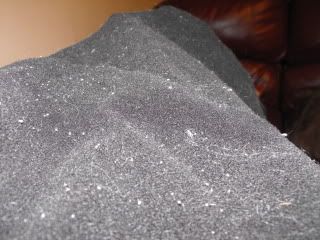 He gets me the one with the most fuzz & cat hair possible. Thanks, honey.
He gets on the roof...in the wind storm that did damage to our roof.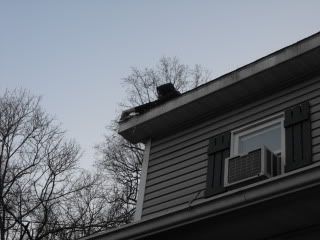 He's insured.
Me? I work with candy canes.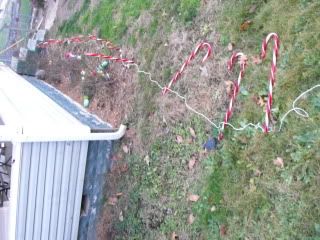 Fun story with those. We used them the first year in our house, in 2007, when I was 9 months pregnant with Jules. My dad has packed it all up & dropped it off for us since it was in his garage when I moved here. I go to put them in the ground & there are no stakes. So my 9 month pregnant butt spent hours outside heaving candy canes into the frozen ground. When we were almost done, we opened the last decoration & what falls out? All the stakes. My dad didn't pack them with the canes, but with a fucking deer. Even worse? I have no idea whatever happened to those things. So, once again, I'm pregnant, in the cold, heaving candy canes into the cold, yet thankfully not frozen, ground. Fun times.
I'll be honest, the only decoration I really care about it my 8 foot tall Frosty inflatable.
I want to explain that I got Frosty before inflatables were popular or cool, I bought him at Rite Aid for $80 in like 2002, he next year hose damn inflatables were everywhere. I like to pretend I started a trend. A tacky, awful trend.
So I couldn't wait to set him up.
Please note, I've never done it myself. I had my dad for years, then I had Adam. So I have no idea why I decided to brave him. I guess because I love him.
First, I plugged him in so I could figure out how he would need to be staked into the ground. I felt joy as his creepy body plumped up.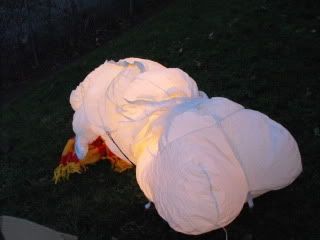 Followed by his creepy face.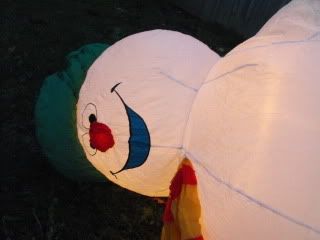 Then I danced with him.
Then I held on for dear life, as Frosty was trying to send me down onto the ground with a vicious back hand of Christmas joy to my face.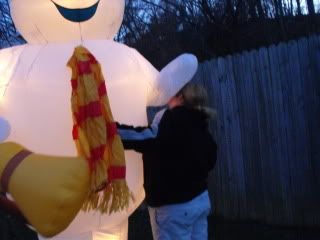 Then it was Adam's turn to get destroyed by Frosty.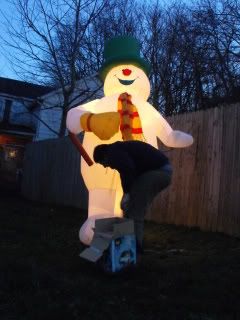 The darkness moves in & Christmas joy is glowing in our yard.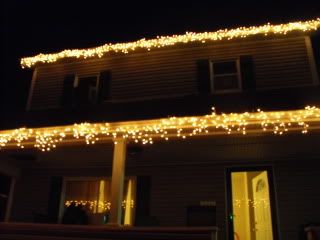 Please note, I did everything...but the roof lights. Adam worked so hard, huh? I think he stays on the roof so he doesn't have to heave candy canes into the yard. That's the perfect job for your knocked up wife.
In a perfect world I would have had single strands of lights for my dead trees, but I didn't so that works just as well.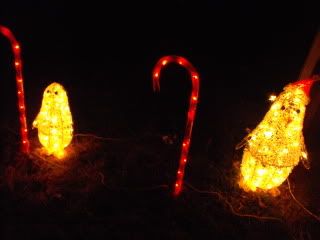 My penguins don't sit near each other, this is my display of most teenager/parent relationships. My decorations have meanings behind them.
I decided it was time to come in when I saw slugs.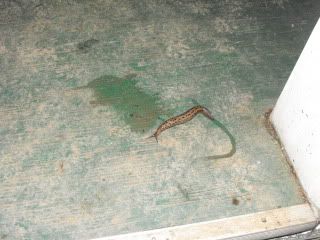 Ugh.
Here is the tree area nice & prepared.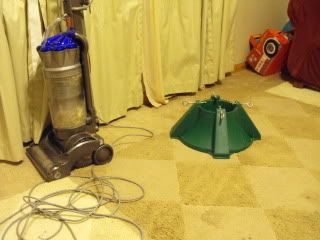 Here is Adam bringing in the tree.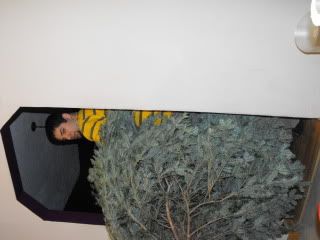 I thought about flipping that around the right way, but I realized this was better. You actually get to see the tree standing this way.
Remember earlier I mentioned that 2nd problem with trees? Well, ours fall.
In 2006, we had to use fish wire to hold up our tree, attaching it to a table & a curtain rod to keep in standing. In 2007, that was a bad year. There was more than once when it fell over, once breaking the stand at 11pm, so Adam stayed home holding it up since it was decorated & I, 9 months pregnant, got to go out tree stand shopping. Fun. Last year, it was propped up with various items to keep the stand balanced.
This year it wasn't that different.
Here is Adam in his normal state when we have a tree in the house.
He eventually gets it standing, for me to announced it needed moved over some to center it.
I left that picture flipped wrong since that's how the tree ended up for most of the night.
Once Adam moved it, it just fell over. He then "fixed" it. *sigh*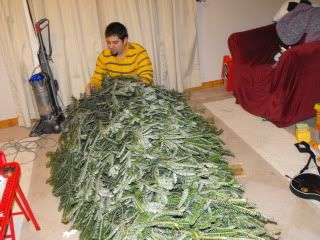 And, you guessed it, he fixed it again.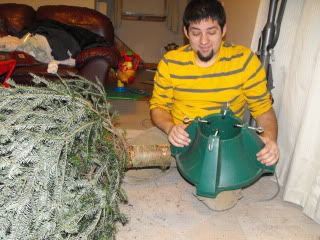 I stopped taking pictures because he thought I was making him look stupid. Yeah, I
make
him look stupid...
He then looks at me & says, "you think we could put the stand on with it laying down?" I explain "uh, yeah, that's how my dad always did it." He then yelled at me because I'd never told him that in all these years. Mind you, I thought he just did it his way. Then he explained that he's doing it how his family did it, yes, & that it took all 4 people to get it to stand & it would take a decent amount of time. Unlike my family, where only my dad did it & it took like 4 minutes.
OK, sure, I could have told him that helpful tip years ago. But I thought he knew what he was doing. Plus, he always gets annoyed when doing the tree & end up just telling me to stop laughing & hold the tree still. If I can't laugh at him, I can't talk, so I just have to shut up.
We finally got the tree standing.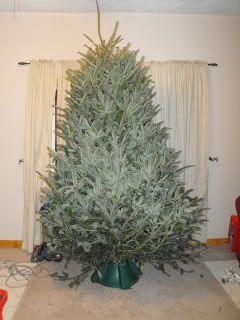 Of course, I noticed after the fact that it's basically in the same place it was before I had him move it, causing it to fall. Of course, this time it was crooked. Lovely. It leans toward the window from time to time, we just shove it back in place. It moves in the stand rather easy. Impressive...or scary, depending on how you look at it.
I then wrapped some gifts...the insane amount of gifts we have for Jules.
There is really nothing I want more than to spoil my children rotten on Christmas. Seriously, I want them to have so much stuff that they don't know what to do with themselves. My parents always got me great gifts, even when money was tight, I do not remember a Christmas I was disappointed. That's the one thing I'd like to do the same as my parents did with my children.
That was my touching moment of the blog. Back to jokes.
The cats just hung out.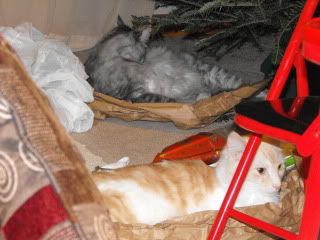 Which is better than getting in the tree, as we worried they would.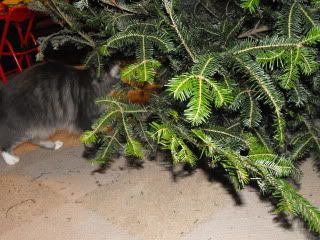 On a side note, they've still left it alone. Amazing really. Last year they tried to get in it & even ended up chewing on the lights to the point where I was thinking we'd have electrocuted kitty for Christmas dinner.
The next day our son came home from the night at his grandparents. We had a tree last year, but I'm not sure he remembers it of course. So this year, I was excited to see what he'd do.
He saw it. Looked at it for a moment. Then picked up a roll of wrapping paper & proceeded to whack the tree.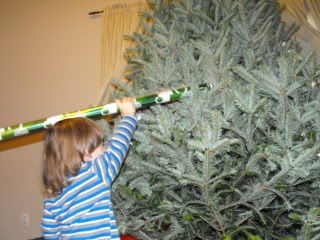 Over & over.
I thought it was the most hysterical thing I'd ever seen. Seriously. He's even considerate enough to pick up rolls of paper to hand to us so we can beat the tree, too.
Adam decided to take Jules outside to show him Frosty while I put lights on the tree. I bought new lights, not only because some of them were shorted out because of kitty cats last year, but really just because it was easier than going to search for them in the basement.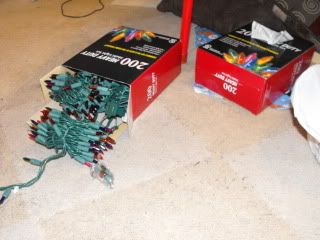 I also like how they give you extra bulbs.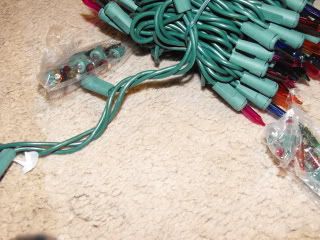 Seriously? Am I the only one who loses them in the floor within 5 minutes, only to step on them somehow 7 months later & wonder how the hell they got where they were? I hate those things, I throw them away as soon as I see them.
Speaking of lights, did you realize hey come with directions?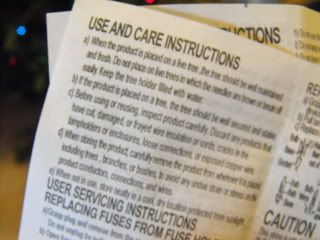 It basically tells you "using this product will eventually cause your house to burn down." Seriously, that's about. That way I guess they can't be held responsible when your house is crispy because your dead tree caught fire. Have you ever thought about that really? You're putting fire hazards on drying out firewood IN YOUR HOUSE. Be sure to pay your homeowners insurance when decorating for holidays.
I finally got my lights on the tree though.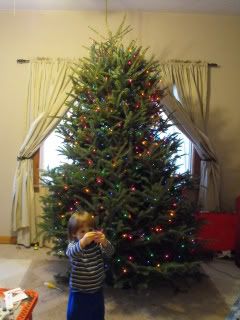 Then my son whacked it some more.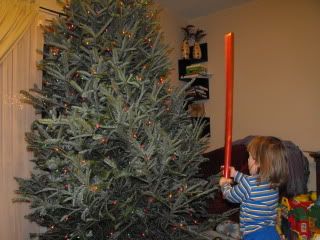 Then he got into the ornament container.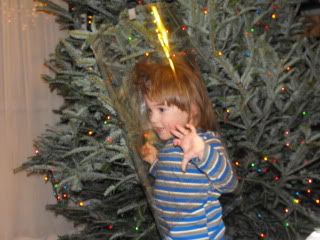 Like got into it...didn't just get things out like you talk about when gets "get into everything," he put himself in it & proudly walked around like a boy in a bubble. Or tube.
The next day (on day 3, if you're keeping track), I finally get him to stay out of the plastic container & to start to put ornaments onto the tree.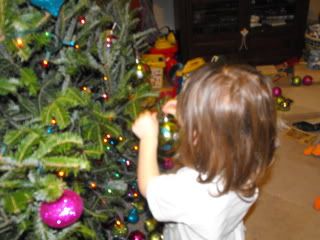 Isn't it sweet?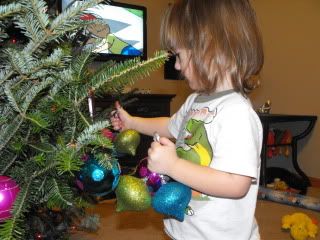 Don't let him fool you, he's evil. Since then, he's un-decorated the tree about 12 times. I still have about 30 of the 100 ornaments all over the floor at any given moment. It's lovely, really lovely.
And if you're curious, he still whacks the tree. Of course that's my fault, as I find it hysterical & take pictures & videos of it. We've managed to keep our tilting tree up, for the most part. The couple times it's started it's slow fall we've managed to catch it. Catching it is totally an improvement over the yearly crashing we're use to.
Whacking the tree has made the Christmas crap a little easier to deal with. If you don't believe me, check out the video. And hear me talk about "them lights." I'm a classy broad with a nice dolphin laugh. Enjoy.