I previously mentioned that we were going to a 3D ultrasound place in January. But plans changed, we decided to go to a different place & they could actually get us in sooner.
Sooner as in...today.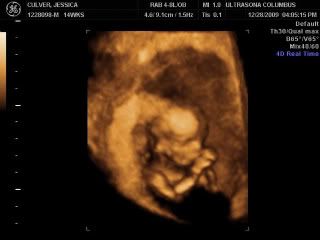 Piccadilly has a penis. As usual, I have a penis in my belly. How many people can say "as usual" to that phrase?
My husband, he's incapable of creating girls.
I want to name him Blair. Adam isn't totally sold, but for some reason I'm really into the idea. I think he likes the idea of Blair Benjamin, just because then his initials will be BBC & he seems to like that idea. Weirdo.
More to come soon. Just wanted to share my son.