My dear friend & wife (long story),
Liz
, is a vegan. She asked for suggestions a while back of new things she could try to cook. I suggested lasagna. Not sure why, just because. I guess because I'm a meanie & want to remind her that she can't have ricotta cheese anymore.
Anyway, Liz attempted
vegan lasagna
this week. This, my friends, is the non-vegan way of lasagna. Along with my screwed up cooking adventure I always seem to have.
Doubt me? I've made
burgers
. I've made
dessert
. I've made
apple pie
. Those were interesting times, let me tell you.
But anyway, back to lasagna. This is my own special recipe for lasagna. Consider yourself special if you're reading this. Enjoy.
First, for my non-vegan lasagna you need the most non-vegan product ever...meat. By meat I mean beef. I like ground chuck personally.
You'll want to put that in a frying pan to, duh, fry it.
As that's frying, you'll want to gather your other items. First, I get my glass baking dish. To get it, I must get into my pan cabinet.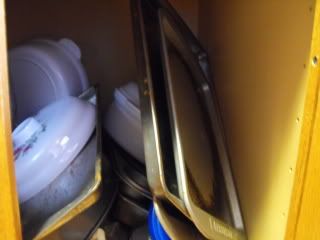 ...yeah, it didn't take long for my
previous kitchen organization
to go out the window.
Get your pan out...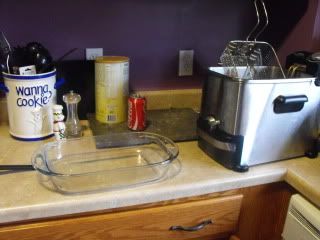 Make sure you have no counter space. Make sure you leave everything out in your way. You can't cook right if you have too much space. Oh yeah, wait, one more thing...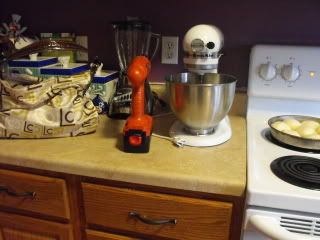 You can't cook lasagna without your husbands cordless drill on the counter by your purse. It's a rule. If you don't follow that rule, you're lasagna will fail.
Continue getting your ingredients out. Next up for me, cheese. Nom, nom, nom, I love cheese. To the fridge.
Gee, this is going to be so easy to find something in here. First, look in the drawer.
That's where the cheese is suppose to be. No cheese. I have no idea why a piece of coca cola packaging is in the drawer. I left it, of course.
I continued looking when I finally see the sprinkle cheese...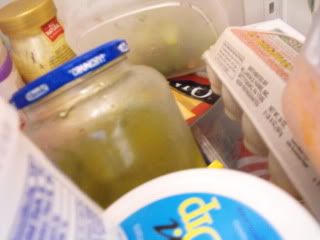 See it?
Oh, I call it sprinkle cheese in honor of Britney Spear's father. He calls all shredded cheese "sprinkle cheese" so I can't take credit for that fabulous phrase.
So here are all of my fridge ingredients.
Sprinkle cheese, ricotta cheese, cottage cheese, some Parmesan cheese. Like I said, I like cheese.
After I get all my fridge items, I move onto the noodles in the...noddle cabinet.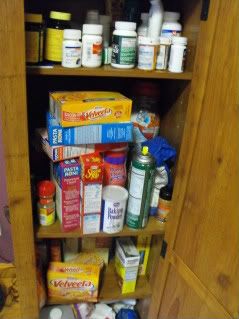 I have no sense of organization, can you tell?
But finally, I find my noodles.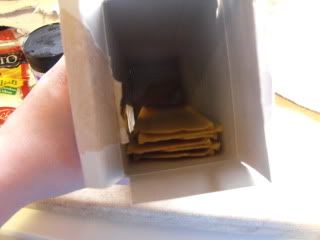 Oh shit.
I'm kinda OCD, but I've also found the magic number of noodles for lasagna that isn't too dry or too, uh, juicy. You need 10 noodles, 5 for each layer. That was
not
10 noodles. I should mention that I'd been out shopping on this day, but I just didn't bother to check to make sure I had noodles. Sadly, I do that alot.
I tell Adam & he says, "we can just have spaghetti."
I calmly yell at him "WHAT DO YOU MEAN?! I'VE ALREADY STARTED THIS, I WANT FUCKING LASAGNA, NOT STUPID SPAGHETTI!" My eyes bugging out adds just that special touch to let him know he needed to get the hell out of the house & to Kroger for noodles.
Here is Adam pulling down the drive way, on his way to do his portion of dinner...get the noodles.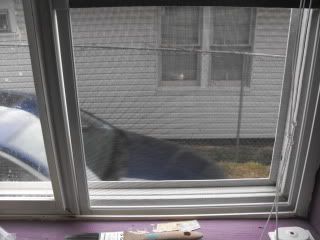 I think I should also mention that you should have bread with your lasagna. I like rolls. Here are mine.
They are fancy, from a bag.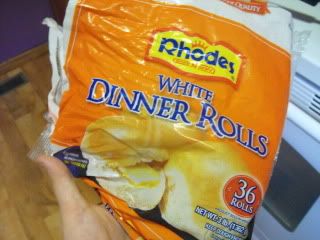 They were frozen. Wanna see proof?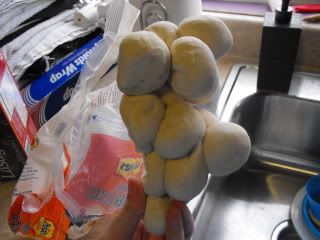 See? Frozen together.
The beef is still cooking.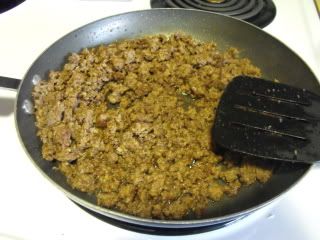 But I like mine very very very done. So it's got more cooking time to do. I throw in some dried spices because I have a spice rack & it sounds like a good idea. Some basil & oregano. No garlic. Never. I can't eat garlic without becoming violently ill, so I avoid it at all cost.
Great, now everyone who hates me will send me garlic to spite me.
As I try to waste time, I prep my ingredients. I need to mix my cottage cheese with an egg. Why? Because I'm trying to make this as non-vegan as possible. No, not really, it helps it all hold together better. To do that I need a bowl. Sadly, I never have bowls for mixing, they are always holding something.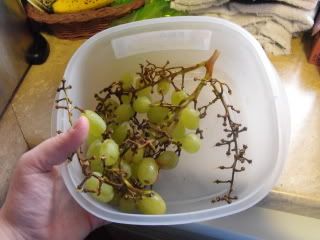 Like old grapes.
But I just get rid of those & toss in my cottage cheese & egg. I washed it out first. I think.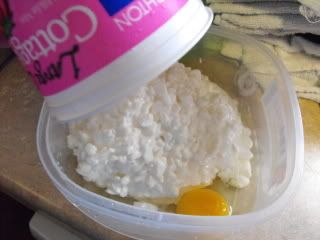 Next up I open my ricotta. Have you ever tried to open ricotta cheese? It's dreadful. There isn't any way to grasp the plastic & pull it.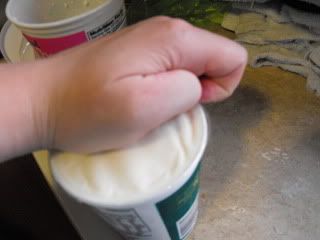 You can even squeeze the crap out of it & it's still sealed up. See?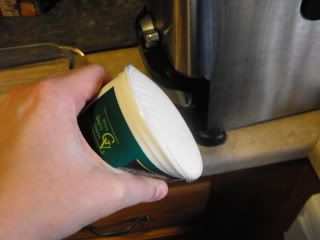 I finally get a knife & cut it, also cutting the plastic container it's in.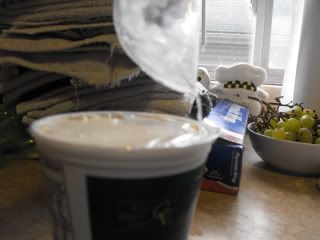 Now I'm left with an empty pot of boiling water.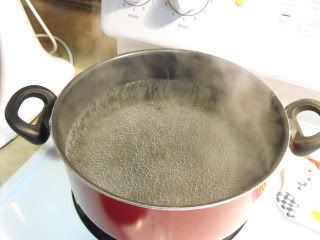 Some trash.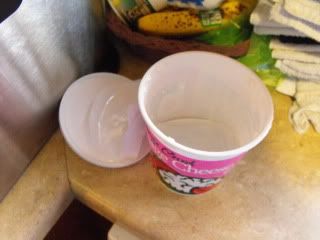 And some very done beef.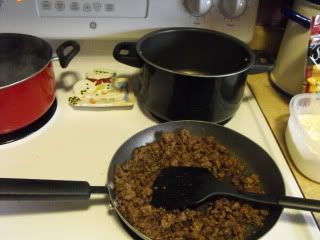 Normally, for less dishes, I use the same pot I boil my noodles in to cook my sauce & beef, but since I still have to cook the noodles, I'm stuck using another pot. I add my beef, then I start my special pasta sauce.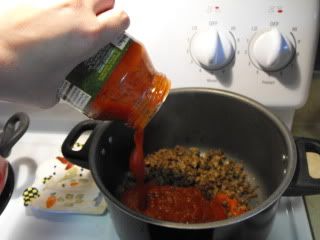 Newmans Own. It's awesome.
Adam finally comes home & I meet him at the door for my noodles.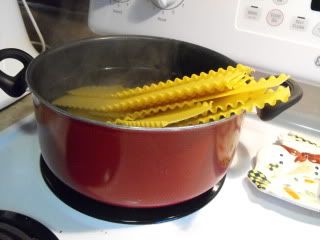 Yay, noodles!
Then your son & husband should get in your way to fight over popsicles.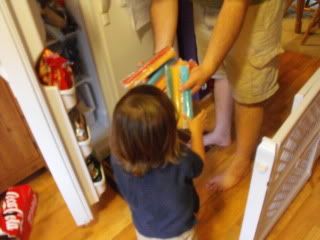 I let my noodles cook, but not too long. I don't make them too soft, I like them to still have some firmness...they should still kinda break instead of bend for me to consider them right.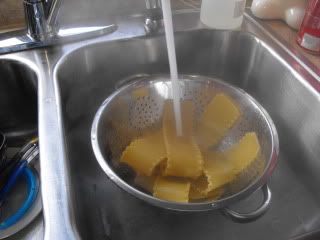 Then you can have a facial with the steam, if you're into that sort of thing.
Your sauce is done when it's popping & making a mess.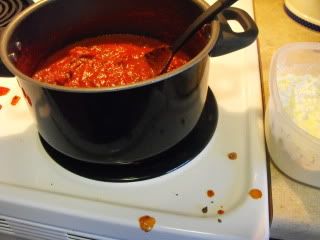 Now you're ready for your magical layers! Sauce first, it's a rule. Just because.
Then noodles.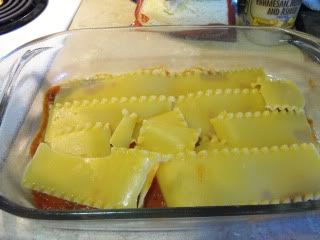 I break them up some to make a nice, even layer. Again, OCD.
Then I plop down some ricotta.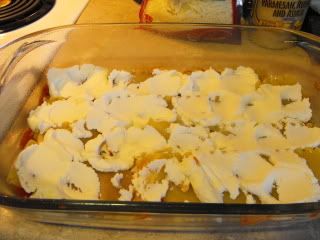 Smear it around, of course.
Then add some of your cottage cheese & about half of the sprinkle cheese.
Then more sauce. Then more noodles.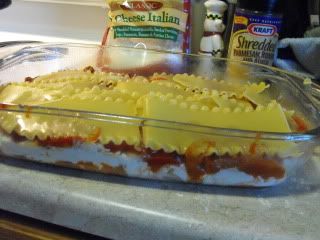 Then dump the rest of your sprinkle cheese.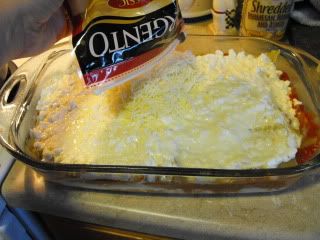 Then add some Parmesan mix.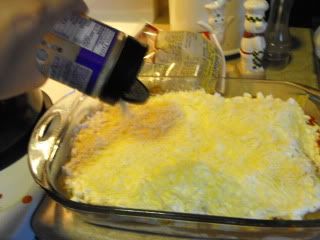 Then finish it up with more sauce & a little more Parmesan.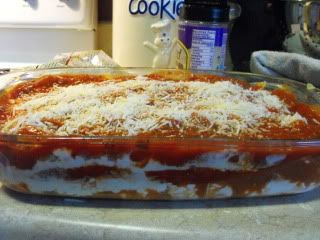 Told you I loved cheese. Nom nom nom.
You should then see a cat.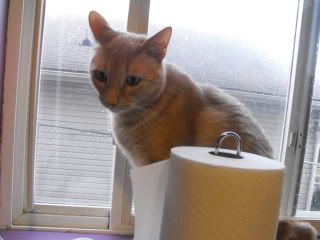 Put it in a 375 degree oven. I started at...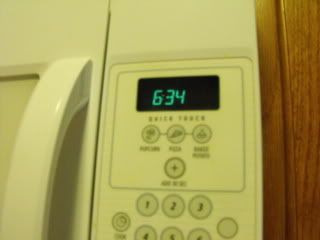 Then at...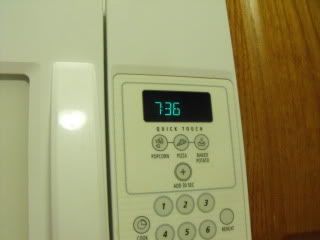 It was done. See?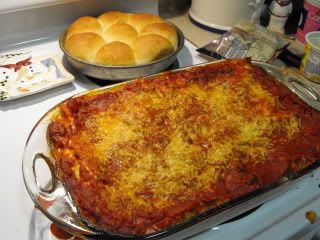 Rolls, too. See those fancy layers?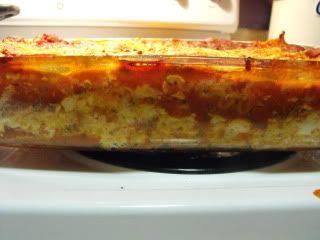 You should then serve it to your family. Your husband should look odd.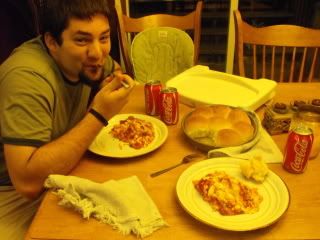 You son should be without his pants, standing in the chair not eating.
And that, my friends, is how you make non-vegan lasagna.
I'm just happy that for once, I'm not posting food that's burning, contaminated, or very ugly. That alone is a victory.