I hate weddings.
I know, I know, it's beautiful & blah blah blah.
I hate weddings.
The nosey part of me likes them just so I can go & see the insanity. Of course, I've only ever been to family weddings for the most part, so of course they are insane. Well, I did go to another. The grooms parents wore matching flannel shirts. Yes, really. I need to dig those pictures out & scan them, huh?
Anyway, I received a wedding invite from my friend Shannon a couple months ago. Shannon is someone I met working in hell...Office Space in real life. Seriously, our supervisor was like the supervisor in Office Space. Know the scene where everyone keeps talking about TPS reprts & the memo he was suppose to get? Well, I had that convo once.
Amanda: Yeah, about your MPS, we need a different header on those from now on, we sent an email.
Me: Yeah, I know, sorry about that, just a mistake got the email & already took care of it.
Amanda: I'll forward you that email. Be sure to fix that when you have time.
*15 minutes later*
Tina: Yeah, Jess, I just saw your MPS, we sent an email, maybe you didn't get it...
Me: Yeah, I got it, sorry about that, I already corrected it & talked to Amanda.
Tina: Well you'll need to fix those & I'll go ahead & send you that email again & let Amanda know you fixed those.
I hit my head on the wall at this point, only for my phone to ring 30 minutes later, it was another supervisor who didn't even work with me, asking if I missed that email since my MPS was wrong. I also often fought losing battles with the fax machine, but who doesn't?
Yes, we really had MPS reports. Of course, I don't know why this is so suprising to me, when I was pregnant with Jules my supervisor told me every since I became pregnant I wasn't doing as good of a job as I once was & that it was really interfering in my job. I'd just come back from 2 days of bed rest, btw, & got wrote up for it. Fabulous.
Anyway.
We'd just lost Joel &, well, I wanted to go. She's fun, the guy she was marrying was fun, I'd been out with them before & they like to drink like I do & their reception was in a pub, so Adam was in as well. So I promptly checked "will attend" & mailed it back a couple days later, thinking what a loser she must think I am for getting it back to her like 6 weeks in advance.
Decide to just go for it. Adam took the day before off & we decided to stay at the really nice (read: expensive) hotel they were having their wedding at.
This, friends, is the story of our adventure. With pictures, of course.
We set off on a Friday afternoon & I quickly realized I forgot to call the trail riding place.
Did I mention I was going to make Adam go horseback riding?
He'd never been on a horse, so I thought it would be extra fun. And the hotel was about 15 minutes from a ranch that did horse back riding, so I was totally in for that.
Anyway, back to the road. After we enjoyed our regular Starbucks...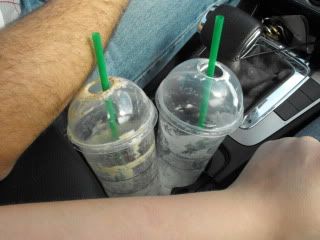 I spent time on the road trying to get an internet signal on Adam's netbook in order to look up the horse place. We never had much luck on the road.
We took an exit to a town called "Big Otter." Yes, really. We wanted to get gas & some drinks. Here is that station.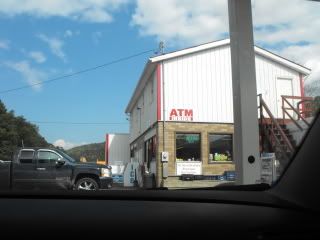 Smileys Exxon.
I made the mistake of going to the bathroom at this point. I didn't have a lock on the door, instead I was suppose to use...
A piece of tape that you held while on the toilet to keep the door from flying open.
As I went to wash my hands, I was sad I'd already gotten a wedding gift because...
What is better than a Love Kit?
As we left we saw something fun. Across the street, at some diner, we saw this sign...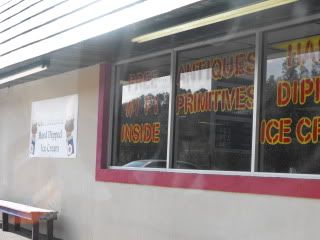 They have wireless internet. In this random, out there place. We pulled into the parking lot & used their connection to look up the horse place. Made an appointment for Sunday afternoon. Yay!
We had some fun on the road there, like making fun of this...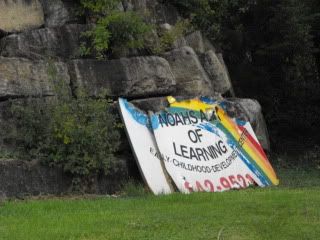 Noah's Ark didn't survive the flood obviously.
Then we got on the longest road EVER. Seriously, it was bad. Directions suck. Since when does a "slight left" mean you go through a turn? Seriously, it's a fucking turn, not a left. Either I go left or I would go into a tree.
Eventually we figure out we are in fact on the correct road, even though we were skeptical about that many times. We happen upon an Exxon. The weirdest Exxon ever. For one thing, they have only 1 gas pump.
And even better? They sold...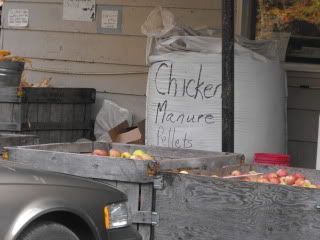 Chicken Manure.
They also sold light & phone poles. Because it's so rural, the electric company makes you find your own. Insanity, right?
You've obviously never walked into this place if you think that is as insane as it gets.
Everyone stopped when we walked in. It was like we'd showed up from Hollywood on an Amish farm. Of course, I took pictures of this place while Adam worried we were upsetting the locals. Personally, I doubt I was the first person to come take pictures. Pictures like these...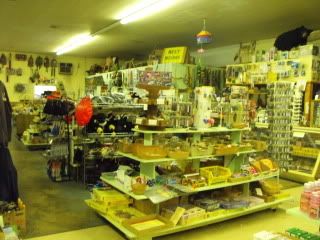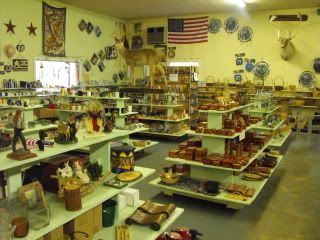 This place had everything. From taxidermy animals to kids toys to...
huntin' clothes.
Speaking of huntin', look what someone bagged & put on display...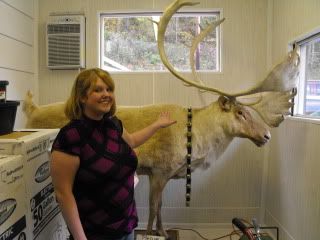 And the fun thing was the mens bathroom...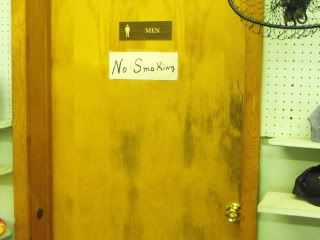 Where the lock was on the
outside
of the door.
According to Adam the windows were right there with the urinals & as he used the bathroom he was waiting on some inbreed boy to peek into the window & stare at him.
We hit the road again before the locals decided to stone us to death, only to have Adam freak out over...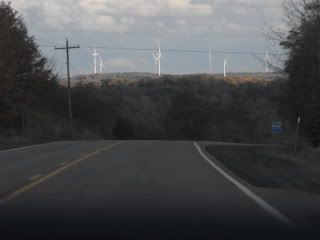 "A WIND FARM!" He just kept saying it over & over, demanding I take pictures. Weird.
Once we arrived in town, we went to eat.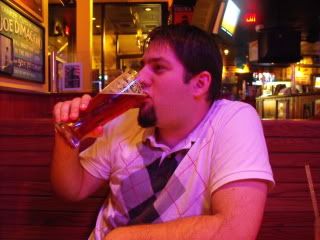 What, you don't get thirsty when you eat?
Funny I mention my told job, because the woman who waited on us looked & sounded just like one of the supervisors I spoke about earlier. She even brought the wrong drink & got all defensive about it, just standing there like she was so sure I'd asked for water & was just waiting on me to agree. It was weird. I thought she was going to ask if I got that email about the MPS's.
We went to our hotel, which was nice. Until Adam messed up the bed.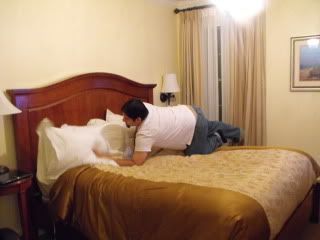 Then he
really
messed up the bed...
The bathroom was nice.
But every time I looked at the floor...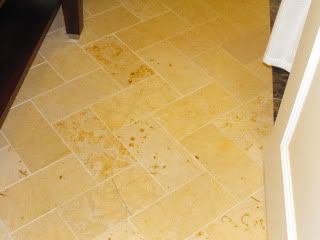 I thought there was poop on the floor.
And I know I love a view of the world when I pee.
Now the weird thing about this hotel with the air conditioning. It only went down to 70, which sounds cook but it really wasn't. We had to leave the fans on all the time to keep even kinda cool. Adam called & ask about it & the lady told him the power kicked off if it went below 70 & had some long, drawn out explanation that didn't make sense & seemed like a cover. Of course she gave a great idea for how we could cool off the room...if we were hot, we could "prop open the door into the hallway & let that cooler air in."
...I was paying $130 a night & they just told me to prop open the door?
Adam later asked again & the guy that time said what we figured. They lock it at 70 to keep power cost down but he said he thought it was unfair.
I suddenly missed my $60 a night hotel with unlimited AC.
We went to explore the hotel & found a hallway.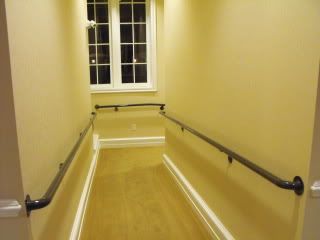 We were really excited to see where it went. Please see this picture...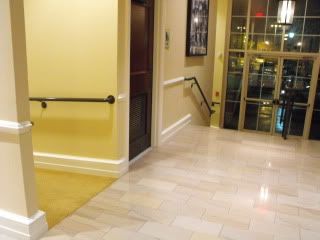 We went down the first hall. Then we were shocked to find out that it was just a wheelchair ramp that went down to the doors, which you can see in the above picture.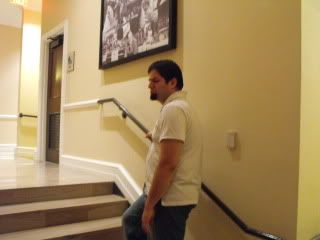 Disappointment.
But at least I got a picture with the dog at the entry.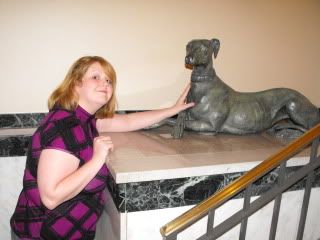 I really liked those dogs.
We also found a piano bar. It had drinks.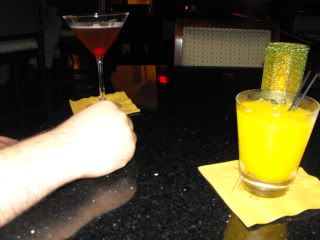 And it had a guy that played the piano.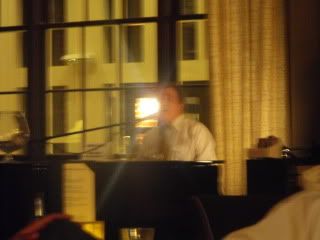 But not just any guy, he was famous!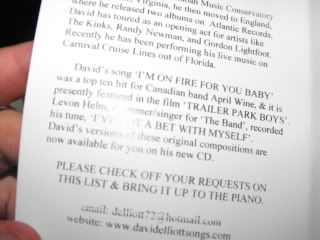 At least according to him he is. Trailer Park Boys? Really?
They even advertised him under our hotel room door...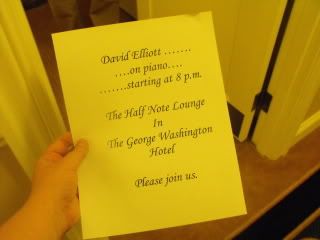 I have no idea why there needed to be so many dots. I also have no idea why it said he was "on" the piano. To me, that implies he was
on
the piano. He was not
on
it, he was playing it. If he could do both, I might be impressed.
The day of the wedding I put Adam to work...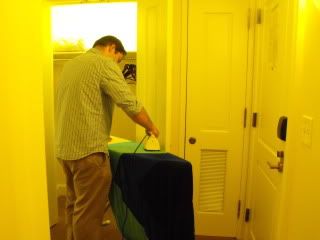 Then we were ready for the wedding.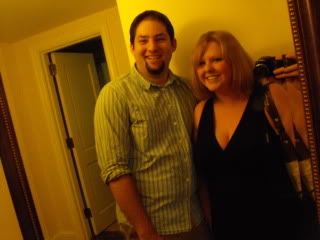 Yay, wedding!
Of course, no one was excited as Shannon.
While waiting on the reception to start, I got a thirst.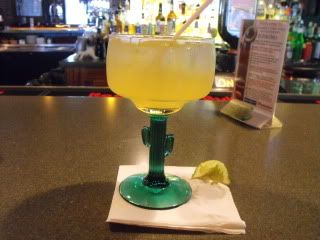 And then I saw my mother in law.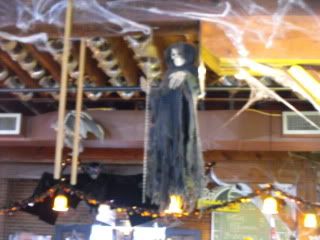 At the reception we got to see the candy bar. No, they didn't display a single candy bar, they had a bar with candy.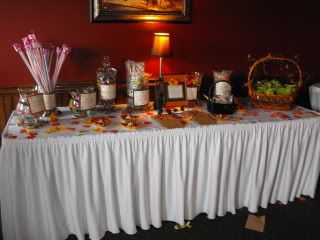 This posed a question from me to Adam...why didn't he think of neat ideas like that for our wedding?! I suddenly wanted to divorce & remarry him.
But he didn't care, he was eating candy.
They also had the neatest cake ever.
Mine just had a big dumb "C" on it. Poopy.
Adam drank. Alot. So much he decided it would be fun to add a giant Pixie Stick to his booze.
This attracted Shannons attention, at which point she told him he was drunk, because he wouldn't shut up. I was not. Which was amazing since I'd downed an insane amount of booze. At that point I think I was on like margarita #6 or 7. Of course, it then came up that I'd never done shots. So...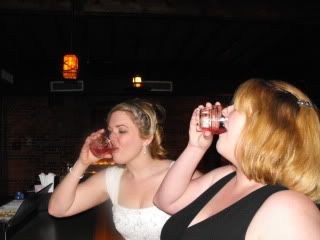 Then I did more.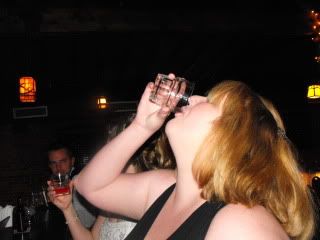 Then shortly after I remember going to the bathroom to pee & thinking "why won't this floor stop mooooovvvvvinnnnggggg." I realized that was my head moving, not the floor, & the blurry vision wasn't helping me at all. I then joined Adam, who was talking to some guy about education. It sounded serious. I was too busy thinking "lights are sure pretttttty...." to really understand what was going on though.
We were drunk.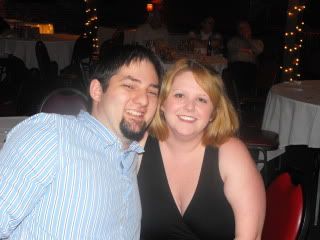 I think I was just starting to feel those 6 or 7 margaritas when I did the shots, which didn't help. After the reception we went back to the room. But, of course, stopping to pose with the dogs again.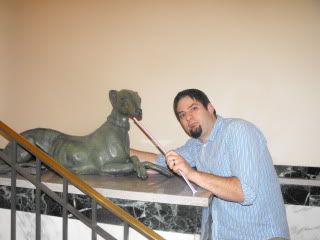 Told you he liked that pixie stick.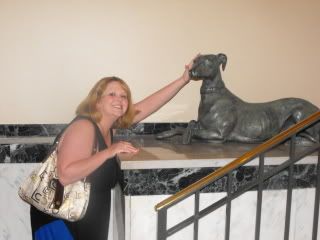 Me? I just like life.
After Adam went & threw up in our bathroom, we went back to the bar with the wedding folks, then back to the pub. Fun times. I'm really amazed I remember much of it.
OK, I don't remember cake. I mean, I remember it, I remember eating it & loving it, but I can't tell you what it was. Adam? He doesn't even remember cake. But he does remember discussions of zombies & survival. And really, is there anything more important?
On the way home I asked Adam, "are you going to ever drink again?" He told me he would. I told him considering I was never as drunk as I was the night before, I don't think I could for a while.
That night, I got a positive pregnancy test. Oops.
So not only did I have a great time, Shannon & Lee get the honor of being the first people to get my kid drunk. In the womb even. Good job guys, good job.
Of course here were oddities on the way home as well. Like this guy...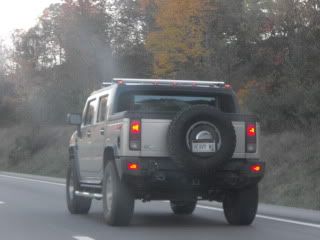 And his personalized plate.
...really? No, just no.
Soon I'll share the story of horseback riding. Good times there, too.
Thankfully we were sober for that experience.