My friend
Vicki
made an
apple pie
a few weeks ago. She made it look good. And easy. Good & easy...two words that describe me well. So I thought this would be right up my ally. After arguing with the
woman at Sam's Club who didn't want to sell me apples
, I finally got around to making it.
This is my adventure.
First, when making a pie you have to have a few things.
First (2nd first), you need stuff.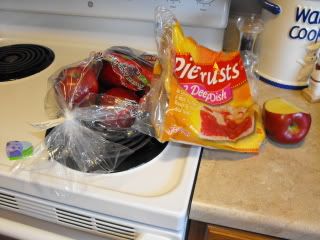 Make sure your husband has dropped & broke one of your pie crust, that's important to get the right look later. Oh, you also need to make sure you have a random purple cow butt on your stove.
You also need a cat annoying you on your counter, while you scream "THAT IS RUDE, OLLIE!"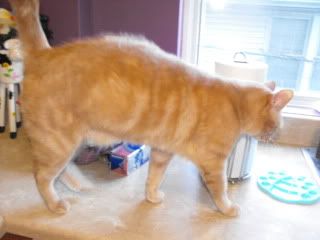 Because, you know, cats have manners.
Next, have your baby demand an apple, only to throw pieces in your floor.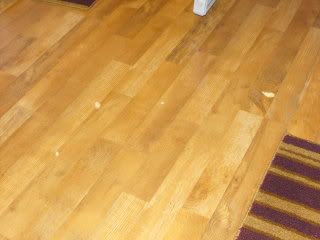 Then, have your husband decide that is the time to feed all 8 of your cats.
After that you need to go out & buy an apple peeler & corer. Is corer a word? Who cares, it is now. If you don't have these items, you'll be stuck doing this...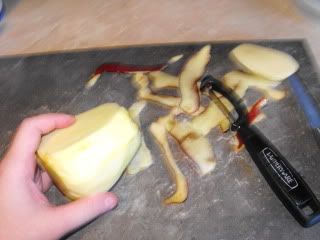 Peeling your apples & trying to do the rest by hand, which turns out badly in most cases. And it has nothing to do with the fact that there is a ghost haunting that picture & making it weird looking. Looks like that apple watched The Ring & has 7 days now.
Anyway, I do have a peeler. I was very excited when I moved to Huntington because I bought a peeler. When I lived near my parents, they thought peelers were a waste of money. Most annoying fucking belief I've ever had to deal with. Almost as annoying as an ex of mine who carried water all the time because he was "dehydrated." He wasn't just thirsty, he was just dehydrated, he insisted there was a difference & he wasn't just thirsty. Both ideas are stupid. That obviously has nothing to do with pies, I just like making fun of that guy whenever possible.
Um, anyway, back to apples.
Know the other problem with apples? Slicing.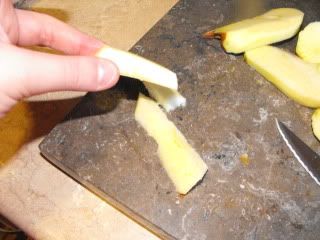 I really suck at cutting anything up. My parents were paranoid growing up & didn't allow me the use of a knife until I was about 15. Seriously. So I'm lacking in knife skills. I asked Adam what he suggested & he told me to hold the apple while I cut it, towards my hand. Um, why don't I just avoid getting blood on the apples & just slit my wrist over the sink instead? Same end result, no pie & I go to the ER. So I just ignored his idea.
As I chop my apple, I realize I need a bowl. So I reached up....
And got one.
Then...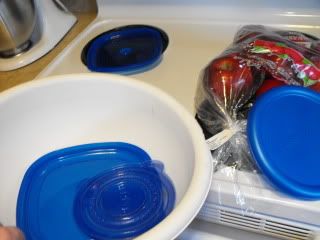 A bunch of stuff fell onto me. Fun.
So I go back to chopping.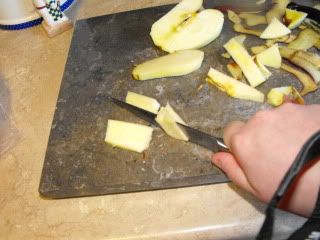 And every time I make a slice, it basically breaks apart. Fabulous.
VICKI WHY HAVE YOU DONE THIS TO ME?!
But I slowly fill up my bowl...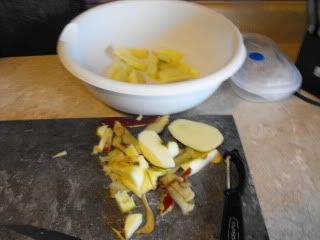 By slowly fill up my bowl, I mean I cut up 2 apples. And I kept trying to find ways to do this easier. So I finally decided I should core the apples. But how should I do that?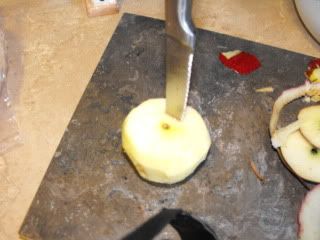 I stabbed them, of course.
Then I just kinda scrapped them clean with my knife.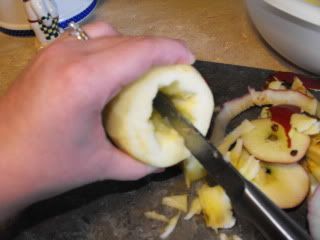 Then I had to stop & look at my son with my mop pad on his head.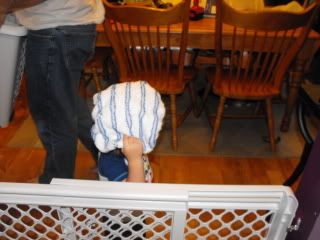 Productive.
I finally decided I had enough apples...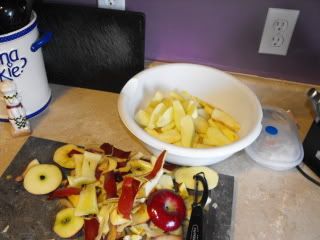 Then I put some shit in there.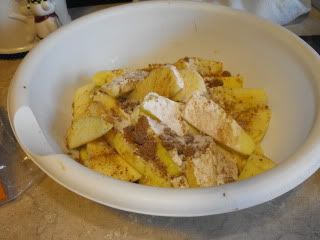 BTW, shit goes like this...cinnamon, sugar, brown sugar, & a little flour. I added sugar because I have a huge sweet tooth & didn't think just the brown sugar would be enough. I also used self rising flour, just because it was the easiest thing to reach. What can I say, I'm lazy.
I had my two thawed pie crust...
And I dumped my apples into one of them...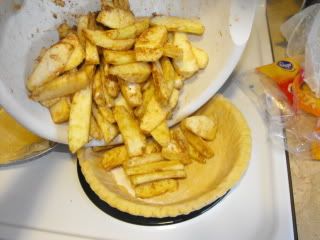 Of course, to do this right, you need to make a big mess.
But then you just throw them in & make it look like you know what you're doing.
I then peeked into the living room. Oh look, my son got naked.
And I have no idea what he's doing to Elmo.
Anyway, back to the pie. I threw some butter on the apples...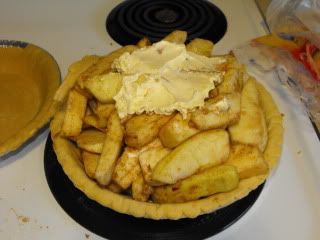 Pretty, huh? You haven't seen anything yet.
I rolled the 2nd crust out of the pan, quickly realizing that maybe I should have bought those crust that are just rolled & not in a pan. Why? Because my crust didn't work out that well.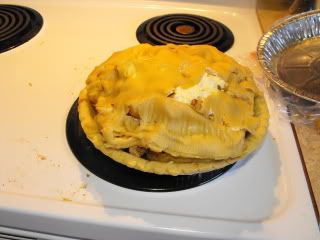 ...that is bad, I know. To get a pie like this, that is why you have your husband drop & break one crust, because it continues to fall apart since it's all cracked.
I put the ugliest pie on earth into the oven...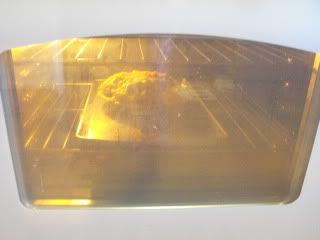 And hoped for the best. Best being that it doesn't taste like it looks.
At this point the pie directions from Vicki said to bath a baby. I didn't have a baby to bath, so I took a nap on the couch.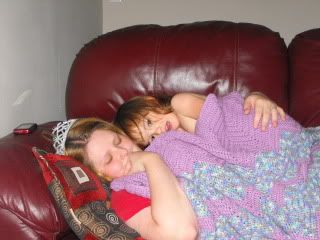 And Jules tortured me.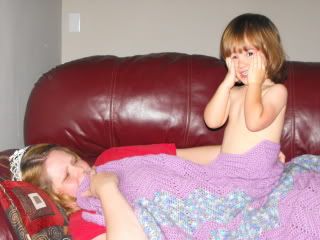 After about 45 minutes, my pie was done.
I tried to find it's best side.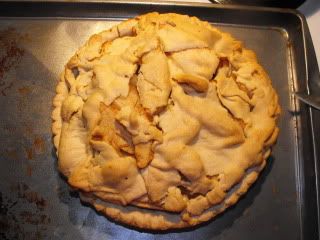 I couldn't find it.
But eventually we cut into it.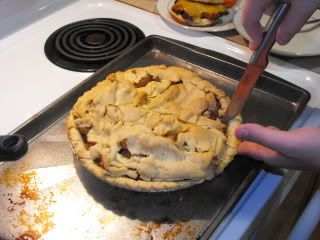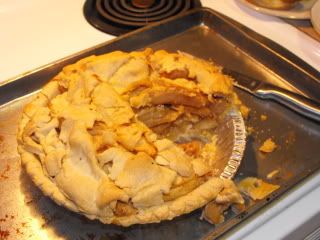 And plated it, of course. Or bowled it I suppose.
And it actually didn't suck. It tasted nothing like it looked. If it did, we'd be in the hospital. It tasted just like apple pie!
...it was then I remembered I don't really like apple pie.
Oh well, the others who live in the house like it, so it's almost gone. Hooray for pie making!
Today, after I recovered from that pie making incident, we went to the park. First, Jules tried to run away & act like he didn't know us.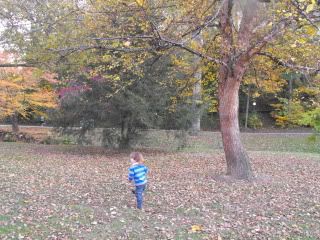 So sweet.
Then he found a little girl & proceed to destroy her sand...things.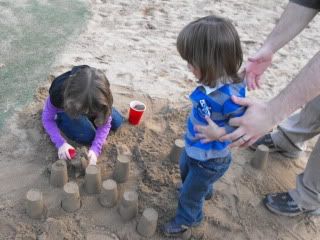 Yay, I have that kid.
I then decided to write Jules name in the sand.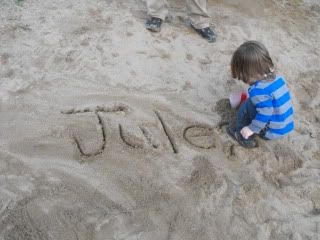 He liked to stomp over it.
I then decided I should do some shout outs. So...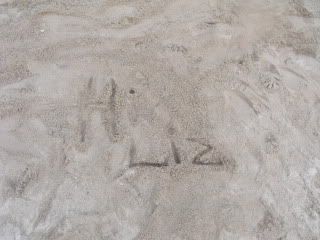 HI LIZ! Oh yeah...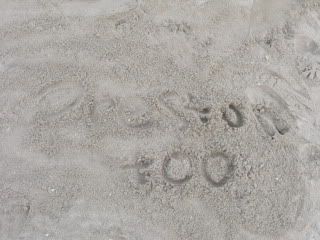 Preston, too!
Adam drew this...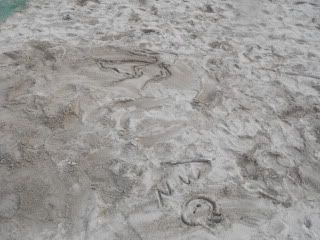 Then I zoomed in. This one is Vicki...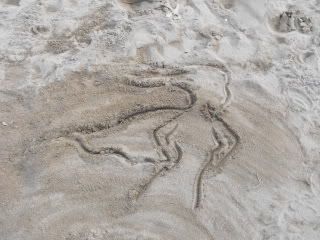 Nice rack, Vicki.
And this one? Neil...?
Hmmm. I never knew Neil was really a walrus.
Then I thought about our friends Shannon & Lee & their wedding. That reminded me that...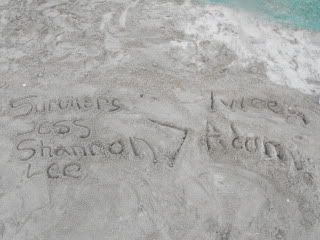 This is my graphic of what will happen when the zombie attack occurs. We three will survive. Adam? He'll get a week. And why?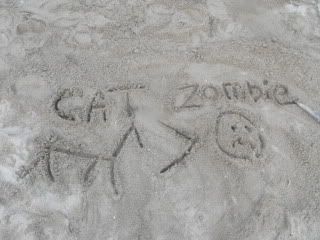 Because cats are better than zombies.
And then, of course, there was this glory.
I'm really weirded out by some of the stuff at this park. I just noticed today that there is a dinosaur.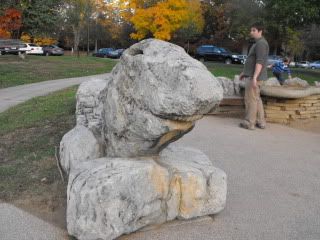 I tried to get my kid to pose with it, but he just shoved his arm into it's eye & into it's head.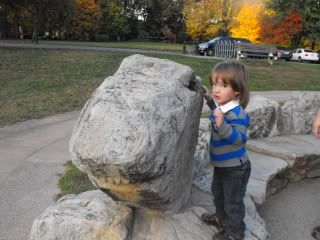 Of course, know what was really disturbing to me? All the play stuff has little pictures. Like this one...
It's a horse & buggy. Cute. But then I found, well, this...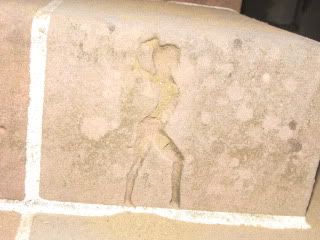 ...stripper? Doesn't has as nice of a rack as sand Vicki above.
Everyone get your dollars ready anyway!
Started with pie & ended with strippers. Kinda came full circle there I think.