I enjoy Sam's Club, more than I should really. I mean, I buy enough food to feed an army there, it's really not needed since we obviously aren't an army. Well, I have a cat army. I buy cat food there, so I guess I actually get good use out of it. But that isn't really the point.
I went to Sam's a couple days ago, in the rain because that's my luck, & it sucked. I didn't go for anything good or even for anything for my own use. Cat food, canned cat food, & litter. Seriously, that's it. When you have 8 cats, you buy cat products in bulk.
Anyway, as I am drip drying myself off through the store I see some adorable footed sleepers near the door. I go to look at them because they are obviously sizes even Jules can wear. They are adorable, but I realize that it's really nothing he'd wear. Then of course, the next thing I notice is they come in sizes newborn all the way up to like 5T. Then I thought about how if Joel wasn't dead, I could dress the boys alike...wouldn't that be cute for Christmas?
At that point I wish the Sam's Club deli sold mixed drinks.
My Sam's has become kinda cruel to me the past few months. They always had baby stuff, but around April they expended their baby stuff. Before they really only had some clothes, diapers, & formula. Now they sell just about everything baby related, even baby food. The only thing they need to add is a flashing, neon sign that says, "You! Hey you...the one without your baby, look here so we can make you feel like shit!"
I hear that sign is on order though, so maybe soon!
Of course, I quickly realized that I was there on the wrong day. Apparently I missed the advertisement of "Pregnant Day" or something, because I saw no less than 20 very pregnant women there, along with about a dozen brand new babies. Seriously, people were so pregnant I was afraid if I was in the store long enough, I'd have to deliver one of them. Hell, maybe a few of those newborns were born right before we got there.
So by the end of my shopping I thought "this cannot get any worse" I look down at Jules, whose in the shopping cart seat. If you don't know, Sam's Club has double child seating, for lack of a better way of explaining it. Two kids can sit in it. Jules is on the right side & then he noticed there was a spot on the left side as well. He then pushed the plastic seat part down, looked at me & started patting it, as if to ask for someone to sit there with him.
Yeah. That was great.
So he & I had our awkward 3 seconds of staring at each other before I said, "Yeah, I wish we had someone there, too." He just looked at me & went went about pointing at all the cat stuff in our cart & announcing "kitty!" Just in case people around us didn't know we had cats, with our cart of cat supplies.
So next time I go to Sam's, it's going to be after I go out to Chili's & have a few drinks. I think I owe it to my sanity.
And on a related note, an update of sorts. Remember me telling you about my midwife contacting me because the hospital director contacted her? If not,
click here
. That's the great thing about blogs, you don't actually have to retell every story, a link gets the job done.
Anyway, I've tried contacting that woman. Not received a return call. .
When my midwife told me about this I thought it was odd that she claimed that she was unable to contact me. She told my midwife that they didn't have any current contact info for me & they even tried to pull my chart & contact me that way, but it didn't work either. Until last week, I've had the same number since I've lived in Huntington. And if the woman actually read my letter as she told my midwife she had, all of my contact info was directly under my signature, phone number & mailing address. Obviously, as I was contacted a couple months ago from a patient rep, that contact info worked. My midwife said the lady was very apologetic towards here, wanted to make sure she knew she was welcome in their hospital anytime, blah blah blah. I was paranoid about it before but now I feel pretty safe saying that perhaps she didn't care to talk to me, but was just blowing smoke up my midwifes ass to insure she kept referring people to their facility when needed.
I could be totally wrong, my phone could ring right after I post this or even first thing Monday morning. I hope I am wrong. Because if I'm not, I'm once again pissed off. And I'll write this woman an angry letter next, telling her I hope she's ashamed of herself for using my awful experience as a way to basically network with my midwife. If she wanted to suck up to my midwife, so be it, but don't tell my midwife you want to make things right with me, hear from me about how to change this or that, then never bother to take my calls or return my messages. After my first contact with the hospital rep, I stopped being angry over this entire situation. But now I'm angry again, I feel like my previous little victory has been cheapened. And when I'm angry, it's not fun. My wrath, they will feel if it is needed. And as my husbands family will tell you, we don't take well to anyone who cheapens anything about our son or his memory.
Speaking of Adam's family, wanna hear something funny? Monday morning I got up early, couldn't sleep. I checked my email to see a message from someone in Adam's family sent from face book. It's a angry, every other word in caps, message telling me they've kept their mouth shut with me through this but now I was trying to start things with them by sending them a message. To save your eyes from the caps, I'm paraphrasing here. I was confused, of course. I hadn't sent anyone any message. So I responded back with just that, I had no idea what they were talking about. She then copies & paste an email she'd been sent from face book telling me how I sent that to her. At that point, I recognize it as a comment I'd made on one of Adam's pictures. I guess she'd previously commented as well, so it sent my comment to everyone who posted on the picture. My comment had nothing to do at all with anything she said, I don't even see why she thought it was to her. The comment I made was making fun of Adam for "tagging" an animal in the picture. It wasn't even an offensive comment I made, I think it was literally "you tagged the raccoon in the picture?" A week later, I get an angry message because I'm "starting" things. Paranoia, it runs rampant.
Anyway, at the point I laugh...alot. Then I respond back with basically what I just wrote above, only I make it sound nice & friendly. She then responds to me again with "Oh well you need to tell Adam because I sent him a message about it, too."
So basically she
told
on me? Adam didn't get an angry sounding message at all. And a response from her to him sounded more apologetic than the response I got when it was explained. Can't say I'm surprised though. Humored, but not surprised.
Of course the timing couldn't be better. When I told Adam about this that morning he told me, "And I was just thinking that maybe I should give someone in my family my new phone number." So I guess that won't be happening anytime soon. Timing, it works out perfectly sometimes, doesn't it?
The crazy, it will never end, will it?
And hey, here is a random quiz that isn't depressing like most of this blog post. Do you know what this is?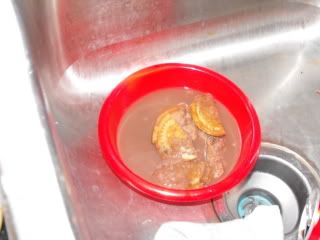 It's Eggo's new "
Muffin Tops
" (don't get me started on that name) swimming in YooHoo. If you got that wrong, be proud. If you got it right, you're a mom & I'm guessing you've seen something like this before.
...OK, I can't help it,
MUFFIN TOPS
?! Someone thought that name was a good idea? Really? I guess it's a warning about what happens if you eat to many of them? Like that scares me. I've been pregnant, I have a natural one if I'm not careful, so your name doesn't scare me Eggos!