I made this blog a while back...well, I took the pictures. Kinda got sidetracked when
Jules had his seizure
& I still feel kinda blah, but I figured it was time to share & time to attempt to be funny. Attempt is the key word here...like I said, I'm still kinda blah. And to add to the Jules blah, my
lovely husband
had his sperm evaluated this week. I've said for a while now that I had a bad feeling about this & sadly most of my "feelings" work out to be true somehow. Anyway, he got the call that there was nothing...nada...zero...I'm out of words that explain nothing. It's been 7 weeks, some people say it can take close to 3 months before sperm is produced, so it's not like it's a loss cause, though it would have been better to see SOMETHING, even bad or dead sperm. Like I said though, there is still a chance it's not a big deal. But me, queen of bad thoughts, kinda feels like it is. Anyway, get it checked again in a couple months, then again at 6 months & then I guess we just see what happens from there.
Sperm...a day in my life. Who would have thought it?
Anyway. This is image heavy. Very image heavy. I'm sorry. But I decided on my way out one day to take my camera to show you around my 'hood. I hope you enjoy it.
This is my lovely house...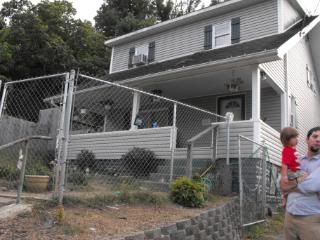 OK, I'll tell you the truth. I took this picture at the end of the day. But still, it looked the same when we left as when we were home. I promise.
This is the neato back of my house...
My mom wants us to let my dad build about a 10 foot deck off our back door. Nevermind that's where we park our cars, a deck is WAY more important. Yeah. We'll pass, but thanks.
I have very bad yard decorations.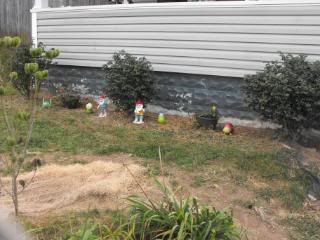 If you can't tell...I have gnomes. I love gnomes. One of my gnomes is wearing a hula skirt. I would KILL for statues of the dwarfs from Snow White, but I can't find any. Seriously, if anyone reading this knows where I can get some or has some they are willing to sell, PLEASE let me know! I searched everywhere. My husband would hate them...so like I said, please let me know if I can buy yours!
I also have this...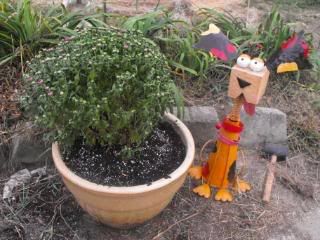 A really neato dog. It's head bobbles. I'm not sure why there is a rubber hammer beside it though.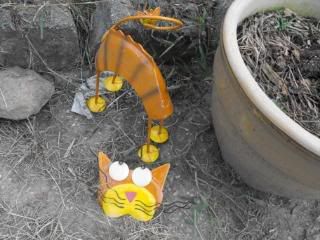 ...oh. Well, maybe the dog attacked my cat with it & knocked it's head off? Lovely. That cat is new even! And now it's headless. Dammit.
I've mentioned before we have a flower bed on the street in front of our house & how ugly it is...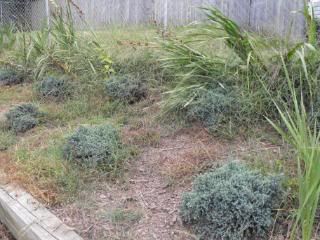 Well, there it is. In all of it's glory. I've tried everything to kill that stuff. My dad even gave us super poison that he swore would kill anything. I think I did permanent chromosome damage to myself using it, but all of that shit lived. Amazing.
Of course...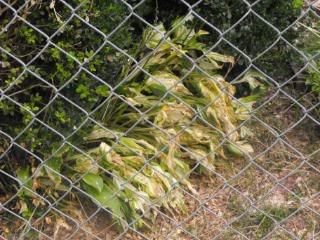 ...I worry I may have killed some of my neighbors plants with it. Oops.
...
Um. Uh....LOOK THERE!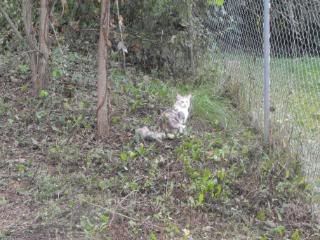 CAMO CAT!
But enough about my boring house, lets go out!
As I get in my car I see my lovely cat, Ollie, giving me a death stare.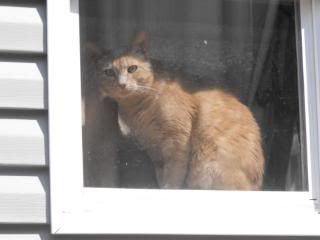 He wants to so badly run free...but he's stupid & running free to him means running to the road. He's not a tough cat.
Right down the street from me is this place...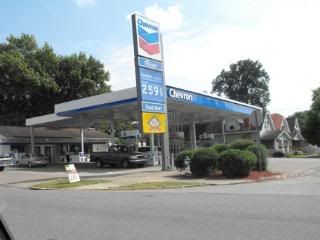 What is this, you ask? Simple, it's the place you should go if you want to see an armed robbery. Happens at least once a week, so it's bound to happen with you there if you go enough. And that's not even the really bad gas station in town, there are worse!
Here we have a brick building...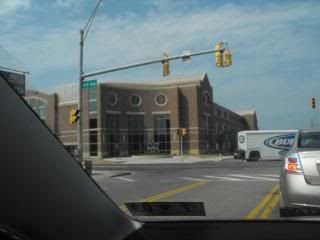 There use to be this pretty church...but then they knocked it down so Marshall University could build this piece of crap. Why? Because college students need a climbing wall! Of course they do, silly me. Think how well off I'd be if my undergrad school had a climbing wall? If your college doesn't have one, you should just quit now, you'll never get anywhere in life. Someone has to be honest with you.
As I'm cruising, I decide to get a picture of Jules to see how he travels...
I'm one of those paranoid parents who keep their kid rear facing as long as possible, so it doesn't get to see much besides the leather seats. But at least his neck won't be broken in an accident.
As I took a picture of him, I realized my backseat is just not functional. Not only do we have his seat, but on the other side we have this...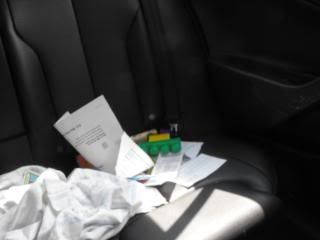 Stuff. Stuff is everywhere. And yes, I mean everywhere.
Like the floorboard....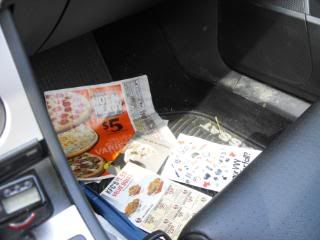 Side note...does Little Caesars really have to advertise their Hot & Ready $5 pizza? Isn't that ALL they are known for anyway? Who lives under a rock & doesn't know you can get a pizza there all the time for just $5?
Thankfully, my car does have trash cans.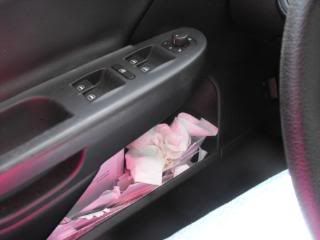 Those holes in the doors? Trash cans, my dear friends. What, you use yours for something more important? Like what, your 8 Tracks or something? Get with the times, stuff those places with trash that you're too lazy to clean out. I've cleaned my car out twice that I can remember. Once on December 12, 2007, the day before I had Jules. The second was when I made Adam do it before we drove all the way to NC for his
reversal surgery
. I'm a mom. My car is mobile storage, nothing more & nothing less.
We finally arrive...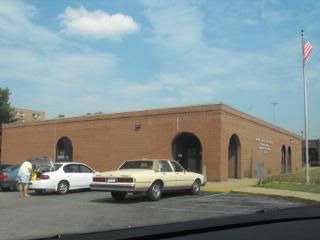 At the AMAZING post office!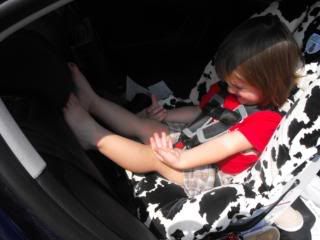 Doesn't Jules seem happy?
I really like my post office box, too. I can't miss it. Why?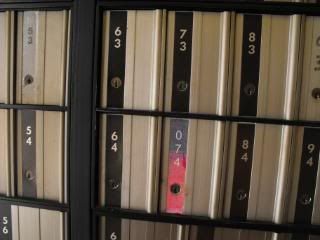 It's the one directly above the hippy box. Can't you just smell the patchouli from the picture? I bet you can.
I love the post office, mail is the most awesome thing on earth. Sadly...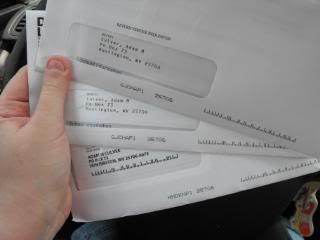 I didn't get any mail.
But then I realized I'm married to that guy whose name is on that mail...
So I open all of it. Screw you, federal offense.
Jules is now happy because he got a toy catalog in the mail.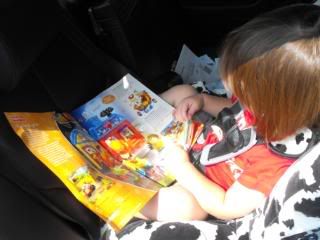 Driving along I see this wonderful sticker...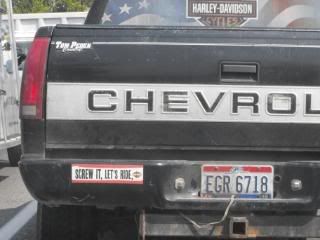 Um, no creepy serial killer truck driver, I don't want to "screw it & ride," but thanks for the offer.
Getting away from the post office is always a pain in my ass because you get to pull out into one way traffic, while drive over 15 huge pot holes, while trying to look around some huge ass tree.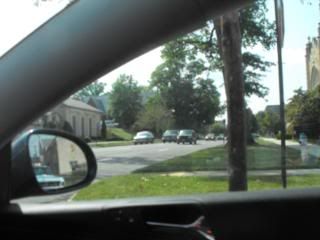 Not fun.
But as I sit there & wait, I get to enjoy my new boyfriend...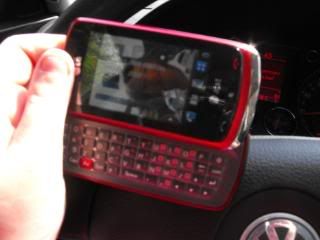 That's my new phone. I text like 100 messages a day. Sure, most of them are
Facebook
, but it makes me feel important. I've sent more text in the past 2 weeks than I ever have in my life combined before I got this glorious phone.
Of course as I wait I also get to enjoy...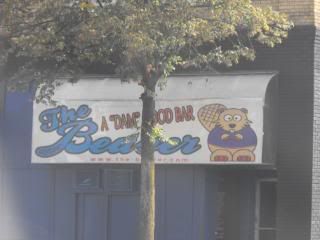 Yes, that's a bar. And yes, it's a Beaver bar. Stop giggling, Neil.
I had to take a picture of my favorite thing ever...
That's a piece of siding. They are all over town. It's to advertise a yard sell. Nothing says "we are selling EVERYTHING!" like ripping apart your house to make the signs!
After our fun trip to the post office, we head to my moms house.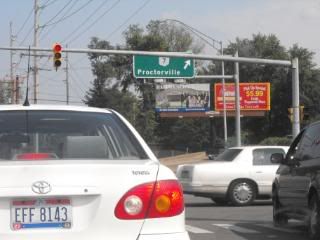 Woohoo, Ohio!
And nothing says welcome to Ohio like...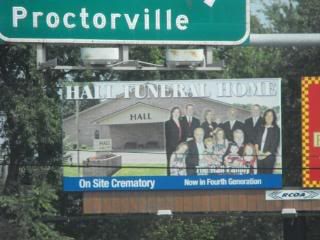 a sign advertising a funeral home. I have several problems with this. First, do you REALLY need to advertise your services? Really? I mean, it's death something that happens? Do you really need a huge ass billboard? Does anyone pick who to send their loved ones remains to because they saw it on a billboard? "Gee, I'm so sad dad died...hey, did you see that new billboard in town? We should let THEM bury him! They all had matching outfits, they must be good people" People don't say that, sorry. In fact, when we lost Joel I didn't want this place to handle anything because I didn't want to see their sign all the time reminding you "Hi there, we cremated your dead baby! Welcome to Ohio!"
My other problem with the sign is...really...do you need to put your entire family on it? How are those kids at school. "Hey Johnny, we saw you on the billboard in town...do your parents really have an on site crematory?!" Trust me, I've been in school before, that is not how it works. It works like this..."Ewww...I don't want to sit next to Johnny, he's on that death billboard!" So really, you don't need your kids on every advertisement. And I really don't think a funeral home should advertise. But, again, that's just me.
On the way, I also see...
road workers. This is why we have so much time spent waiting in traffic for road construction. These people can't even find the road to work on it, they are skipping through the tall grass. Great, huh?
On the way to my parents over priced subdivision, this lovely home welcomes you...
That's where that guy who drives the truck that wants me to ride with him lives I bet.
Of course nothing beats...
the creepy ass general store. I don't care how much I needed bread, I'm not going somewhere that looks like it should be in the movie "The Hills Have Eyes." Not happening. And yes, it's open.
My parents overpriced subdivision has a hidden road, so I always look for the...
Pickled egg house to let me know when it's almost time to turn. You can't tell from the picture, but it's serious pickled egg colored.
But hooray!
We are finally there. I enjoy the slow children playing sign. Of course if a kid is too dumb to stay out of the road, they really are slow.
I was happy to see that my mom had just as much luck with her plants as I did mine...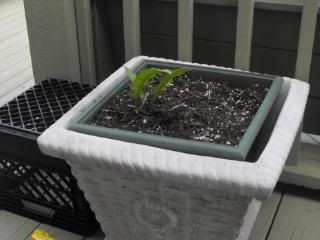 Of course the real fun was when I found this...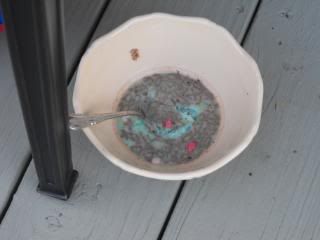 Anyone want to take a guess?
The woman who acts like my house is dirty for having toys in the floor had an almost week old bowl of Lucky Charms on her back deck. Yes, seriously. I was so proud when I found that, I'll never let her forget it.
My parents have weird decorating taste. For example...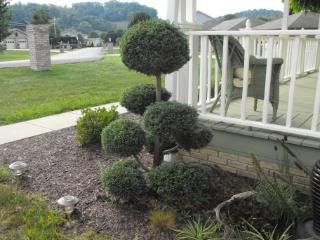 they like very expensive trees, like this $250 testicle shrub. What, you don't think it looks like testicles?
I also enjoyed the fact that my dad spray painted some vents or something at their house. Instead of doing it on the grass or something, he does this...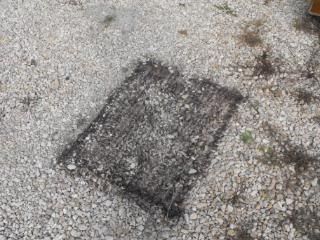 Uses spray paint on their parking area for one of their garages. But maybe I just like it because...
I do the same at my house I'll share that story once I'm finished with my bathroom.
It isn't a trip to visit your mom without a good, home cooked meal.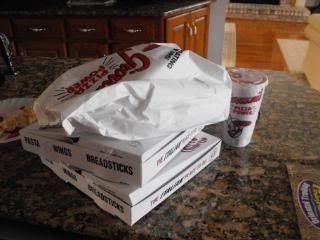 My moms idea of home cooked it take out. And trust me, if you ever ate her cooking, you'd understand why this is a good idea for everyone involved.
Also while at your parents, you want to visit the one you love. Someone you don't get to see alot, but you know that needs to change.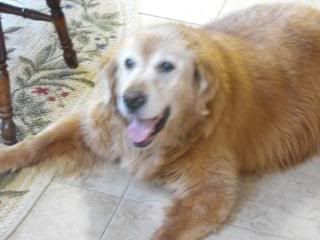 Your childhood dog. Star...she's almost 14!
After some time there, being a good wife, you must rush home & have your husbands dinner ready & waiting on him!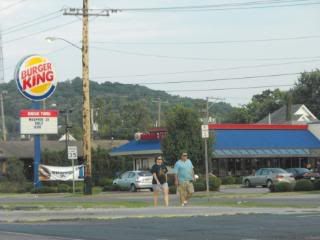 So I went to do that.
Alot of people were cooking for their husbands.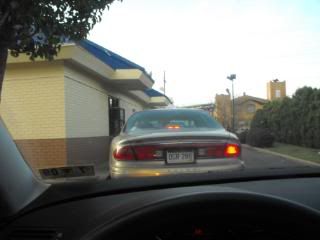 Of course this Burger King reminds me of all those hot days Adam & I had when we were dating. No, he didn't take me to BK.
He sold his plasma to take me better places than that!
He also sold it for beer money And rent money. In fact, on our first date, he told a great story about how he'd gone to pay his rent that day...almost 3 weeks late. And I still married him. Yep.
When I get home I present my love a meal...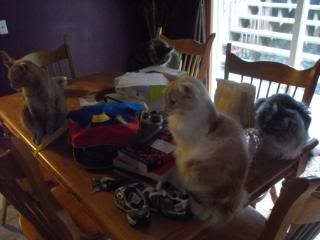 that means after I sat Adam's bag down, I fed the cats before they got to his whopper. I slaved too much for them to eat his dinner! I could also tell you I picked up the table, but would you believe me if I said that? If so, pretend I said it. Thanks.
I, being a pig,...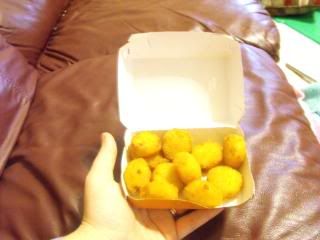 enjoyed cheesey tots. Yum. I'd never had them until recently & now I love them dearly.
And with that...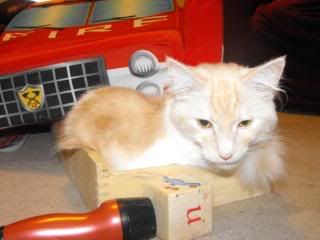 Hammy enjoyed a box.
And I enjoyed being Queen of the Interwebs.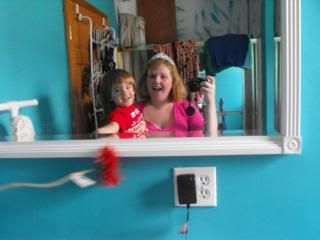 In my still unfinished bathroom (remember the spray paint?), with my still unfinsihed laundry all around me.
It's good being queen.
I'm going to go out to that gas station now & hope it gets robbed. I'm still trying to get on the news so I can point & tell everyone what I saw.