It's amazing, the things you end up finding along the path you're forced down in life.
I've never been a huge fan of lilies. Don't get me wrong, I always thought they were nice, but I would have never called them my favorite flower. I've also never been one of those people to see, I don't know, messages (for lack of a better word) when someone has passed away. It's just not something I've had happen. Until, of course, the lilies.
When Adam & I were planning our wedding (meaning, when Adam was sitting beside me while I was picking out everything I wanted for my wedding), we did centerpieces with lilies. Not a great picture, but here you go...
Our colors were pink & gold, so stargazer lilies provided us with something pretty that matched our color scheme that wasn't a hugely popular wedding flower. I hate carnations with a passion, everyone uses carnations for everything, I think the florist found me a tad bit hard to work with because I didn't want carnations anywhere at my wedding, but she got over it. So, along with other filler flowers, our centerpieces were lilies.
Then
that day in May 2009
came. My midwife came back into the room after I'd been settled in & started the induction & when she walked through the door I about fell over. If I hadn't been in a bed, I just may have. She was carrying these...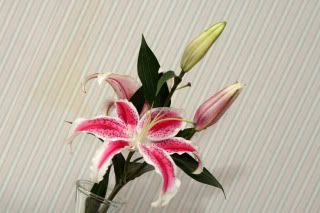 I was, well, freaked out. I thought it was one of those things that would never happen in a million years. Yeah, I know lilies aren't exactly the most rare flower on earth, but please understand that in my life they just weren't popular. Before my wedding, I'd never had any given to me or saw anyone with them for any reason. I live in rose & carnation country I guess.
After we loss Joel, the first vase of flowers we had delivered to our house from our dear interweb friend,
Liz
, were white lilies. I didn't take a picture of them & I kinda regret not doing it. They were gorgeous though.
After joining "the club" we found an online community of sorts of people just like us, people who had lost their children & fighting through this pain that can't really be put into words, sharing the pain & challenges that come along with it. Through that, I've found various sites that do things in honor of your lost child. A newer one is called "
Say It With Flowers
." You submit your child's name, they place it on a flower & take a picture. Sounds simple enough, maybe not even a big deal. But when you're part of "the club" you look for anything you can to make your child more real, more remembered. And in hopes of doing just that, a couple weeks ago I submitted Joel's name. I received an email last night telling me that his flower was up on their website in their latest garden.
It's important to mention that you cannot request flowers, I'd think it'd be almost impossible to follow through with those request do to weather & everything else involved. I'd hoped his flower would be perfect. I'd seen others & loved them. I anxiously clicked the
link
to the garden that held his flower & about fell over yet again. Thankfully I'm lazy & was sitting on the couch. Why was I shocked? Simple...
Lily.
Now I'm not sure what any of this means, I don't pretend to understand. But I do know it means something. Maybe it just means it's a small world. Or maybe it means something more special. Personally, I like to think it's that second option.
But I do know this...I really like lilies now.