Hello, dear readers. As usual, here in my blog, I'll be your host. Or hostess. Whatever.
The other day I made burgers while Adam finished seeding our lawn. It's a constant battle at our house with the yard. Stuff only grows where we don't want it to grow & nothing grows where we want it to grow. We have about 1/2 of our front yard with grass, which is an improvement since we've lived here.
This is the story of our adventure while I cooked & Adam did manly seeding in the front yard.
No, not THAT kind of seeding.
He has to wait 30 days for any of that kind
.
Anyway, burgers. I worked on a nice yellow meal...burgers, velvetta shells & cheese since our son will only eat that on any given day or starve otherwise, & corn on the cob. Like I said, yellow. I toast my buns (the burger buns, you weirdos) & that, honestly, has turned into quite the challenge for me as I about catch my house on fire every time. Nothing changed this time either.
As I sat on my couch, checking my farmville on Facebook, I smelled something burning. I remember thinking "that smells like bread...but it must not be in MY house, I'm not cooking bread!"
About 5 minutes later I see the smoke coming through the house & on the way to the kitchen, of course, I grab my camera...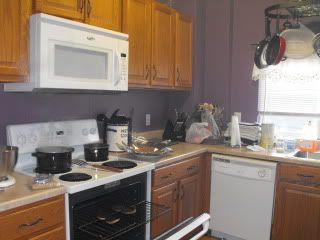 Doubt you can see it in the picture, but my kitchen was very full of smoke at this time. Why, you wonder?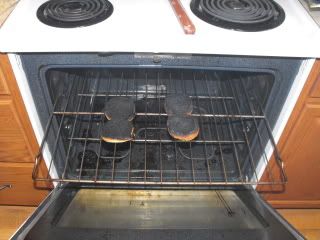 ...yeah. A little, uh, well done.
I was impressed by the level of burnt these things were. I beat them on the counter, that would not break...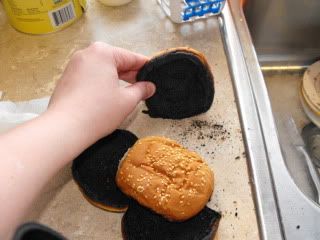 I poked my fingers into them, they didn't do much then either...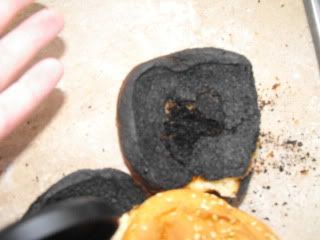 Thankfully, I buy the 12 pack of buns for this reason alone. I remember laughing to myself, "I should burn these, too, it'd be funny for a blog!"
...then I realized a couple minutes later, again, that I smelled burning bread.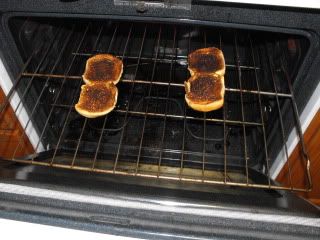 Not TOO burnt & I decided I'd try to salvage them because, well, I'd already toasted enough for the day. At this point, you may be asking yourself why I don't just stand there & watch them. Simple, that's the easy way to do it. I'm not much for the easy or best ways to do anything.
Anyway, I start to scrape...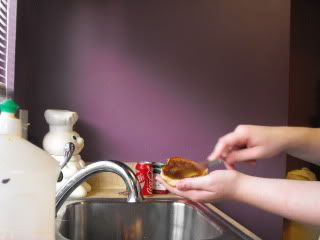 Fun, lots of fun. I'm left with a mess.....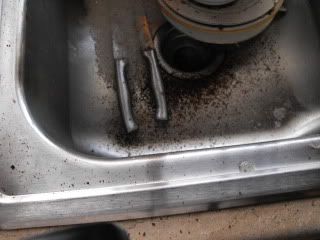 But at least my buns look decent!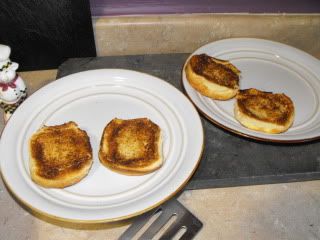 Hooray! Adam will never know...until he reads this, of course. Damn.
Then I go out to put on my burgers...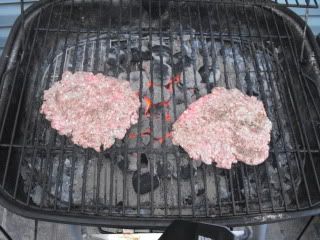 Yay. I like kinda thin burgers personally. When grilling burgers I need one thing more than anything else. No, not a spatula...
A nice, large, glass of water. You'll see why soon enough.
As I cook, I peek over our fence in to the front yard & see my husband hard at work...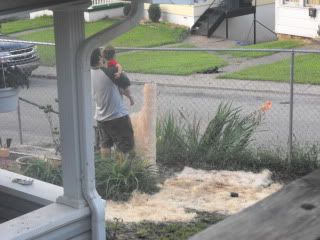 Spying on the neighbors, as usual. Jules also has this down to a science, as he enjoys watching them, too.
I wonder around my house a bit & end up on the pool deck where I see my husband has replaced our cooler on the deck. See?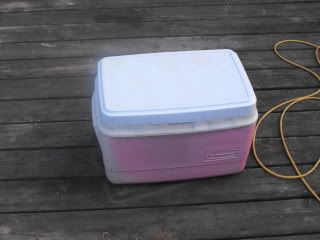 This cooler has been there for 2 summers now. Why, you ask? Simple...
It's to cover that hole.
How did we get a hole in our deck, you ask? Well, when we got a liner to put in our pool last summer, the directions said "spread liner out to allow it to stretch before attaching it to your pool." Adam took that has NOT to put it in the pool, but to put it on the deck instead. But, of course, a board was slightly bowed & he didn't want to rip the liner...so he did what any reasonable person does & cut a hole in the deck. It wasn't until after this cut was made I went outside, realized what he did, & explained you need to lay the liner out in the pool, if for no other reason but to protect it from getting damaged. And his quick fix was to put the cooler there over the hole. Like I said, that was the start of LAST summer.
We're so prompt about house stuff.
I look down at my grill & see it's not smoking enough yet, so I go inside to put our noodles in the pot of should be boiling water. I go in & see this...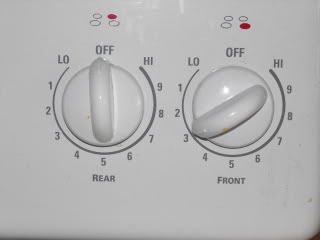 Please not the stovetop says the front cooking eye is on. What is the problem with that?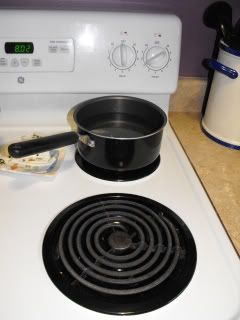 Ugh. I was suppose to be cooking on the BACK eye. This makes sense though, because I kept wondering why every time I was around the stove the front felt so warm. So I turn my correct cooking eye on go back out to check my meat. It's not a cook out at my house without...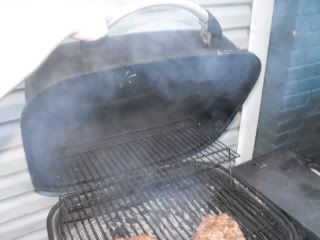 Smoke. Lots of smoke. And...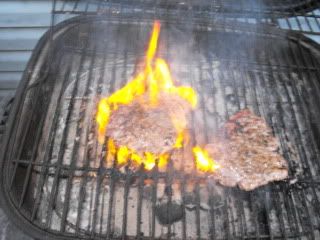 Fire. Lots of fire.
No no,
I didn't get another gift from my inlaws to burn
, I always have fire when I cook out, it's normal for me. That's why I keep....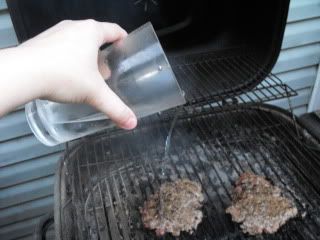 My handy dandy glass of water around! Hooray! I kill the flames & go on with life, as usual.
As I go back in the house to check my water, which is now boiling, I decide to show this little handy container off...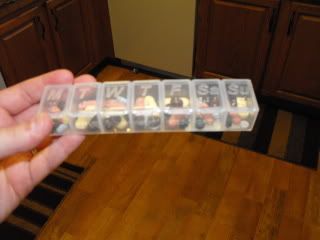 I'm officially an old person, I have a weekly pill reminder thingy. Take a look at all those things, aren't they glorious? I figured this was easier than getting out 6 or more bottles of pills everyday or taking them when I leave down. I look like less of a, well, drug addict.
After taking a picture to show what a drug addict I look like, I head back outside with this glory..
*
CHEESE! Personally, I love cheese. If there is a god or a Jesus out there somewhere, I'm convinced that little baby Jesus himself makes cheese. It's that good. I really can't get enough of the stuff. If it wasn't for cheese though, I'd have no calcium in my body. Here we have cheddar & colby jack. Of course, I just noticed that I'd been using sharp cheddar, which I hate. Oh well, guess I don't hate it so much afterall. I pile on the cheese...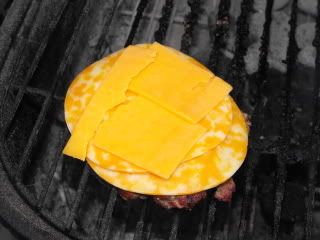 Nom nom nom...
And then hear Adam's joyful cursing in the front yard. I ask what's happened & he tells me this happened...
Jules helped him seed the...flower bed. I obviously made Adam take a picture, to which he replied that he didn't really think it was that funny. I told him it would be eventually...hopefully eventually is now. If not, um, sorry honey.
Of course, Jules wasn't happy about any of this...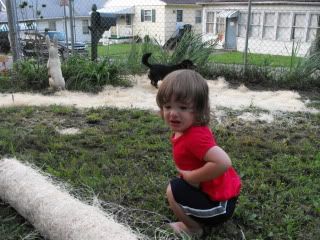 Daddy was mean & picked up his seeds.
But I didn't care because I'm a pig & I knew that just about now...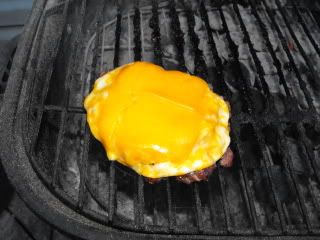 The cheese should be melted. Nom nom nom...
I rush in the house & prepare my meals. Well, our meals I should say. I made Adam a plate...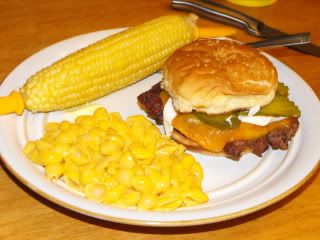 to which he mocked because he's a meanie & didn't appreciate me putting his mayo on like I did. I personally find mayo to be the most disgusting item in the world, so he's lucky I even buy the stuff. Not to mention the fact that I MADE HIM A PLATE! Of course, all the stepford wives of the internet world would say it's my duty as his wife anyway to serve him his dinner, clean his house, & have sex with him anytime he wants it.
At least I make him a plate though, right?
And I make mine...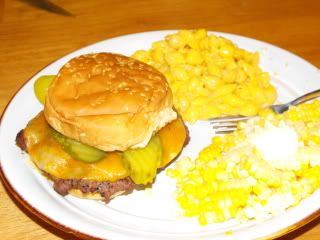 Including cutting the corn off the cob because I have a behind the teeth brace still on my teeth from childhood. My lovely orthodontist said it's be on 3 or 4 years...that was over 10 years ago. But no worries, next week I'm finally having it removed, hooray!
And see, I told you I was making a yellow meal. And I don't even like the color yellow. I also hate green but I live in a green house with a green door. Go figure.
Jules seemed to appreciate his dinner of velvetta...
And Adam? Well, um...
Alright.
And me? I'm just happy I didn't burn the house down with the buns. And that I had cheese for dinner. Yay cheese. I think I'll go get some now actually.
Anyone want to invite me over to cook dinner? Or maybe anyone want to come to my place for dinner? If anything this has taught me is that I'm scared...so very scared. Why?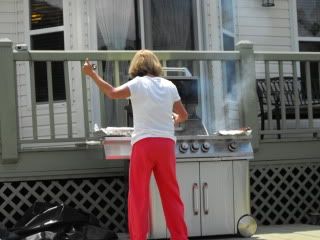 Because I think this means I'm...turning into my mother.
God help us all.