I bring you a blog from my old myspace blog. If you don't know or remember, I'm bringing some of my old favorites over to this blog so I have them all together. I picked this one to share because Neil & Vicki delivered their baby boy, Tyler, last week. He was 11lbs 12ozs, NOT a c-section. Let's all give it up for superwoman, Vicki! Anyway, I picked this because Neil always enjoyed it. Let's hope you do, too...
Let's talk about Christmas. Thanks to baby Jesus, we have a ton of stuff in our house. I've found that my calling in life is playing Mario Kart. Kinda sad when you think about it, but I kick ass at it. I've found that my son loves his vacuum more than anything else in this world, & that I'm fairly sure he'd trade me in for more hours in the day to be able to vacuum. We have a donut maker, because I'm pregnant & my parents don't know what to buy me, so they got me that. Which is cool with me, I'm not complaining. Otherwise my mom may have gotten me some ill fitting white stretch pants like she did a few years ago. I've also found that we can never borrow anything from my parents we don't want to own, as my dad gives Adam any tool he borrows at any time. We're now the proud owners of a saw like Adam borrowed when cutting the wood for our hard wood floors. So, uh, if we ever do that again we have the saw needed for that. Like either of us will make that mistake again. My
inlaws...HAHAHAHAHAHA.
*deep breath*
Out of everything though, we'd decided months ago that if people asked what Adam & I wanted, we'd ask for cash to put towards a new TV. Our dream TV was one to hang on the wall, so it'd be out of our way. Well, that was my dream, Adam wanted a TV because he's a man. My parents took that as, "Oh, let's buy them a TV!" So here was the main gift from my parents...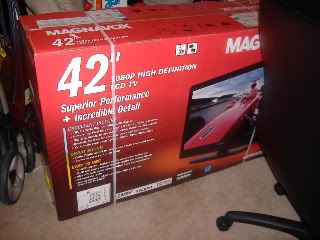 And it even came with a super cool wall mount. Here it is, upside down...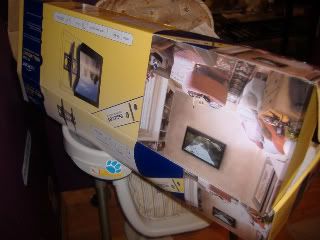 It was heavy, turn your head if you really want to see it that bad.
I'd hoped that Christmas magic would install it, but the elves never came, so Adam took it upon himself. Yes, you should be scared. I was very scared. So I decided to document it from my couch, starting around 1am. I did want some help from him, like I wanted him to hold up things for pictures. Like I asked him to hold up the stud finder & he did this...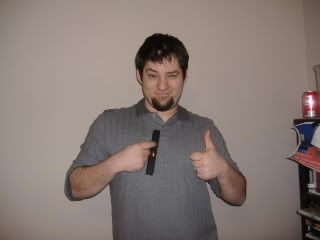 Then I asked him to use it so I could complain about how the fucking thing scuffed up my walls as we used it earlier, & he insisted on posing like this to pretend he was working...
Please note the upside down tape measure. But actually, that was pretty much how it went. FOR HOURS. Our house is wonderful. Studs should be easy to find. With a stud finder they should be even easier. Adam would "test" to make sure that a stud was really there. By "test" I mean he put holes in my wall...
Of course, OJ the kitten tried to comfort me...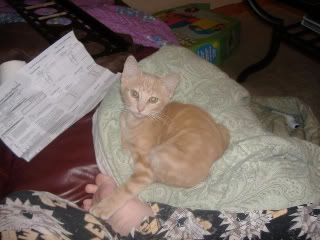 It didn't help though.
The whole time I'm freaking out, because sure holes can be patched but we have very very very little of the special matched paint for this room, there was no room for mistakes. Silly me, I should know there is ALWAYS room for lots of mistakes! But finally, a stud was found, as was another. We were joyful...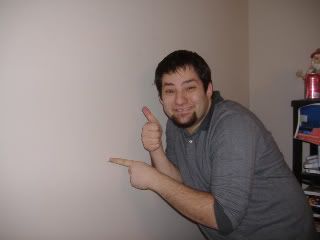 Then Adam wanted me to tell him where on the wall it should hang, how high or whatever. I'm a girl & can't imagine things, so I made him hold this...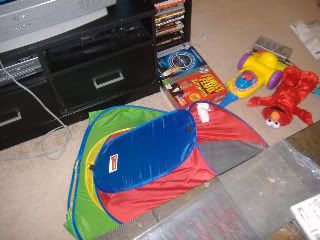 a pop up room from the baby's ball pit fort, to pretend it was the TV as I stood across the room & tried to pretend I was watching Family Feud on it. That was my way of being helpful. But, again, we were joyful because we figured it'd be over soon! And note my home version of Family Feud in the picture as well. I'm telling you, I'm an old person.
Of course, the joy quickly turned to sadness because as he drilled the 2nd hole on the final side, he hit steel. Of course, being a man he refused to admit defeat & kept drilling until his drill bit broke. It didn't make sense, nothing about this house makes sense but the studs should, dammit. Then I did research. According to that, some older houses may have less than standard studs & some may even have steel or partly steel studs. My house built in 1929 fit into the time period that was fairly common according to directions & websites. I guess in 1929 they didn't think TV's would hang on walls, so why need studs.
At this point, I personally said fuck it, I'm pregnant & had leftovers as I cooked a 20lb turkey for Christmas dinner that day. So I did what I do best...I hunted for food. Of course it was easy to find & I decided to nom...
Nom nom nom nom nom nom nom....
As I took this picture I felt sad, because I know Liz will read this & the animal lover in her would hate me for posting this. So I'm sorry Liz. I really am. But I was hungry & I'm an awful person. But I own 345345734 cats, so that should make up for the turkey killing.
Anyway, I was just going to nom some, but then I decided to make a plate....
YUM!
Stuffing & turkey. And gravy, of course. And because my mind wonders, I decided to take this time to yell into Adam to ask whose idea it was to stuff bread crumbs up a birds ass & eat it. Seriously, who thought of that? Whoever it was, was a genius. That stuffing is great.
Of course, I shouldn't talk. As I was trying to baste my turkey, I was finding it was very hard to do with just a spoon due to it's large size that was basically too big for the pan I had to cook it in. So I got out this...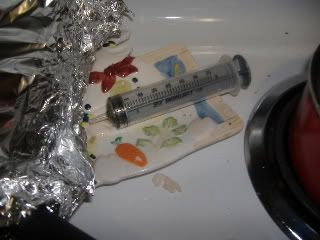 BEST IDEA I'D HAD IN YEARS!! In cause you're wondering what it is, it's the giant syringe the vets office gave me to add water to Oliver's medication bottle. Don't freak out, it never touched an animal & was just used for water, so I felt safe doing it. But I didn't tell my mom, as she'd freaked out. But what she doesn't know doesn't hurt those of us who have to put up with her. But I was happy to get more use out of something from that $200 vet trip.
I go back to my place on the couch, as Adam pretends to know what he's doing to nom on my leftovers. Of course, eating in this house is kinda scary. Within a few minutes this was what I was surrounded by...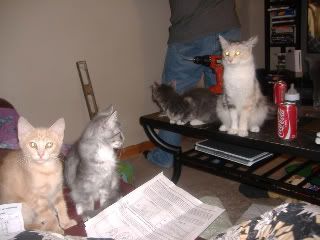 And it always gets worse before it gets better, but thankfully I was done by the time they got closer...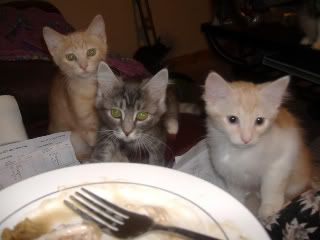 Adam announces eventually that it is time to move on to mounting the...uh...mount. Hooray! But then I saw the parts...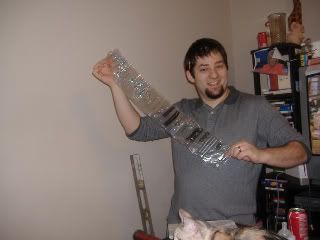 I wanted to scream, because this looks hard & it's like 3am.
But Adam is still going strong & wanted to take a funny picture, which is my fault because I was the idiot who said, "Hey, want to pretend to wear them?"...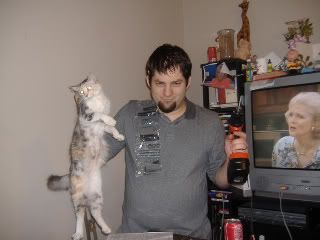 Then I yelled at him because that looked awful & I figured Liz would yell at me for animal abuse, since even Betty White in the background is upset. So then I took this...
Liz, your Christmas card is at the top of the Christmas card...uh...hangings. So you're important! Don't yell at me. If you're even still reading after the turkey...
Anyway, he attaches the mount onto the wall rather quickly....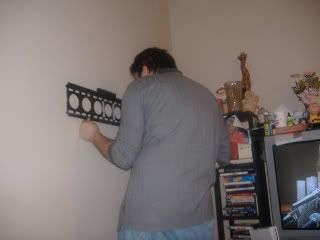 Again, I felt that thing called hope. Then he told me he was all done & was going to get the TV.
When he left the room, I looked down & saw the parts remaining...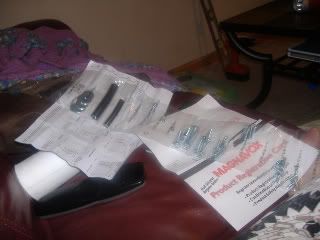 He swears those are for different TV's, walls, mounts, people who knew what they were doing, etc. , & that I should just ignore them like I've ignored his hopes & dreams. OK, I can do that.
He brings in the wonderful TV which has for my parents, bought his love. Or at least like. He sits it down & I want to read the side of the box. The side in front of me is not English, so I ask him to turn it. Earlier he was talking about how light & wonderful it was. He basically wanted to carry it around & make out with it. But I want him to turn it around & suddenly it's 500lbs & he's too old to even lift it even a little. After some discussion (read: me whining), he turns it around...
And I doubt you can tell but...
That side wasn't English though either, & I laughed & laughed. Because it's like 4am at this point & it's funny at 4am that I can't speak Spanish.
He opens the box like Ralphie on Christmas day with his Red Rider BB Gun...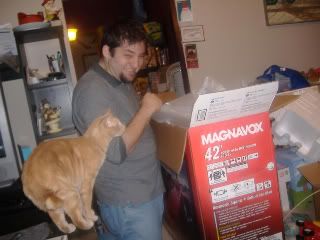 Oliver looks on, praying it's not anymore kittens. Then, right as I was online posting pictures & making a comment on one of them how I was the only one in the house who reads any paperwork or anything, he does this...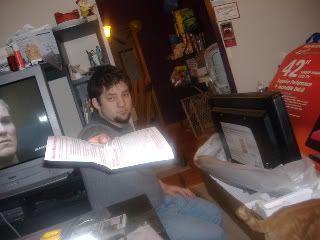 See?! It's all my job. Nothing would get read if I didn't live here, nor would any bills get paid because he doesn't even know where the check book is. Of course, we don't get mail so I guess that doesn't matter anyway...
I continued my reading through the warnings, when I found this...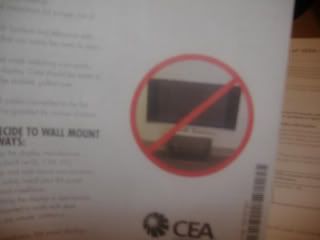 In case you can't tell, it's info on how NOT to set your TV on a milk crate.
Seriously. That's even what's in the picture. To which again I laugh & laugh because it's after 4am at this point & the thought of someone buying a flat screen TV & sitting it on a milk crate, to me, is hysterical. Of course, after watching everything to put it on the wall, I guess I can understand the milk crate idea.
Then I look up & it's over. TV on said wall, hopefully in studs...
Of course, I like how AFTER it's done, Adam appears to be reading the instructions. That's helpful. Adam is confident, but the guy on the TV isn't as impressed...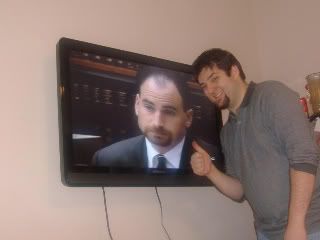 Then I was left with a living room even more full of trash...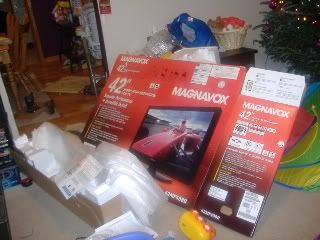 And the time on the clock, kids? About 5:30am!
TV is still on the wall. Law & Order appears to look good on it. So I'm pleased.
And with that, we are fancy people with a TV on the wall. I can't get my mail, but we have a TV on the wall. I guess it's the important thing, right?
And if you've actually read this entire thing, good job. And I'm sorry for whatever you read that could offend you, from animals to the idea of the TV on the wall, to the idea that we're up way too late to be responsible adults, or god only knows what else.
I will now go play Mario Kart...meaning, I'm going to go beat Adam at it. Happy New Year & stuff.