For weeks, I went back & forth about writing an angry letter to Cabell Huntington Hospital, the hospital we went to confirm that we'd lost Joel after we went to our midwife appoinment and there wasn't a heartbeat. In case you don't know or you forget, we were told by our midwife who spoke to the head OB nurse to bypass registration and go directly to the OB floor, that any paperwork would be filled out there. When we got there, that wasn't the case with the lady working the window. She refused to let us back, I had to blurt out that my baby had no heart beat before she'd even consider letting me back to be seen. And even when she agreed to let me go back she kept insisting that Adam go downstairs to register me. You know, without knowing if his son was alright or if I was alright. She was rude, uncaring, kept trying to interupt anything we said to her, and even made the situation worse by trying to get in one last insult in when I was trying to just get Adam to go along with it so we could find out what was going with Joel.
I felt like it was lame of me to hold something like that againist people, but I couldn't help it. The day we got Joel's death certificate in, which listed nothing more than the fact that we'd had a dead fetus on May 28th, I was done. Just done with it all. I don't really take well to being treated like crap and that was my final straw in this situation, I was tired of being just a number on the list of dead baby moms.
So I sat at my computer and wrote. I wrote until I felt better. I wrote until I hit 3 pages. My computer lost my letter, but I eventually recovered it. I went back and forth on if I should send it or not. I decided I would. I didn't care if no one else cared, I did. And I was done being written off as just a number, I was done having my son ignored. I addressed it, put 2 stamps on it because it was so thick and heavy, and I mailed it out almost 2 weeks ago.
Early on I didn't care if I had a response, but as this past weekend hit I was annoyed again that no one seemed to care. I sat and typed in another angry letter last night that I was going to mail out this week if I hadn't heard anything laying out my intentions to contact local media on how awful our treatment was and how the hospital ignored our complaint. Face it, the 5pm news show loves sad tales and this is a sad tale if I ever heard one.
Sadly, I'm not able to send that second angry letter, nor will I be on he 5 o'clock news anytime soon, as a nice lady named Jennifer called me. She admitted when she was handed the letter, because of how thick it was, she was scared and filled with doom, thinking it was some petty person complaining about each and every thing humanly possible. But she admitted that as she read my letter she realized its length was justified and by the end she was crying. In these two weeks, a full investigation was started. They knew the employee right off, I'm guessing because she'd had other indicdents of being a crappy person. And funny enough, the incident happened right after a training on being caring and effective communication.
What I knew all along was confirmed, that the situation was not handled as it was suppose to be handled, that the employee was very wrong. In the official apology letter we're getting the head of OB admits that it was uncalled for and was "pathetic" of the employee. The nice lady also implied to me that the lady no longer had a job with their hospital (though I can only assume), telling me I would never have to worry about seeing her again if I returned to the hospital. They admitted they sucked, that they were icky people. That made me happy, part of me was paranoid they'd try to justify it or deny it happening.
I also made people cry with my letter. The lady kept me on the phone for 20 minutes telling me how sorry they were and how upset she was along with the head of OB. And my letter was so well written & vivid, they are using it as a training tool. They are blacking out my info to show staff that how they treat people even in a moment can hurt them for a lifetime and the staff in the OB are going to be reminded of how to treat parents in our situation.
I'm pretty good telling if people are just blowing smoke up my ass, but I really don't believe that was happing in this situation.
So now, finally, something about this situation has allowed me to feel like maybe, just maybe, for other parents this road won't be as hard as it's been for us. I'm selfish, I'm doing it for myself. But I'm also doing it for Joel.
And speaking of Joel, we got his pictures in today. I wasn't sure I'd even look at them myself, but funny how things change over the weeks, huh?
Mr. Joel Tristan Culver...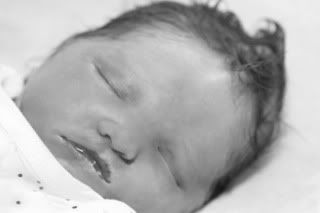 He was real. Moving on doesn't mean forgetting.
I have reasons for everything in life I do. I'm now starting to work on things for Joel. Nothing that will change our outcome, but hopefully things that can help others in the future. It started with an angry letter and changing a hospital a little, I hope I can do bigger things for him in the future. I'm at least going to try.